Returning To Nature: The Rise of Modern Organic Style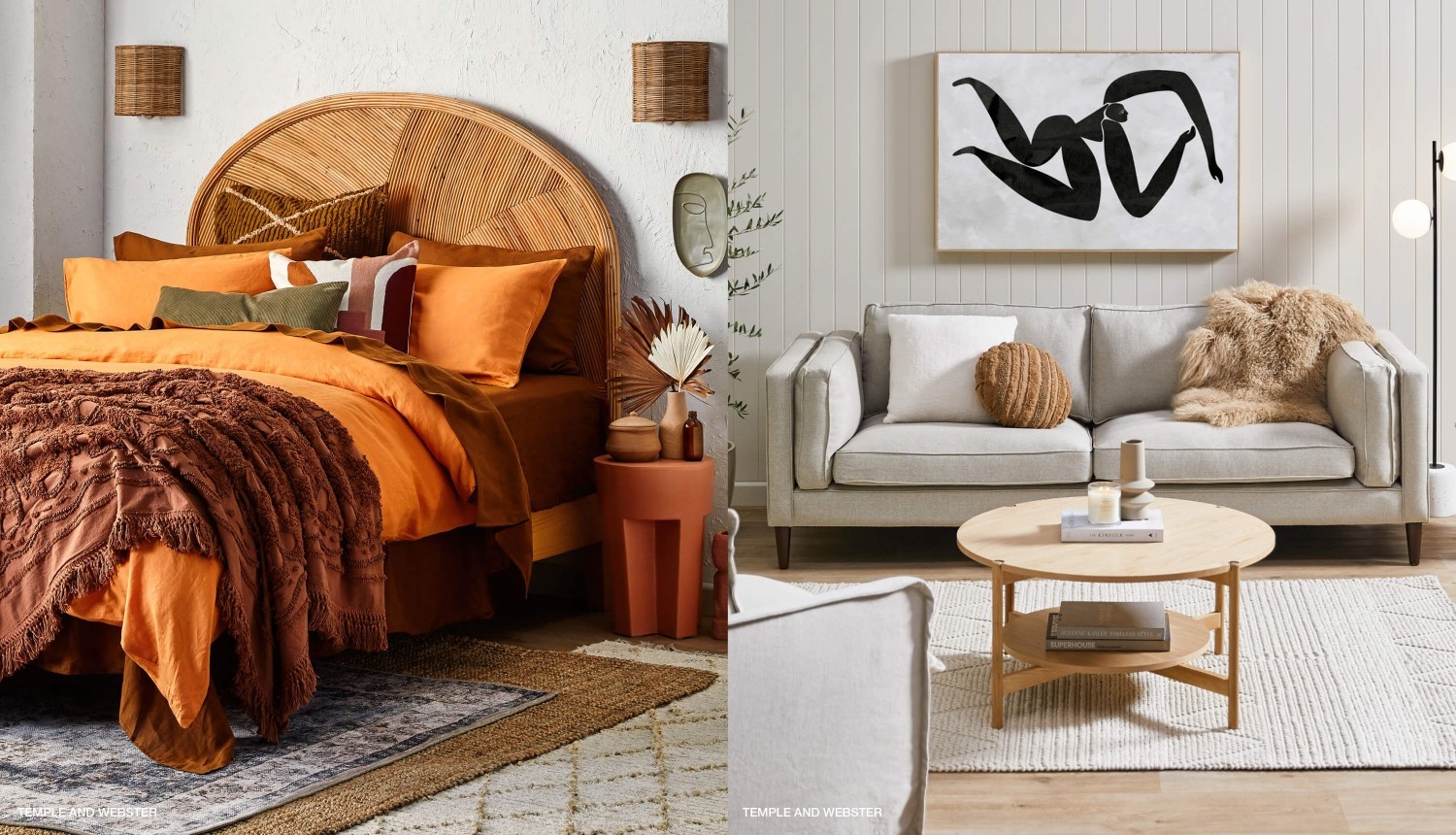 by
03/11/2021
Inspiration & Styling
This season's modern organic trend sees the outdoors blend seamlessly into the indoors with a flawless combination of the beautifully natural and the elegantly man-made. The style revolves around clean and simple styling with touches of natural elements in plants, timbers and fabrics like bamboo cotton and French provincial-style linens.
Where the modern minimalist look can be cold and uninviting, modern organic adds warmth and life. While easy to achieve, it's important to keep your décor tonal, and your bases like walls and furniture clean and simple, adding pops of earthy colours like mustard and terracotta throughout. 
Mismatched Organics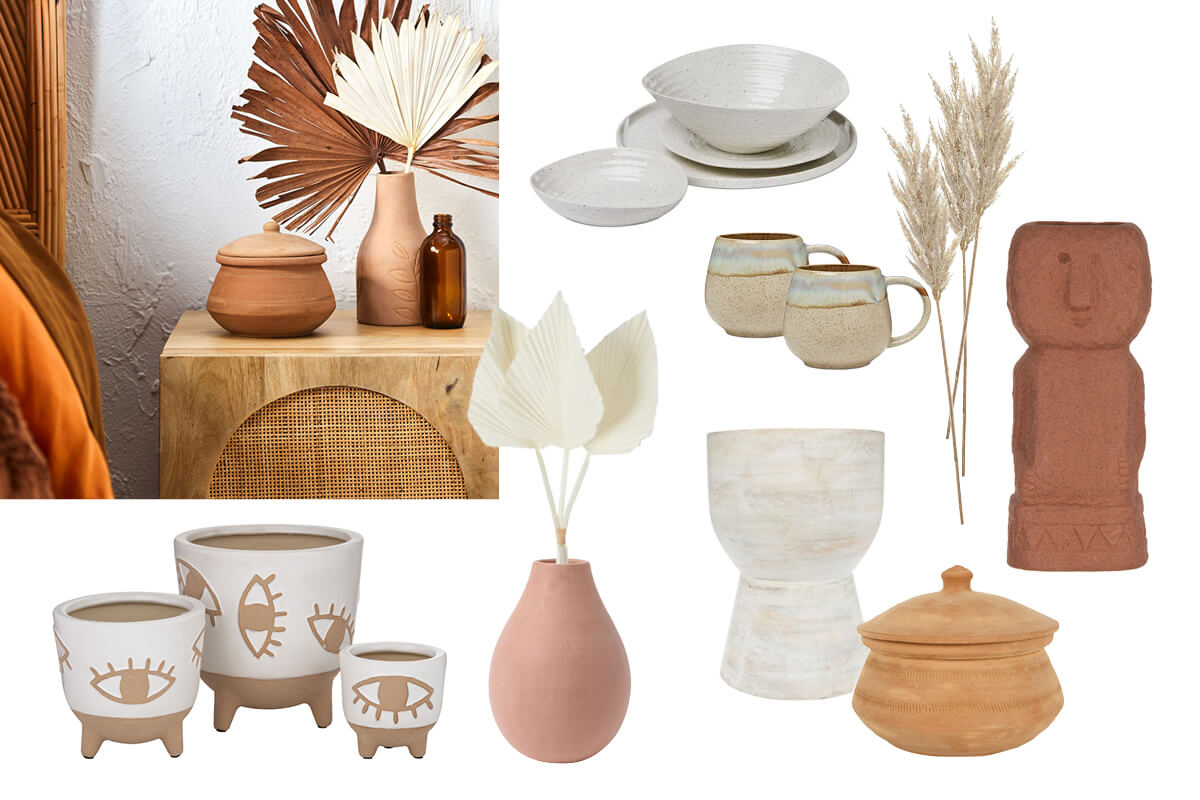 Instantly nostalgic, terracotta pots and handmade, mismatched servingware will transport you and your guests to times-gone-by, adding a warmth and rustic charm to your home.
Earthenware is popping up in home stores around the country, with the well-designed crockery giving the wholesome essence of the homemade, without the effort or mess of actually crafting your own. Easy to adopt and budget friendly, a few pots and a handful of servingware will have you on your way to achieving the cosy, comfortable elegance of the trend. A great example of how easily organic styling can be incorporated in your home, can be seen in the award-winning Lotus 35  on display at Harmony Palmview. Mismatched pottery and sculptures have been dotted throughout the home, creating a sense of organic harmony and cohesion, while handmade servingware on tables and in the kitchen add a sense of warmth and cosy comfort to the home.
Product captions: Temple and Webster Campaign Image, Adairs Home Republic Winter White Fan Bunch Stem $39.99, Adairs Messina Servingware From $14.99, Adairs Stardust Walnut Mugs 2 Pack $24.99, Maine & Crawford 113cm Faux Astilbe Plant $26.95, Myer Australian House & Garden Wooden Accent 32x32x45cm Table $199, Myer Vue Lucinda Vase 20cm $29.95, Temple and Webster Imari Earthenware Planter Set $144, Temple and Webster 29cm Nadie Stone Vase $49.95, Temple and Webster Darma Terracotta Display Pot with Lid $39.95
Natural Fabrics

 
Décor is the key to achieving the perfect modern organic look, where the backdrop of the rest of the home stays uncluttered and contemporary, rustic charm is found by incorporating natural materials like clay in pots and linen in furnishing like cushions and throw rugs. In the Lotus 35 display home, softly coloured rugs, cushions and bedding of natural fibres make the space feel homely and welcoming.
While the trend loves both natural and artificial greenery throughout the home, touches of dried florals and plants add texture and complement the tonal colour scheme of the natural woods and pottery. Choose woven rattan baskets or plant stands to elevate the plants, while large feathery stems of dried grass make a great feature to bare walls, especially when paired with a statement pot or vase. In the Lotus 35, statement elements like the rattan bedhead and giant palm in the bedrooms add character to each room, while touches of natural fibres in woven baskets and wall hangings continue the organic theme throughout the home.
Product captions: Lounge Lovers The Folk Child Stories Campaign Image, Adairs Sundaze Cushion $69.99, Adairs Home Republic Belgian Vintage Linen Cushion $79.99, Adairs Moroccan Natural Tufted Throw $119.99, Adairs Natural Cincinnati Cushion $69.99, Lounge Lovers Hampton Chaise Lounge $3999, Lounge Lovers Tasi Coffee Table $399, Myer Aura Home Vintage Linen Fringe Cushion $59.95, Myer Australian House & Garden Raes Storage Basket 35x30cm $49.95, Temple and Webster The Home Collective 44cm Potted Faux Natural Dried Look Plant $164
Bring Nature Inside with Timber and Plants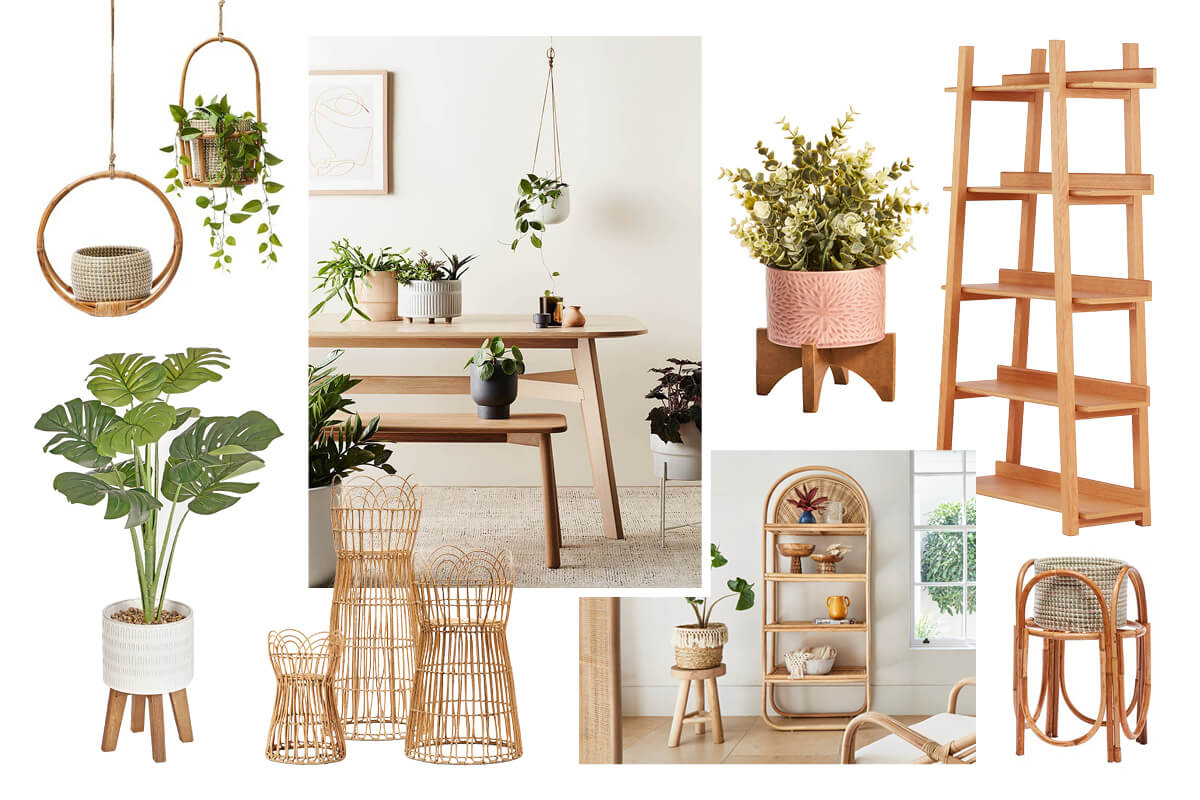 This season is about rewilding our homes as we embrace nature and welcome essences of the earth into our spaces. Few trends embrace indoor plants as much as the modern organic, so if you fancy yourself a green thumb, this trend is for you. Large potted plant varietals like monstera are great for filling empty space, while hanging pots and vine creeper plants like ivy are great additions to bookcases or shelves.
Warm-hued and rustic, there's no better time to embrace rough-edged natural woods, woven rattan and bamboo. Touches of rattan and bamboo are great for light fittings, pots, and plant stands, while larger furniture pieces like tables and bookshelves add warmth through grainy textures and rough earthy colourings. The outdoor space in the Lotus 35 has been used perfectly, with the wooden patio creating space to display more greenery, coupled with large sliding doors, the home welcomes the outdoors in seamlessly.
Product captions: Lounge Lovers Campaign Image featuring Lounge Lovers Kojo Shelf $499, Life Interiors Campaign Image, Adairs Home Republic Airlie Hanging Circle Plant Stand Arch $59.99, Adairs Home Republic Airlie Natural Loop Plant Stand $79.99, Adairs Home Republic Plant Stand $14.99, Lounge Lovers Malmo Shelf $799, Temple and Webster Maddison Lane 34cm Faux Succulent Plant $34.95, Temple and Webster Maddison Lane 83cm Potted Faux Monstera $99
As with all home styling, less is more and this goes tenfold for modern organic where the combination of seemingly mismatched accessories can be overwhelming if overdone. Touches of organic can be added slowly with natural fabrics and plants strewn around the home to create the cosy, effortless vibe of the modern organic. 
To get more style inspiration and stay up to date with our stunning display homes follow us on Instagram, Facebook and Pinterest.
---