8 Great Reasons Why You Should Build with Brighton: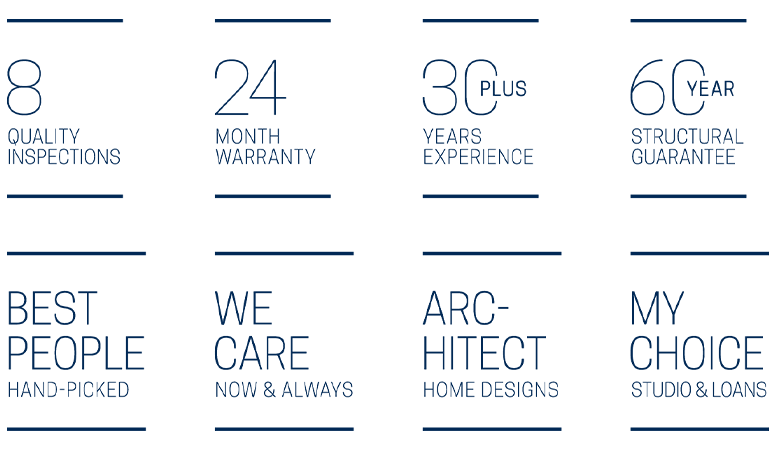 We do this so that you, our customer, can embrace a community, where friends and neighbours are welcome to drop in, where entertaining is relaxed and where formalities just don't exist... where the future is bright. So here are 8 great reasons WHY you too, should join us in Letting Life In and build with Brighton.

24 MONTH WARRANTY
With inspections at 3, 12 and 24 months, our warranty period is double the industry's 12 month standard, ensuring your greater peace of mind. T&C's apply
 
30 PLUS YEARS EXPERIENCE
Supported by the NEX Building Group, our history spans over three decades as we continue to deliver the security and affordability that only a large builder can.
 
60 YEAR STRUCTURAL GUARANTEE
We take the time and make the effort to create a beautiful home for you that is built to last and last and last, and we guarantee it. T&C's apply.
 
BEST PEOPLE HAND-PICKED
Carefully chosen over time, our brilliant team lead the way in industry experience, impeccable values and their commitment to the Brighton way.
 
WE CARE NOW & ALWAYS
From our caring people to our online customer portal, being a part of our Brighton Cares program means we're always here when you need us.
 
ARCHITECT HOME DESIGNS
Personally crafted with passion and pride, every Brighton home is a smart, practical and architecturally stylish design that reshapes modern living.
 
8 QUALITY INSPECTIONS
We love to rise to a challenge and with independent quality inspections throughout your build we ensure that every home is of the highest level of quality. T&C's apply
MYCHOICE STUDIO & LOANS
Our qualified Interior Designers and Home Loan Specialists make it easy to personalise your new home and to secure the best loan for you.