Building @coastalhamptonstyle Sunshine Coast Home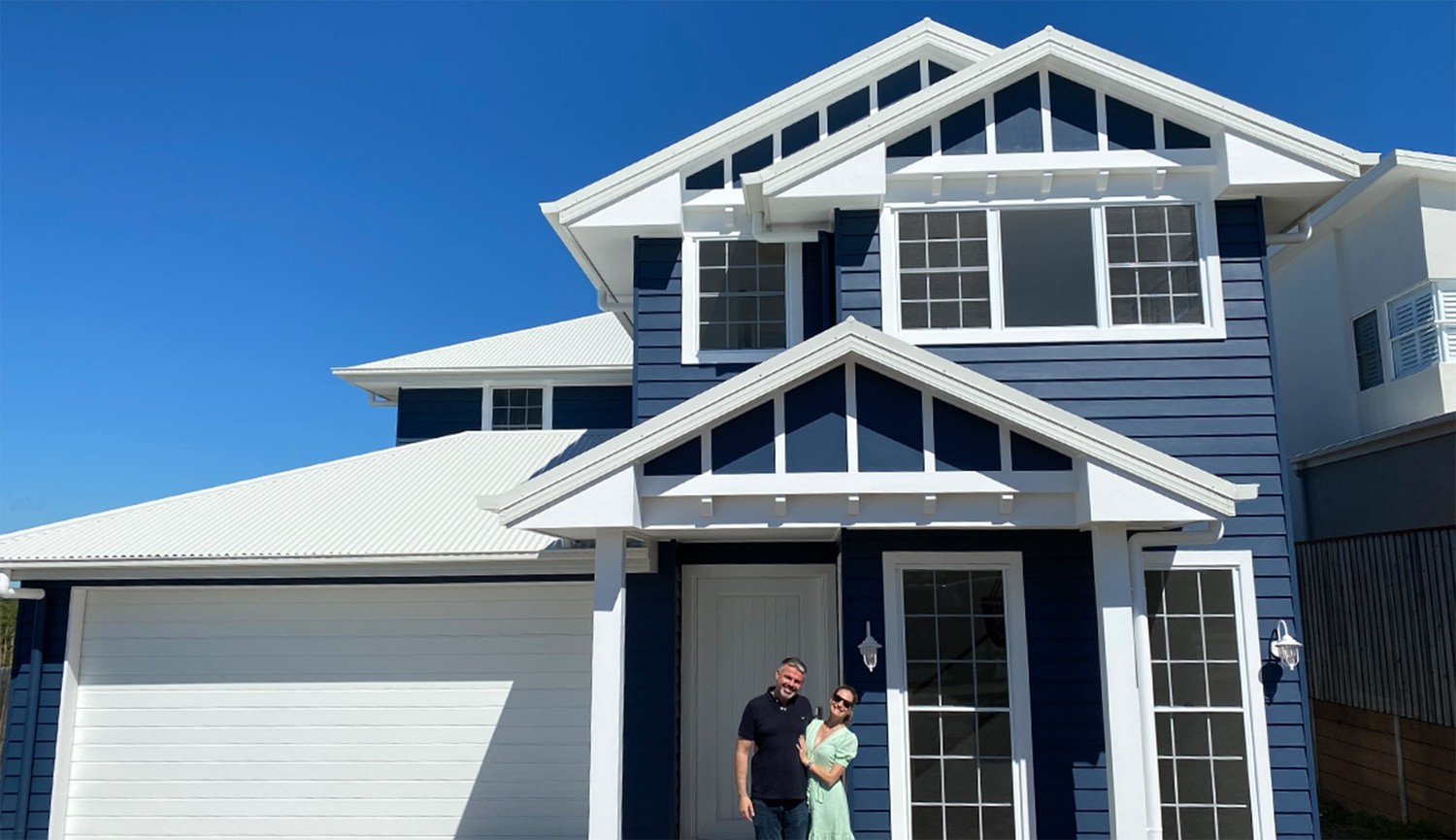 by
16/06/2021
Inspiration & Styling
In October 2020, Susanna Tolo from @coastalhamptonstyle and her family announced they were in the process of building their first home with Brighton. Having toured many of our display homes across South East Queensland, Susanna fell in love with our Modern Queenslander inspired Grayson 30 on display at Arise Rochedale inevitably choosing this as the first home build they would build.
The Home Susanna Fell In Love With - The Grayson 30
The award-winning Grayson 30 on display at Arise Rochedale is the perfect display of a Modern Coastal Queenslander, adorned with soft muted beach blue and green tones, light timbers, rattan touches, and fun wall coverings. Not only does the Grayson 30 exhibit styling that is fresh, bright, and very Queensland, it has a clever floor plan to match. Featuring 4 bedrooms, 2.5 bathrooms, 2 living rooms, and an extended alfresco, the Grayson 30 on display at Arise Rochedale has everything you need in a double storey family home.
"We have picked Brighton Homes as our builder and can't be more excited to start this journey. After having the opportunity to tour so many amazing homes, the "Grayson 30" really stood out to us. It's the perfect layout for our block and has a very open plan design which we personally love (of course I did do a few modifications but will share in more detail soon). The vision for our home is going to be "Coastal"...with some classic Hamptons style elements. I can't wait to share this journey with you all!...this is our very first build, having always renovated I feel so excited to be able to share it."
-Susanna Tolo, October 2020 via Instagram
Susanna's Build Journey
Building on the Sunshine Coast Queensland, Susanna's Coastal Hamptons home vision seemed extremely fitting for her personal style and stunning coastal location. Susanna documented her entire journey building with Brighton Homes from start to finish on her hugely popular Instagram page @coastalhamptonstyle attracting a lot of interest not just across Australia, but worldwide. From her colour selection journey all the way through to her handover day and now the styling of her home, Susanna has shared it all! Below are just a few of the many Instagram updates from the construction of her home.
SLAB
TRUECORE® STEEL FRAME
FACADE
COMPLETED HOME TOUR
"I can't thank the Brighton Homes team enough for making this journey so smooth and enjoyable....couldn't have asked for a better builder, truly. A huge thank you our Building & Design Consultant at Harmony in Palmview, for starting our dream journey (Can't find a nicer guy). To our Interior Design Consultants at the "MyChoice Design Studio", thank you for all your knowledge and help (thank you for putting up with my ever changing tile choices). Thank you to our Project Coordinator, for making everything run so smoothly. And all the team behind the scenes that work so hard!... You are all amazing. The last thank you would have to be to Site Manager...couldn't have done this without you!! Thank you for being so accommodating, and for putting up with all my phone calls and messages asking how the build was going...you truly are the best!!"
-Susanna, April 2021 via Instagram
Having lived in her beautiful Grayson 30 for a little over two months now, Susanna is now taking her followers on the styling journey of her brand-new home. With an open plan, light, bright and airy canvas, her Coastal Hamptons vision is definitely coming to life.
To stay up to date with Susanna's beautiful new Grayson 30 and to look back on her home building journey with Brighton, visit her Instagram page. Or, discover the beautiful Grayson 30 home design today.
---