Coastal Styling with Brighton Homes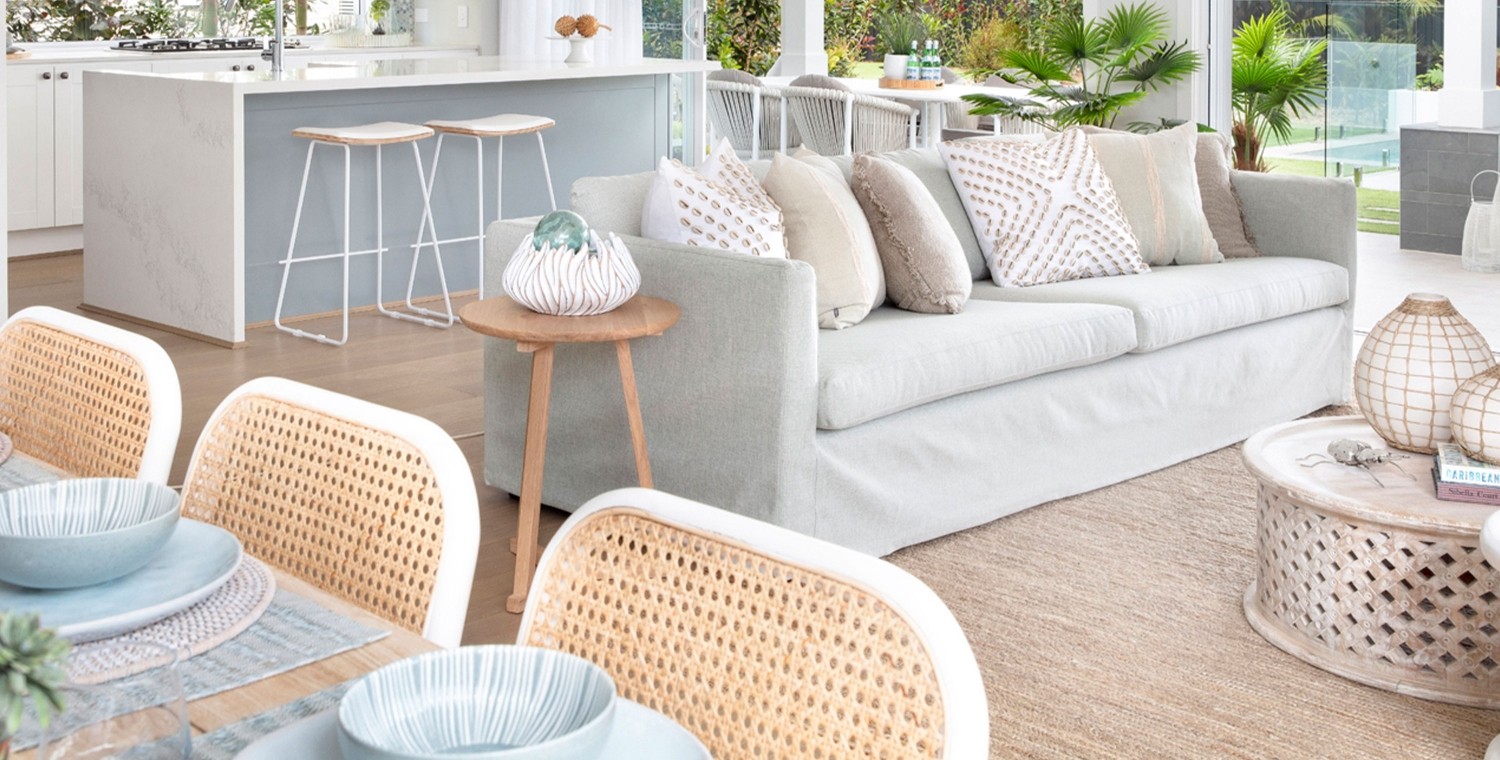 by
11/09/2020
Inspiration & Styling
A Coastal style home creates a soothing connection between the indoors and out, where there's a seamless flow throughout the home and plentiful natural light. Set against a crisp white backdrop, it's a calm, casual look both effortless and breezy. An ocean inspired palette of the beautiful colours of the sea, the sand, and the native vegetation, which will instantly transport you to a perfect summer's day at the beach.
Whether it's Coastal-inspired furniture, colour palettes or living spaces that will make you feel like you're at the beach, one of Brighton's favourite styles is yep, you guessed it... Coastal! This style truly celebrates all things Queensland and pays homage to our tagline Let Life In. Keep reading to see what Brighton display homes use Coastal styling and how you too can style your home to reflect a life by the ocean.
LEXIE 27
The Lexie 27 at Ridgeview, Narangba is the ultimate beach house. The display home is filled with coastal furnishings, rattan, linen, large basket weave pendants and cladding used in the Master Bedroom to reflect original beach house weatherboards. Full of bright whites and an overall relaxed vibe, this coastal styled home is a true reflection of the beach.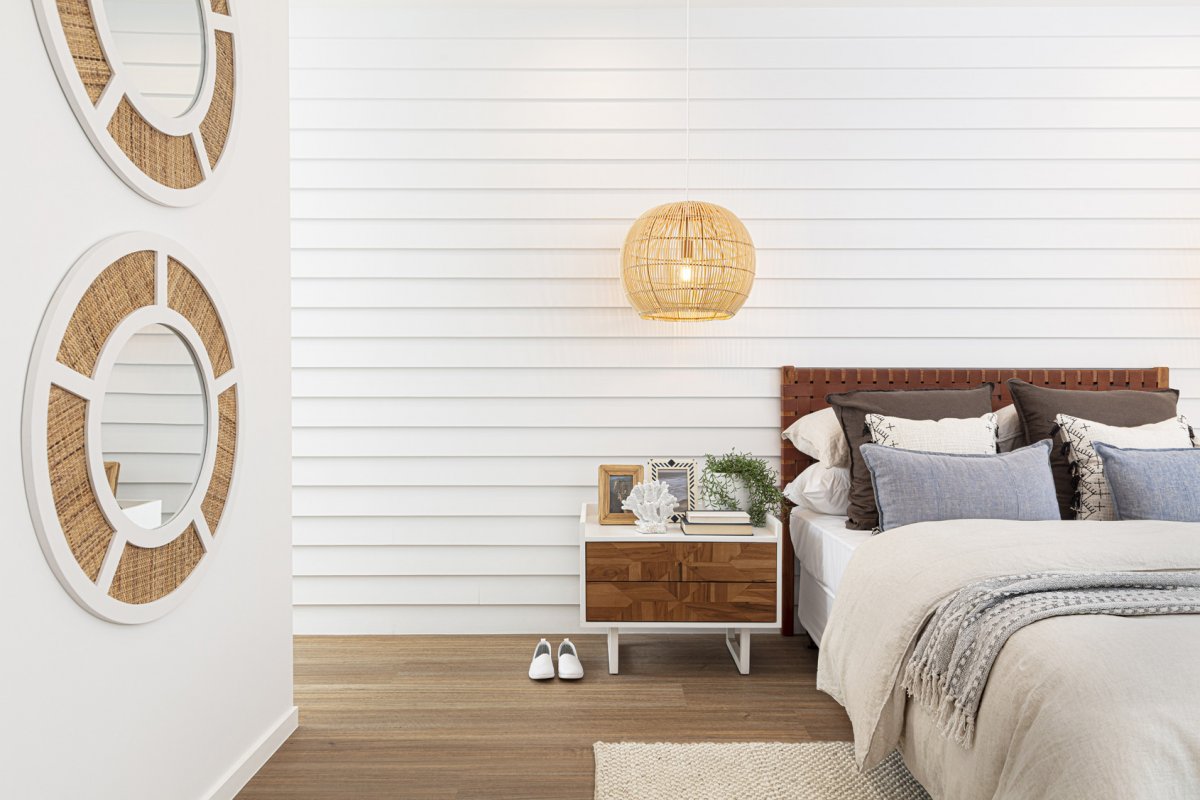 MELODY 24
The Melody 24 at Newport is a beautiful Contemporary Coastal home with reference to the Australian coast and elements associated with Newport. External white weatherboard is used for the facade to showcase coastal elements, with internal panelling featured through the entry, entertainment and master bedroom, painted in black which adds a modern, edgy style to this home. Dark furnishings are contrasted with soft timber flooring laid in a herringbone pattern, which is one of the standout features of this home.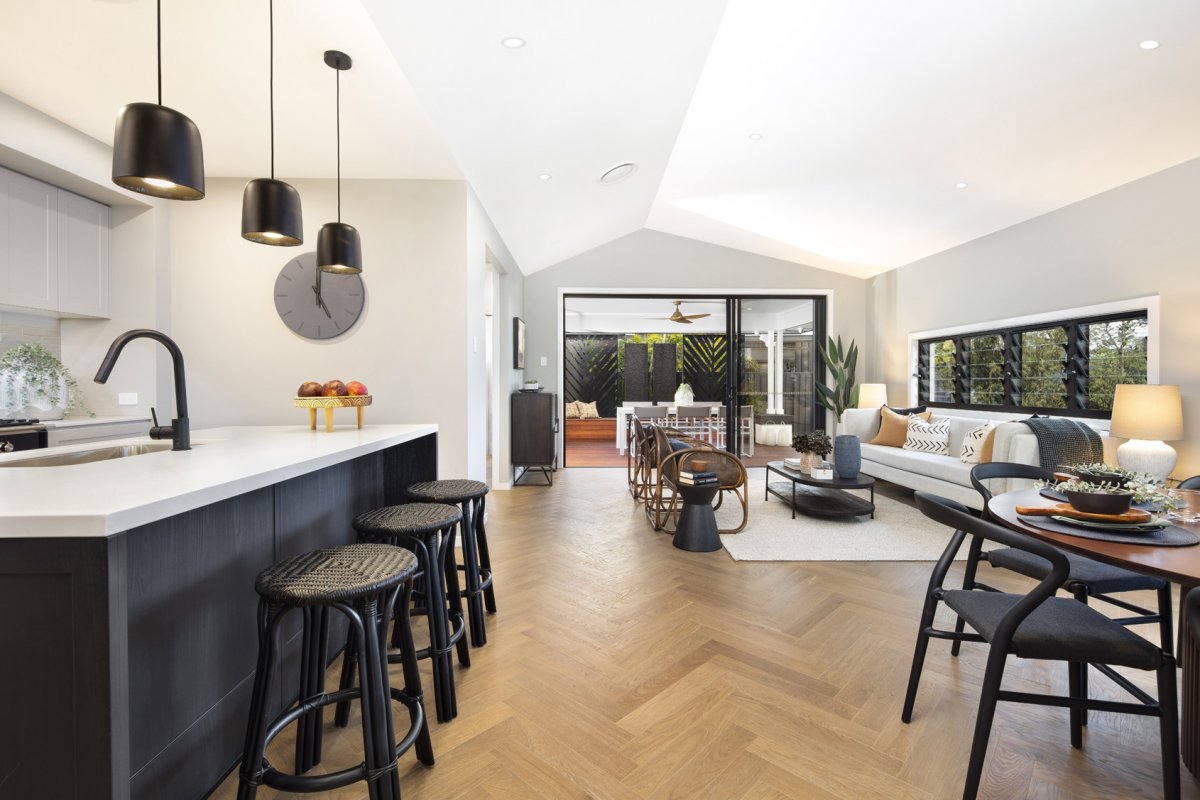 GRAYSON 30
The Grayson 30 at Arise, Rochedale is a Coastal Hamptons style home with soft muted blues and greens which symbolise the ocean and create a calming coastal vibe throughout the home. Light timber flooring is reminiscent of the beach with rattan pendant lights and an eye-catching custom black and white mural of the beach on entry. Modern Hamptons mixed with a contemporary coastal twist; the Grayson 30 is a crowd favourite.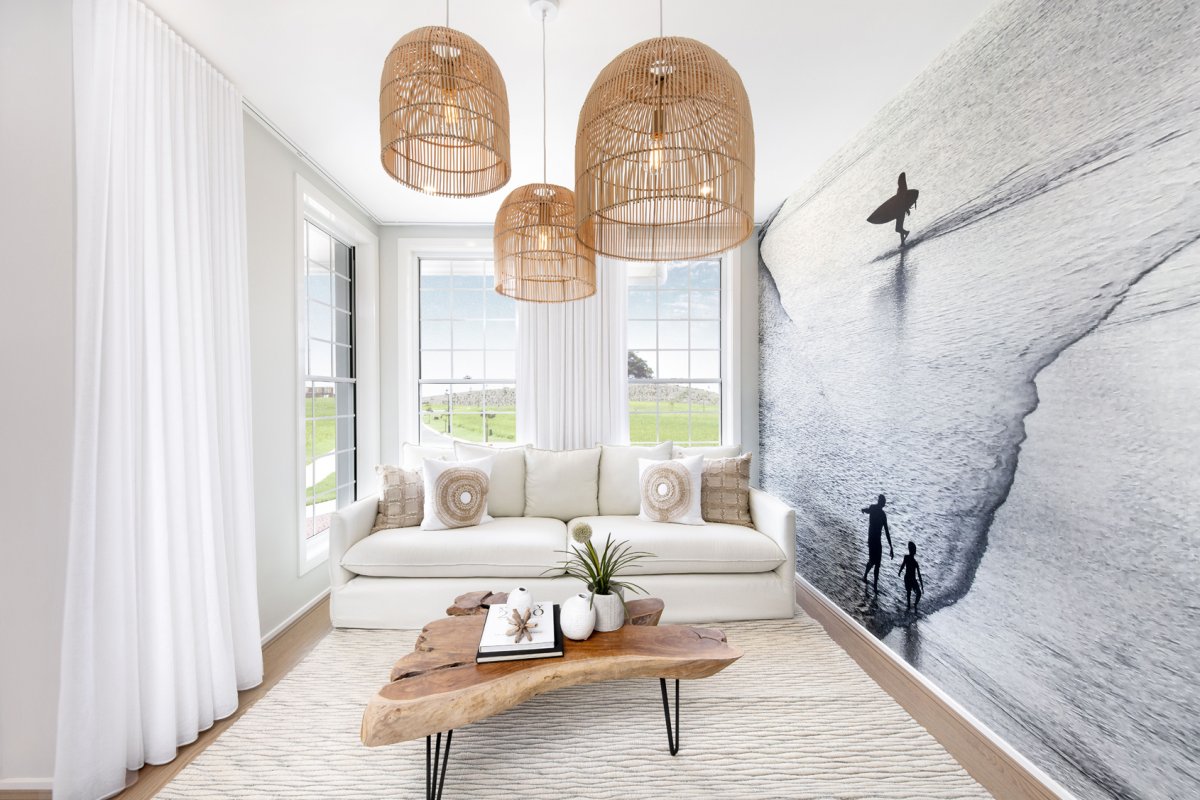 LENTARA 23
The Lentara 23 at Aura, Caloundra West is a modern coastal styled home with a touch of Scandi. Inspired by the stunning local beaches of the Sunshine Coast, this display home uses colours that symbolise bright sunny days and coastal blue waters. Light timber cladding contrasted with strong dark blues bring life to the exterior of the home. Warm Coastal timber flooring is used throughout with colourful coastal interiors. From the funky blue and yellow wallpaper to the deep blue kitchen island, this home is full of life and is a fun, modern twist on a traditional coastal home.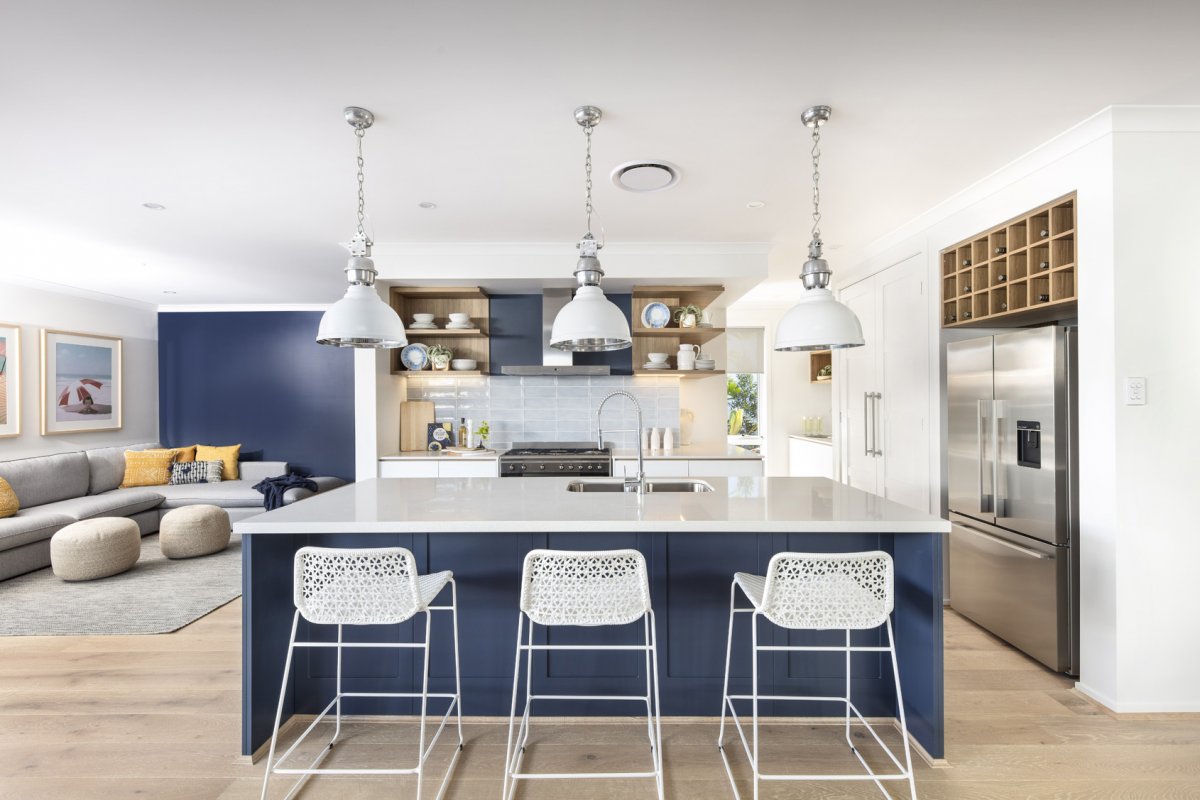 KAIYA 25
Another modern coastal home, the Kaiya 25 at Covella, Greenbank uses calming pastel tones of pale blues and soft sea greens. Light timber flooring and warm timber furnishings capture the coastal element of the home and the panelled feature wall in the master bedroom, painted in a deep-sea green is a standout, complete with beautiful rattan pendant lights above the floating shelves on either side of the bed.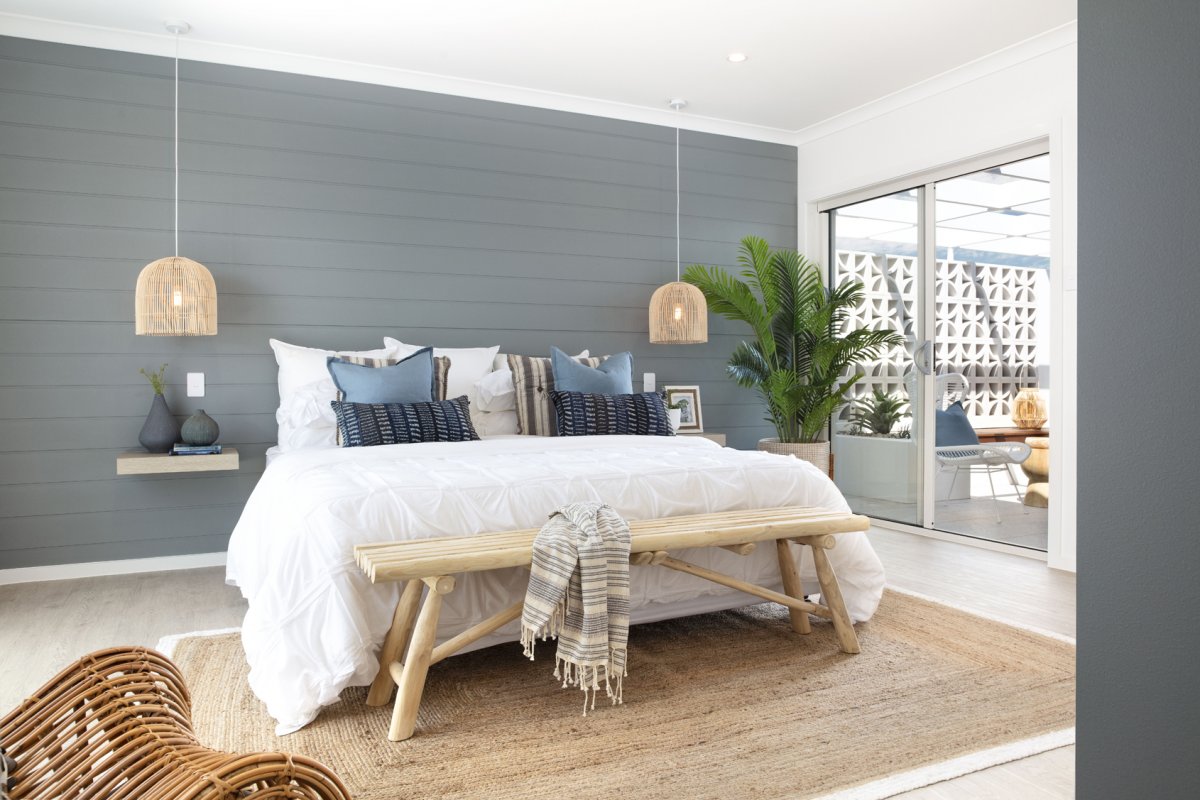 MIKA 35
The Mika 35 at Providence, South Ripley is a contemporary Palm Springs coastal retreat. Shades of coral and green are used against a white backdrop complete with warm coastal oak timbers. The home exudes laidback living with a touch of luxury and is extremely open with an effortless flow throughout. The large cut out circular window between the living areas and children's activity is a standout feature of this stunning home.