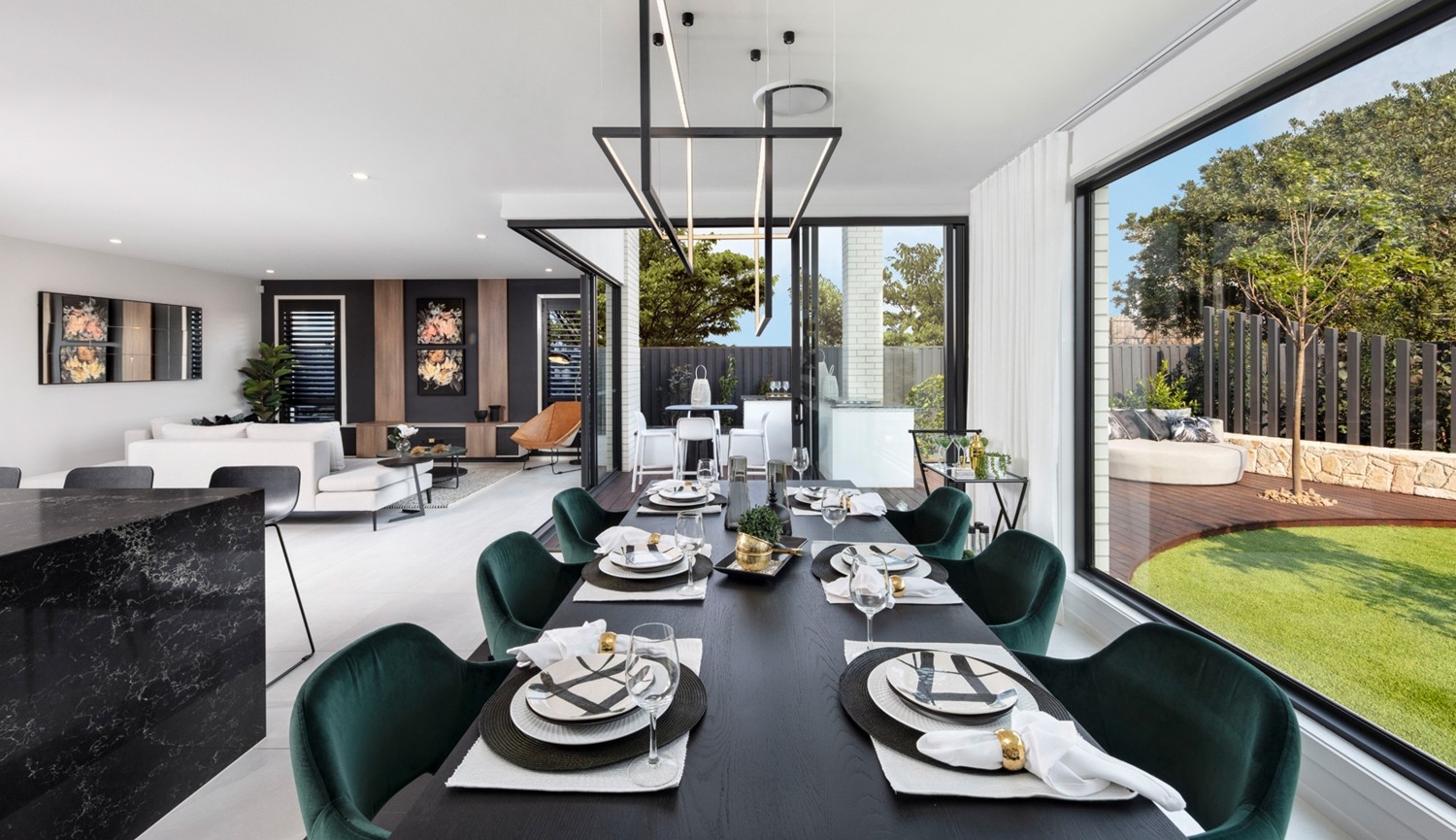 by
07/06/2022
Inspiration & Styling
From its simple, clean lines through to geometric shapes and the use of bold colour, art deco interior design is a highly appealing trend that has seen a resurgence in recent years. The art deco period originated in France in the mid-to-late 1910s, art deco styling emerged from the more whimsical stylings of the art nouveau period to embrace glamour and flamboyance and came to influence everything from architecture (think of the Chrysler Building or the Empire State Building) to jewellery, typography and of course, art deco interior design.
Unlike many interior design trends of the earlier decades, such as the Edwardian and Victorian eras of architecture and design, art deco design has a remarking staying power that has allowed it to remain trendy even in our current day and age thanks to its fiercely unique design. Here's how to achieve a modern art deco style for your home, whether it be for your living and dining space, or spreading throughout the entire home.
What Are The Characteristics of Art Deco?
Strong Motif Designs
When it comes to art deco styling, look for distinct patterns such as fans and geometric shapes including trapezoidal, zigzagged and triangular shapes, chevron, sweeping curves and sunburst motifs – these are all very typical of the period and create a beautiful, strong look. These streamline shapes and geometric shapes are at the forefront of the art deco look.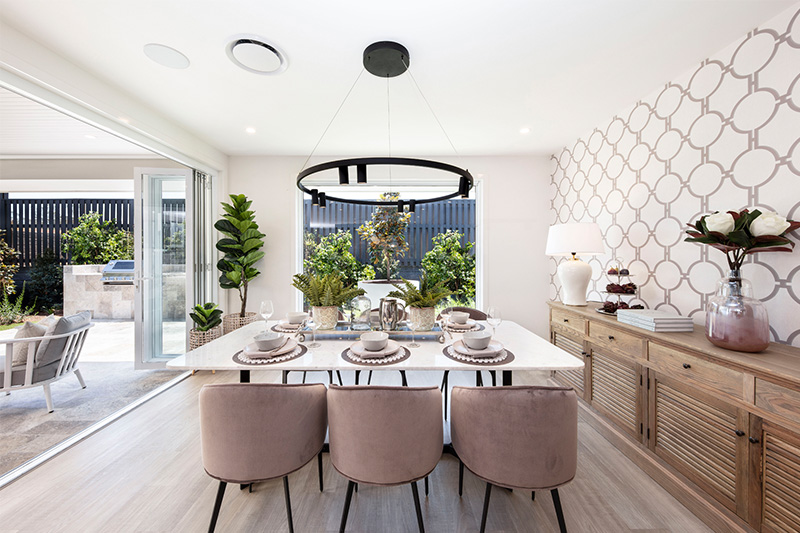 Huxton 35 on display at Everleigh Greenbank
Materials Including Chrome, Glass and Mirrors
As art deco design incorporates luxury and is synonymous with style, modern art deco includes a lot of chrome, mirror and glass, particularly when it comes to art deco furniture. Wooden furniture should be no stranger either, particularly polished wood contrasted with glittering gold accents that are also frequently included when it comes to art deco style.
Contrasting Colours
Unlike other popular interior design trends such as Scandinavian, art deco interior design does not lean heavily into a particular colour palette. There is often an array of colours to choose from, from bright and deep yellows to rich jewel tones, right through to neutrals. Black, charcoal, brown, purple, navy blue and emerald green as all common art deco colours, either on wall coverings, furniture or decorative pieces.
How to Set the Mood, Room by Room
For a dynamic interior with a hint of glamour, art deco lends itself well to many homes due to the versatile nature of the interior trend. You can select statement or accent art deco pieces for the living or dining room, incorporating elements such as light fixtures, large rugs or wall art.
Art Deco Lounge Room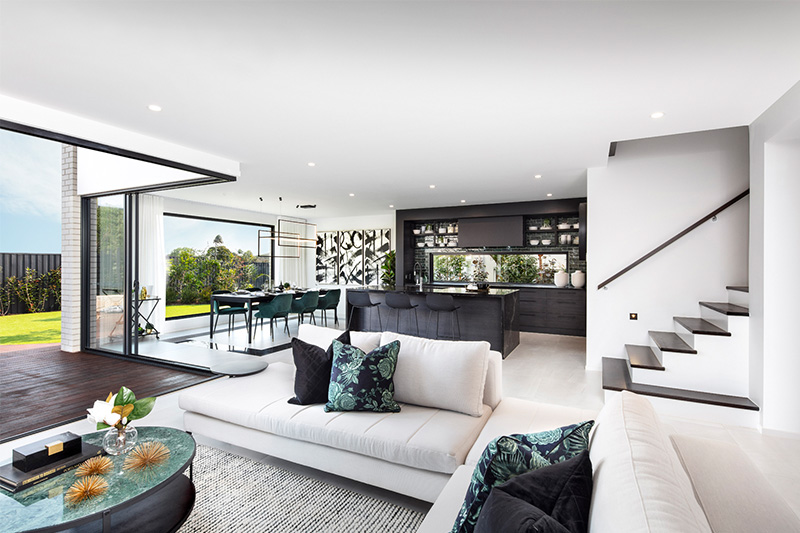 Aria 37 on display at Arise Rochedale
Lounge in the lap of luxury within your new art deco living room. Think of soft furnishings such as a plush velvet sofa contrasting with lacquered furniture with a hint of metallic accents and, if you're feeling bold, stylish wallpaper that allows the geometric motifs of art deco to really shine.
There's plenty more art deco styling that you can add into your art deco lounge room, including geometric furniture design such as a statement sideboard or console table, standout mirrors, glam lighting (including a dramatic chandelier if your home allows for one!), animal prints and bold stripes. The combination of these opulent fabrics, metallic finishing, unique prints and streamlined shapes will give your living room a glamourous and chic finish, no matter if you commit to a full-blown art deco theme or just want some inspirational touches here and there.
Art Deco Bedroom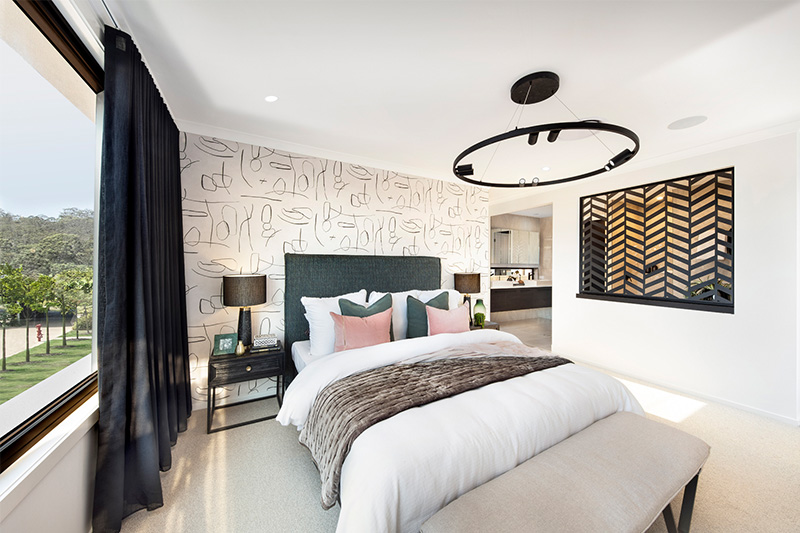 Aria 37 on display at Arise Rochedale
You may think that the bold colours and angular shapes of art deco styling might be too much for a room in which you're meant to switch off and recover from the day's activities, but art deco style can still be added to bedrooms without overwhelming the occupants.
In general, you can follow the same tips mentioned for an art deco living space, but opt for softer colours such as pastels and neutral and get creative with ambient lighting. You can also go for a more minimal take on modern art deco, rather than layering together multiple, louder elements. Hotel luxe vibes can also be a key theme, along with graphic bed frames and headboards.
Art Deco Bathroom
One of the most interesting areas into which you can incorporate art deco design is the bathroom, thanks to the way that the metallic finishes of the art deco era perfectly lend themselves to faucets, lighting and cabinetry. Subway tiles are a great addition in this case, as well as mosaic tiles that harken back to earlier eras. Mirrored wall sconces can also bring a great "wow" factor to the bathroom, along with arched mirrors, retro pedestal sinks, and fun retro colours such as pink and black.
Decorating in the art deco style can be a fun and vibrant experience. Find more home inspo on the Brighton Blog, or view our inspiration gallery and consider upgrading your home's interior today.
---