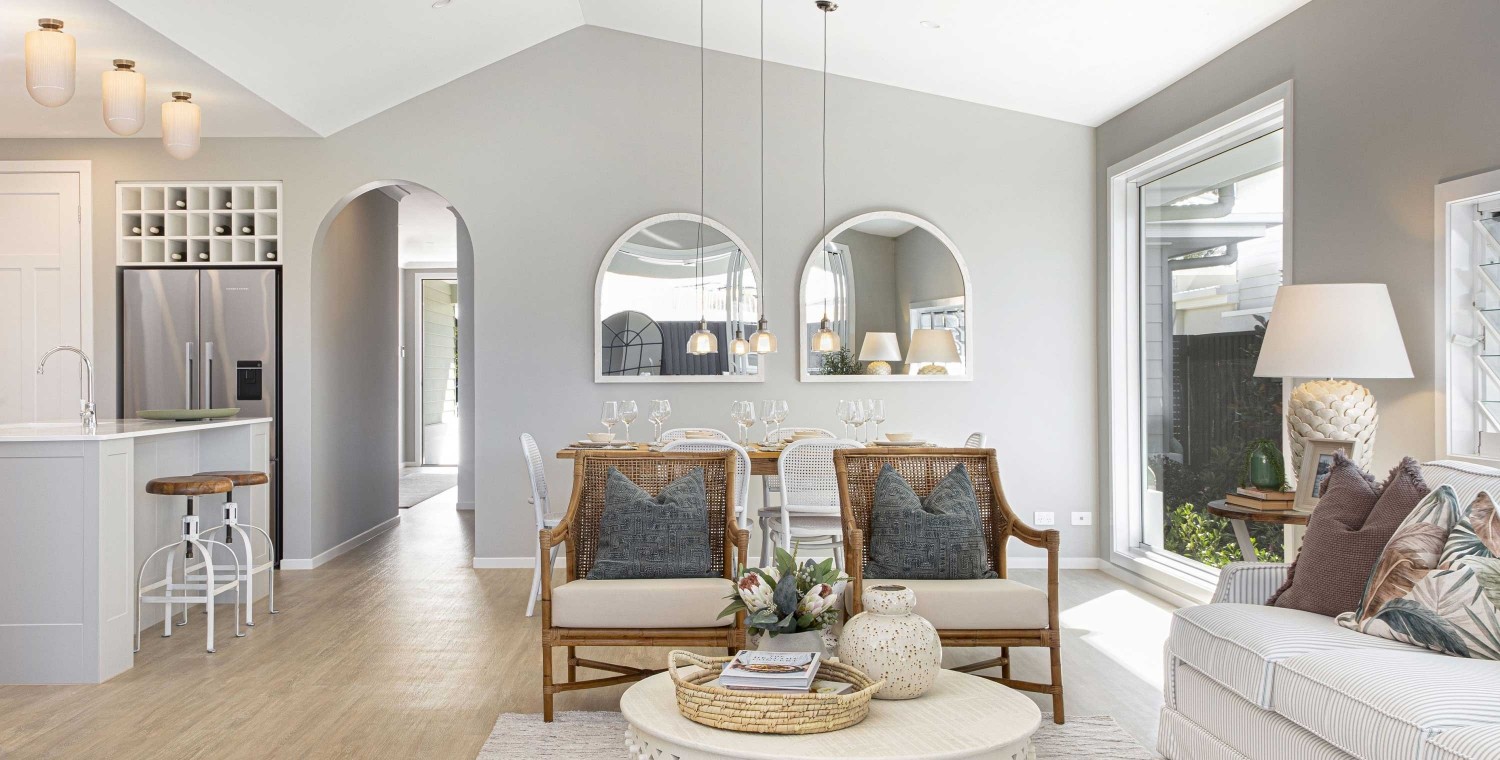 by
19/06/2020
Inspiration & Styling
If you're an interior lover, then you've probably noticed that arches are a top interior trend for 2020. From arched walkthroughs and built in shelving to bedheads and mirrors – Brighton's newest Display Homes feature a whole host of stunning arch inspiration that you too can have in your new home.
This popular shape creates softness through its rounded edges and adds a feminine touch in areas of the home otherwise filled with hard surfaces. The repetition of arches is also very popular, creating continuity and highlighting a more cohesive style, one that is eye-catching and gives a fantastic look to your home, as seen in the Melody 24 on display at Kalina, Springfield.
Here's a few examples of how Brighton have incorporated arches into our display homes both within the structure and style for you to check out.
Arched walk throughs – Melody 24 at Kalina, Springfield
Arches have been created in the architectural structure of this display home, creating internal walk throughs from the main living areas through to the rear master bedroom.
Arched built in shelving – Melody 24 at Kalina, Springfield
The Melody at Kalina features a large built in shelf in the shape of an arch, an eye-catching solution to your average shelf and is perfect to use as a bookshelf or to showcase your special trinkets, photo frames and prized objects. Function and Fashion go hand in hand here.
Arched Mirrors – Melody 24 & Frankky 35 at Kalina, Springfield
We love the shape repetition in the Melody with the arched walkthrough's, arched built in shelving and arched mirrors. The mirrors play with the rest of the curves in this display home and complete the overall look and feel. Arched mirrors are a great alternative if you love this trend but don't have any arches in the actual architectural structure of the home.
Arched Headboards - Piper 39 at Newport
A lot of our display homes feature oversized arched headboards that are paired with a stunning wallpaper or feature wall paint used as the backdrop, really making the headboard stand out.
Arched Privacy Screens – Piper 39 at Newport
The Piper features arched laser cut panels in the outdoor living area used as decorative privacy screening – a unique idea for your outdoor area which is affordable and easily customised.
Arched Furniture – Grayson 30 at Ridgeview, Narangba
Curved furniture including arched cabinets are very popular, bringing a well-rounded elegance to any room.