The four interior design trends we predict you'll see everywhere in 2022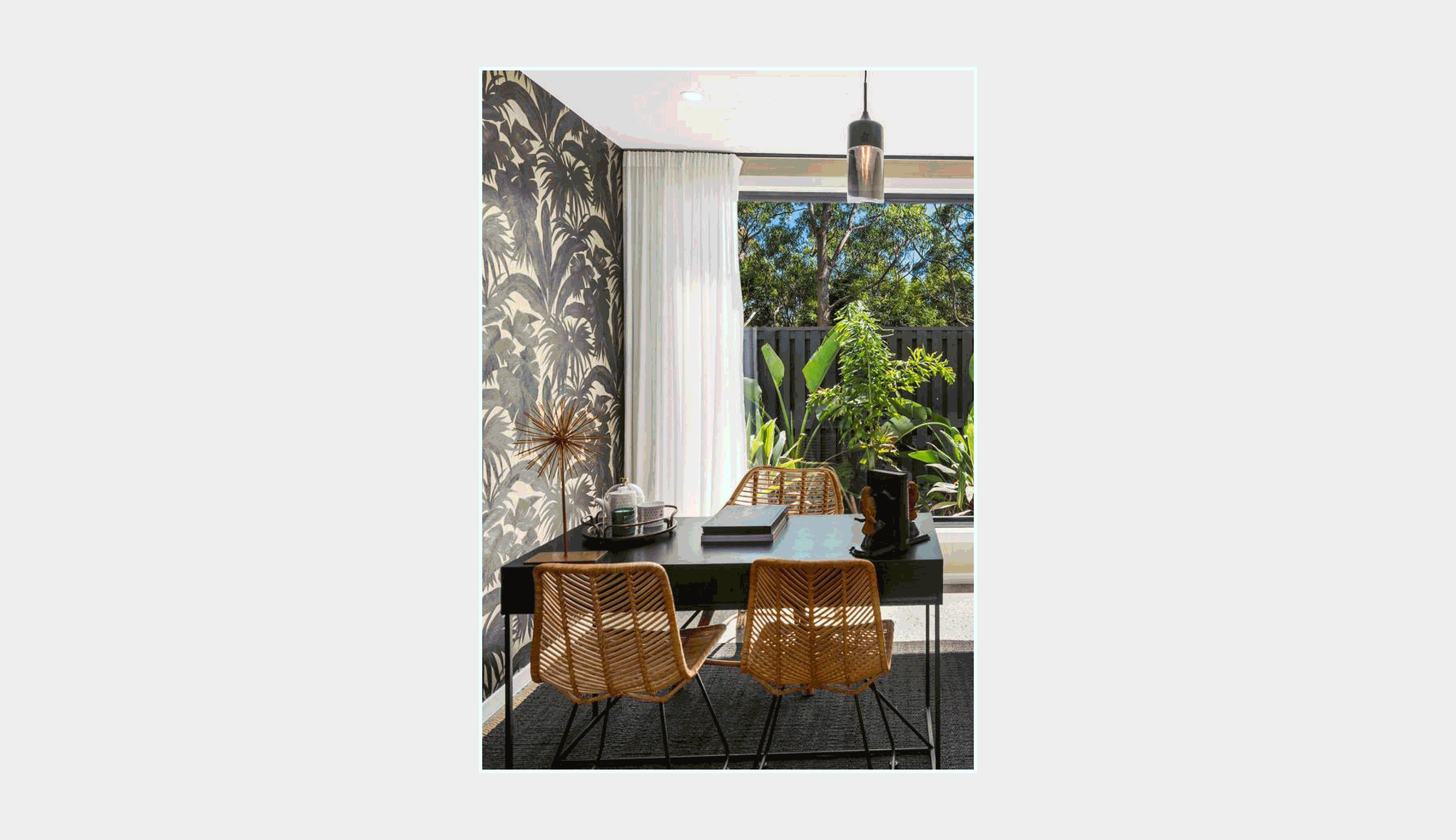 by
05/01/2022
Inspiration & Styling
GIF Caption: Brighton Homes Aurora Display Home, Adairs Home Republic Monstera Plant 150cm $229.99, Living By Design Lawrence Mirror 100cm $499, Living By Design Love Pattern & Colour by Charlotte Abrahams $49.99, Coco Republic Acton Resin Sculpture $255, Life Interiors Clover Armchair $895, Temple & Webster River Country Wall Art H165xW125 $1129, Urban Road Boucle Cushion $89, RJ Living Marmoset Found Halo Vase $109, Life Interiors Bonnie & Neil Side Table $330
As we bring in the new year, we are all looking forward to a new start, though it seems many of the design trends we've seen over the past two years will be re-emerging in 2022.
After spending more time than ever in our homes, design trends began prioritising welcoming living spaces in every room of the house as we shifted away from sparse modern styles and toward the warmth of organic surfaces and fabrics. We created sanctuaries worth staying home for and added touches of the outdoors in every room we could, and this year, it seems, we're holding on to what worked in 2021. 
From indoor plants to vibrant wallpapers – here's what we're predicting will be the top four interior design trends of 2022.
Feminine shapes and comforting curves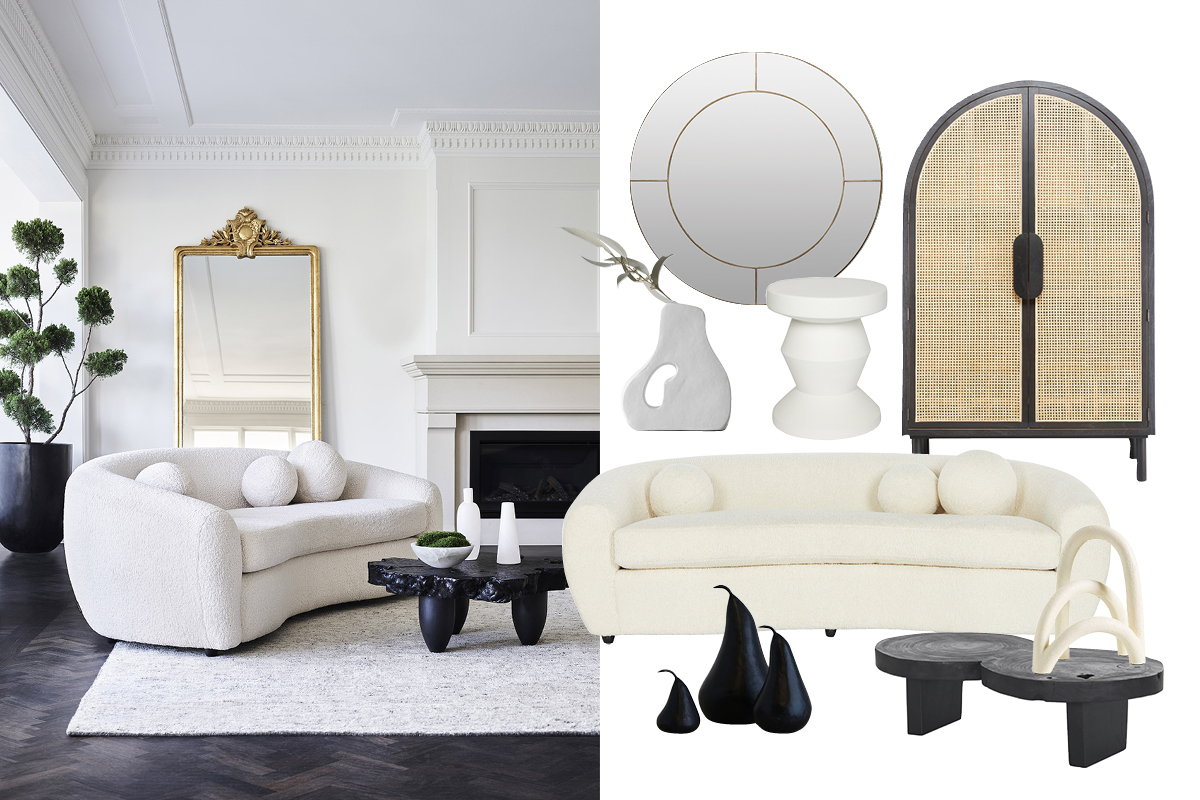 Caption: Coco Republic Campaign Image, Living By Design Lawrence Mirror 100cm $499, RJ Living Thomas Vase $125, Life Interiors Bonnie & Neil Side Table $330, RJ Living Vault Rattan Bar Cabinet $2899, Coco Republic Atelier Sofa $4995, Living By Design Pear Set of 3 $229.99, Coco Republic Marais Coffee Table $1345, Coco Republic Acton Resin Sculpture $255
After a tumultuous year, 2022 will pay homage to everything feminine as we seek comfort in gentle nurturing curves, stepping away from the sharp, jarring edges of modern interior design into a new Art Deco-inspired territory. From plump, curved boucle couches and hourglass vases, to gentle arched doorways and cabinetry – the rounded designs are comforting, welcoming and soft to both the touch and the eye. 
Expect to see the trend implemented in architecture, furniture and accessories like rugs and cushions. These soft lines will welcome both you and your guests like the warm embracing hug we're all craving.
Natural and organic is here to stay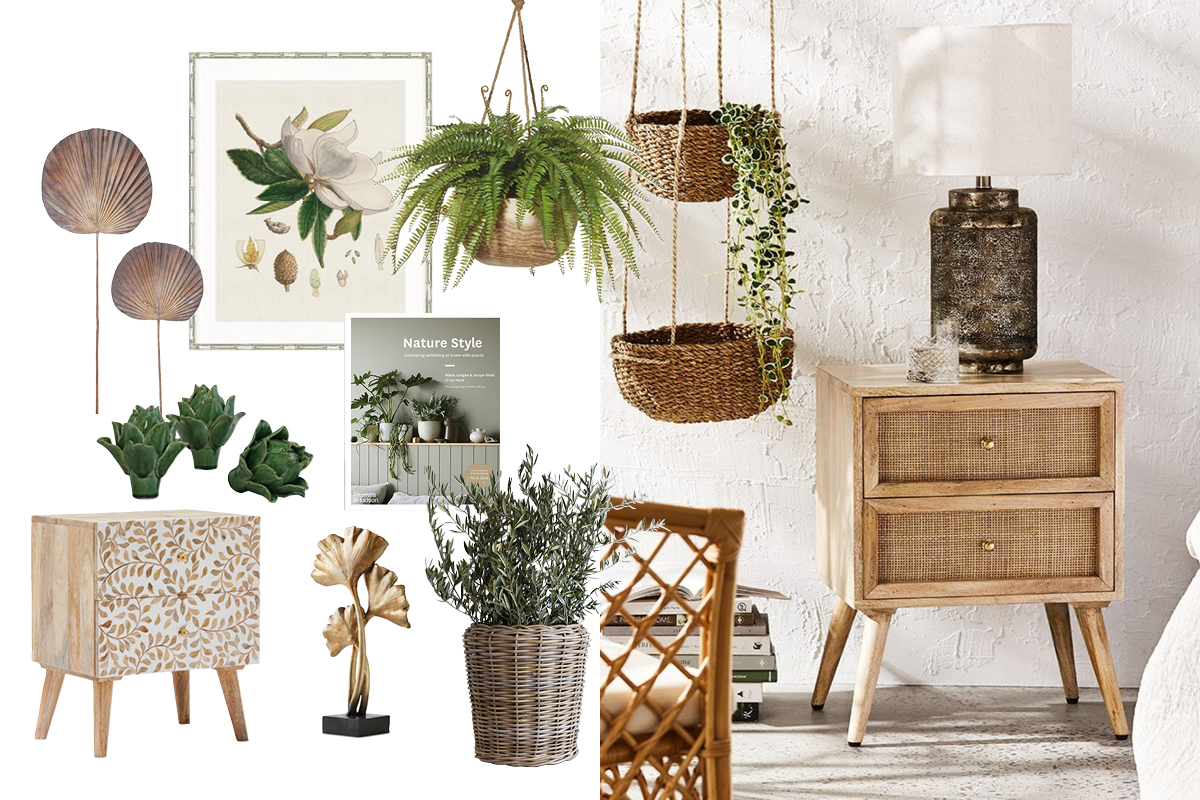 Caption: Adairs Campaign Image, Oz Design RB Deco Fan Palm Set of 2 $64.95, Living By Design Designer Boys Art Classical Botanic Study $415, Oz Design Boston Fern Hanging Bowl 73X73cm $219, Living By Design Ceramic Artichoke Set of 3 $49.99, Living By Design Nature Style, Cultivating Wellbeing at Home With Plants By Alana Langan and Jacqui Vidal $34.99, Adairs Kerala Bedside Table $499.99, Koala Living Ginkgo Leaf Stand $198, Living By Design Rattan Pot $149.99
Much of 2022's interior design trends will be driven by nature, as we strive to bring the outdoors in wherever we can, with homes embracing a biophilic design, connecting us to nature even inside. This trend goes well beyond simply embracing indoor plants – we'll be loving brass features, and floral patterns in an effort to incorporate natural elements at every chance we get. Colour schemes will comprise of natural wooden tones and greens of every shade, and patterned wallpapers won't be afraid to boldly honour plant and animal alike. 
We've honed our green thumbs and for good reason, because the indoor plant trend is here to stay in 2022. As we embrace any aspect of nature indoors, plants will feature heavily in every room of the house just like last year – only bigger and better. We're talking open verandas littered with plants, pots hanging from offices and kitchens, and well-lit conservatories bursting with greenery. 
The natural trend doesn't stop at colours and flora, with our love of sustainable and organic materials continuing for another year. While we may be embracing the trend for good reason, the aesthetic effect on our homes is just as pleasing as the effect on our planet. After a period of missing human connection, we're craving authenticity, and choosing to bring that feeling of human warmth into our homes with natural fibres, handmade ceramics and textures that evoke a comforting sensory experience. Expect to see more warm terracotta, linens, and the mismatched organic tableware we've all so enthusiastically adopted. 
 
Wallpaper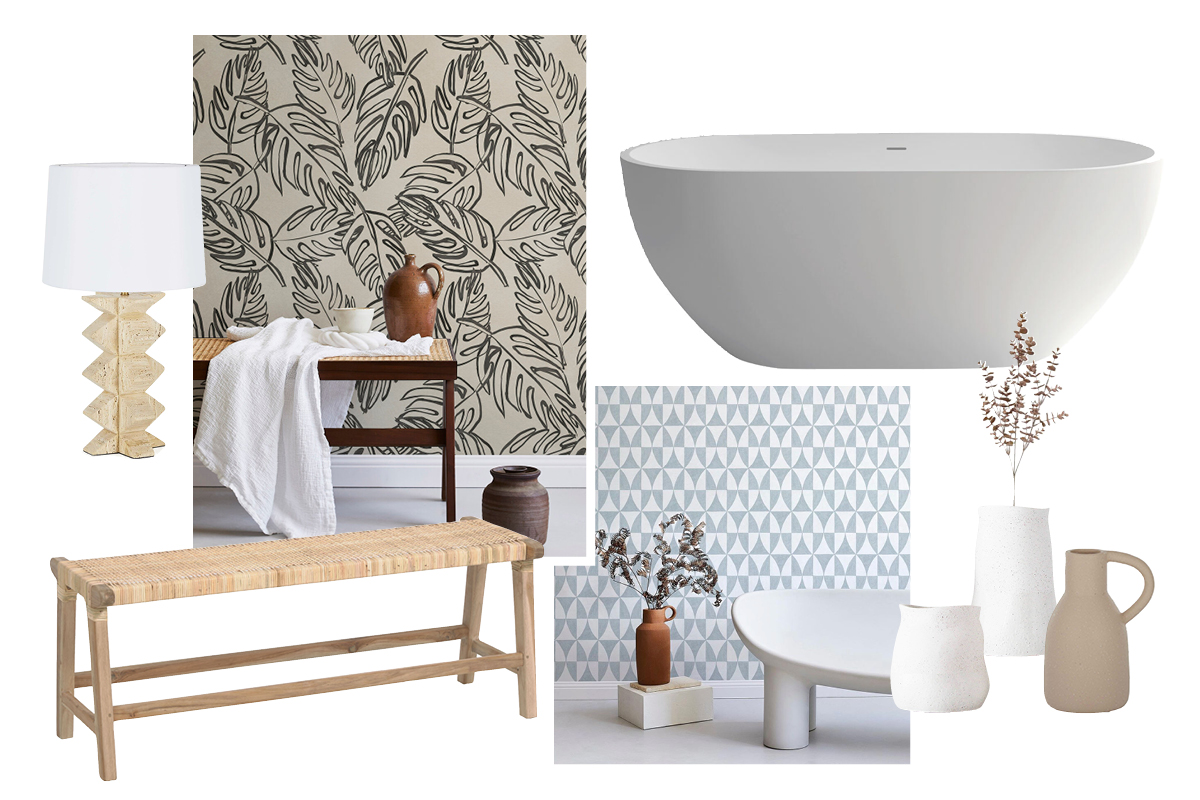 Caption: These Walls Campaign Images, Coco Republic Otto Table Lamp $425, Temple & Webster Frankie Ottoman Bench $479, Temple & Webster Nero Stone Bathtub $3150, Living By Design Tuba Ceramic Vase Bundle $159.98, Adairs Home Republic Eucalyptus Stem $12.99, Oz Design Cabot Vase 10X22cm $44.95
With so much time spent bookmarking the Instagram posts of interior designers, we've become experts in our own right, and as such have shifted away from following dedicated styles and toward showing our own personalities and stylistic flair. In 2022, one way we're seeing this eventuate is in wallpaper. Colourful botanical and floral motifs will add playful touches to any room and provide a warm authenticity to our homes. 
While many are embracing the trend subtly in bathrooms and feature walls dotted about the house, 2022 isn't a year to be timid when it comes to colours and patterns with experts suggesting cohesive clashing will be a big trend. 
Green Colour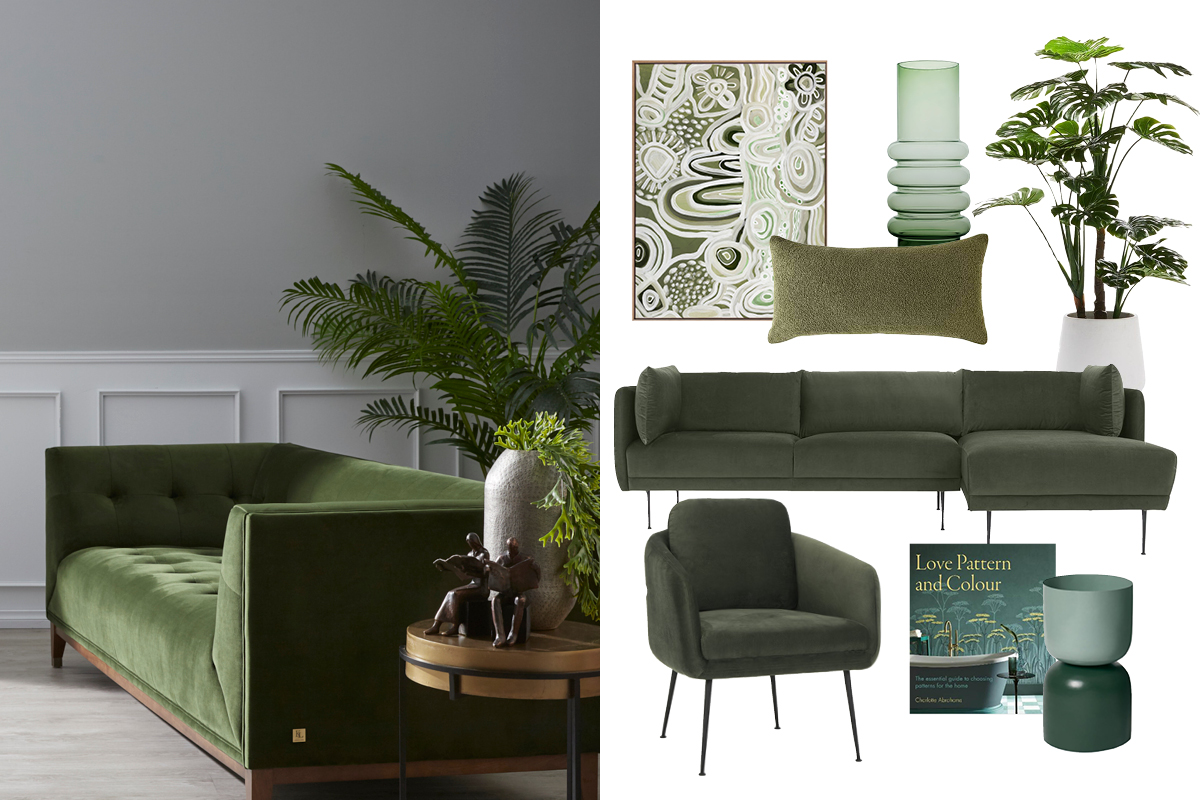 Caption: Koala Living Campaign Image, Temple & Webster River Country Wall Art H165xW125 $1129, Urban Road Boucle Cushion $89, RJ Living Marmoset Found Halo Vase $109, Adairs Home Republic Monstera Plant 150cm $229.99, Life Interiors Memphis Sofa $2795, Life Interiors Clover Armchair $895, Living By Design Love Pattern & Colour by Charlotte Abrahams $49.99, RJ Living Two Tone Planter $230
With greenery, 'green' sustainable materials, and botanical wallpapers all making our list, it only makes sense that the shade itself found a deserving place in our top trends for 2022. 
It's the colour of calm and life, and with people craving a sense of connection with nature in both the materials we use in our homes and the colour schemes, forest and landscape inspired hues are set to feature heavily in both paint and décor – from earthy browns, natural wood tones and hues from sage to emerald.  
Also worthy of a mention, 2022 will see a continuation of black and gold accents, with people seeking to balance organic with a hint of luxury in gold or black tinged mirrors, bathroom accents and décor. Our renewed love of sustainability also pays homage to our ancestry, seeing a rise in touches of antiquity and repurposing throughout our homes. 
We've rewilded our spaces, added warmth and character and finally, we've defined our spaces. In 2022 we've moved comfortably and confidently toward a home with set boundaries, defined work and play spaces making every room a room for living. 
 
---