Should I Renovate, or Build New?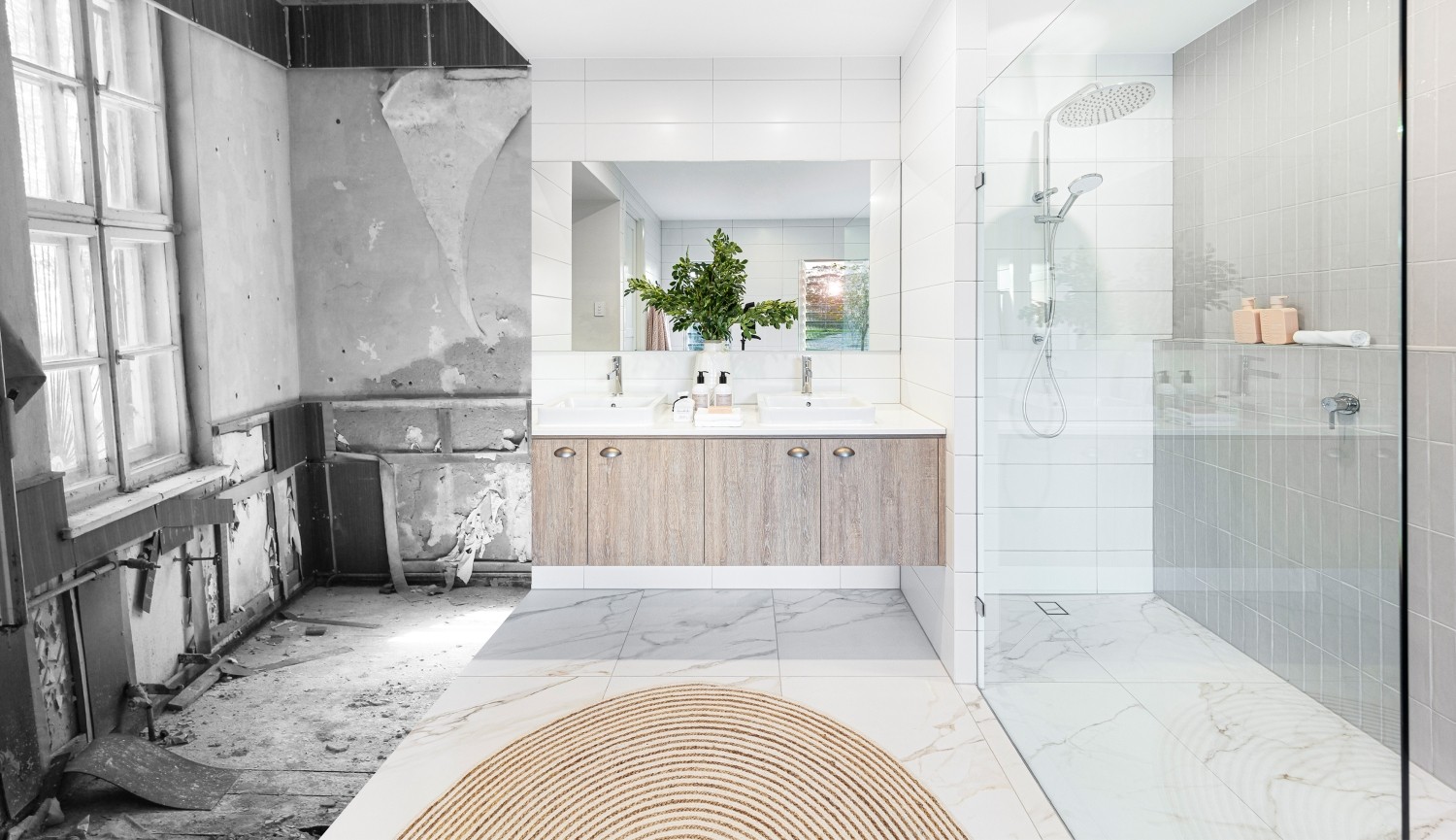 by
12/05/2022
Buying & Building
If you've ever seen The Block, we'd forgive you for believing that renovating a home is an always exciting process. But even these shows are a good representation of how much work is required to build and renovate a new home, and the unpredictable events that can creep up on you such as unexpected costs.
To help you figure out which option is right for you, we have made this guide on the pros and cons of renovating or rebuilding your new home.
Pros of Renovating an Existing Home
Adds Value to Your Property
Any upgrades you make to your home will increase its value on the market, especially if you live in a location that is in high demand. Selling a home at a profit is at the back of every homeowner's mind and if there is a room or two that could use a touch-up, you have a higher chance of selling for more than you bought.
If you're looking for inspiration for your own renovations, check out our Inspiration Gallery.
Able to Live Amongst the Renovations
Due to the project not starting from scratch and depending on the management of the project, you may be able to live among the renovations. Every building element required for the tradesmen to work on in the house is already in place, so they can perform any upgrades as per your request. As long as you don't mind a little dust or not having access to the kitchen or bathroom for a few weeks, this will save you from the stress of relocating.
Cons of Home Renovation
More Costly in the Long Term
When it comes to renovating your home, you may underestimate how much work will be required to get the job done. Naturally, this will cost a lot of money and if you are chasing the home of your dreams, you may find yourself exceeding your budget and your available finances.
Hidden Costs and Surprises You Cannot Budget and Plan For
Turning parts of your home into a construction site can expose many surprises that can give your budget – and your sanity - a hit. Some of these hidden costs include:
Council Fees: While this is location dependent, the larger the renovation, the larger the fees. It always helps to get in contact with your local council to be sure of how much you will be paying.
Variations on the Go: Sometimes variations to a project are required due to unforeseen circumstances like a termite infestation or damp damage that went unnoticed.
Tradesmen and Material Delays: Time is money in construction and if there are delays in organising tradesmen or the necessary materials, you could be spending more than you planned for.
Temporarily Relocating: Renovations can sometimes cause large enough disruptions to your daily life that you may have to relocate for the duration of the project.
Limitations for What You Can Renovate
Renovating your home means you are limited to the existing structure, meaning that you can only go so far with upgrades before you run the risk of compromising the structural integrity. This is especially the case with older home, which can also conceal unexpected conditions arising such as asbestos.
Pros of Knocking Down and Rebuilding
Complete Control Over This Project
Knowing you have complete control of the design, aesthetics and overall scope of a rebuild project offers a sense of creative empowerment, with the knowledge that you have the freedom to make the home of your dreams. And if you choose to build with Brighton Homes, we are with you every step of the way.
A Home That Lasts
When you build a home from scratch, you will have access to modern materials that include the latest innovations to improve its longevity. When you choose to build with Brighton Homes, you can make use of TRUECORE steel from BlueScope that won't shrink, twist or warp over time. And to ensure greater peace of mind, our 24 Month Warranty is double the industry's 12 month standard and with a 60 Year Structural Guarantee, we promise your beautiful new home is built to last!
Visiting the MyChoice Design Studio can provide you with all the interior design inspiration you need.
Save of Stamp Duty
Buying or building a new home in a new location requires you to pay stamp duty. In Queensland, you pay this one-off fee based on the value of the property or land – and within 30 days of settlement – and this could potentially be upwards of $20k. For a knockdown rebuild, you already own the land therefore, you pay zero stamp duty.
Cons of Knockdown Rebuilds
Required to Move Out
Building a new house from the ground up can take roughly 8 to 12 months, depending on the scope of the project. This can also cause some disruptions to your lifestyle and you will be required to move out during the construction process, which of course, may lead to more costs on your end.
Council Approvals
Any time you have to build a new home in Queensland, you must notify your local council. Sometimes this process can be stressful and there is a lot to consider when approaching your council as each one has different regulations. Some of which include, whether you live in a heritage-listed suburb and whether the zone of land is suitable. If these are met, it's possible that the permit for your rebuild may be rejected.
Been thinking about a rebuild? Get in touch with our friendly team today!
---