Our Floor Plan, Your Style: Juniper 27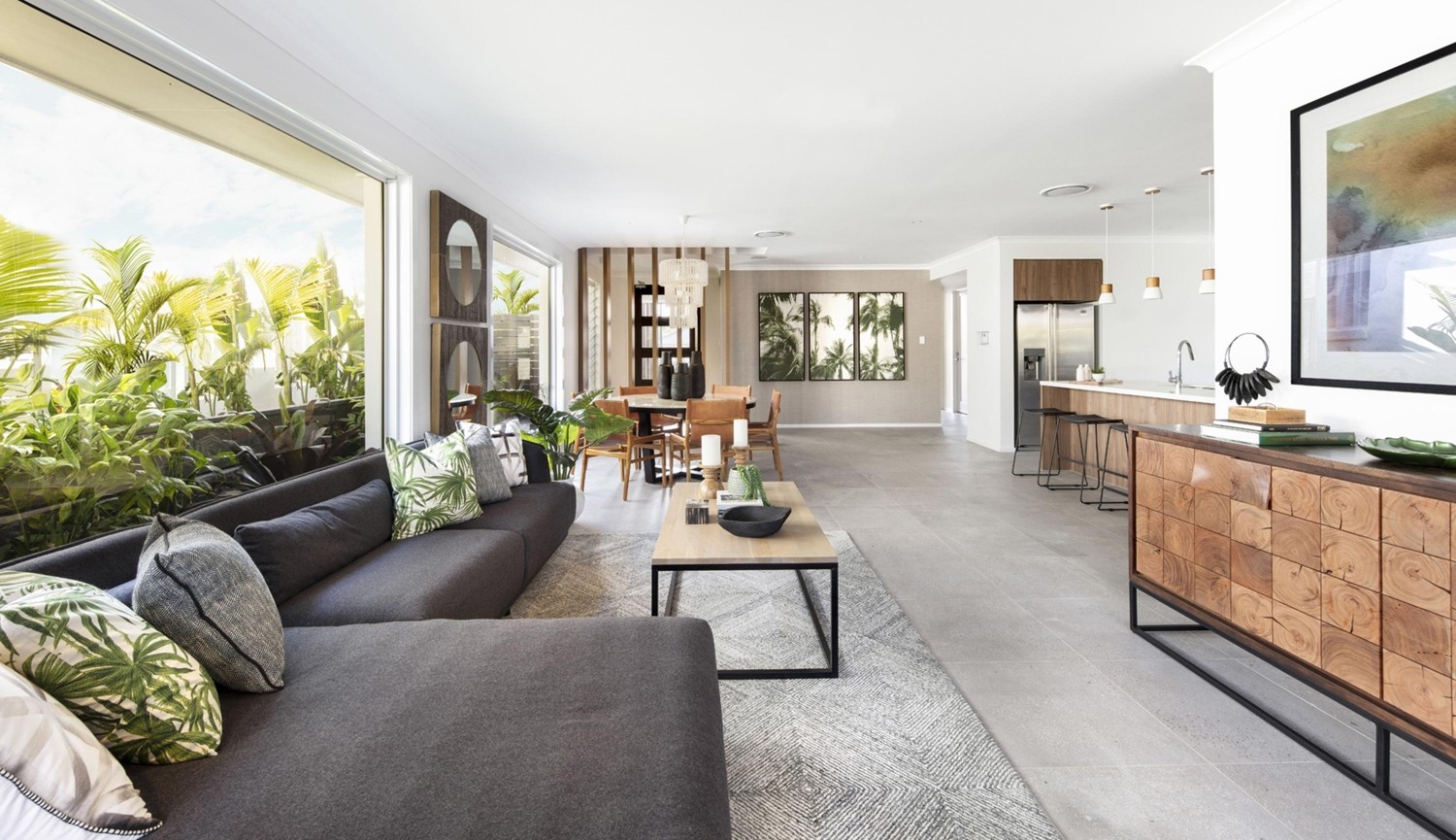 by
22/04/2021
Inspiration & Styling
Welcome to the second edition of Our Floorplan, Your Style, featuring the Juniper 27! If you aren't up to speed, check out the first edition featuring the Grayson 30. These blogs are here to help you visualise the different styles you can adapt to one floor plan. Also, a friendly reminder that as you go through a Brighton Display Home, you aren't tied to the style on display. While you tour through our display homes you should be thinking about the flow and functionality of the home, the number of bedrooms, your budget, living spaces, room size and the list goes on. So, if you are in love with a display home, but not the style, don't fret! The style can be changed to your own personal preference.
As a refresher, the Brighton homes build experience can be completed in three simple steps:
Choose your floor plan
Choose your façade
Choose your MyChoice style (classic, urban, coastal, luxe, global or contempo).
To help you visualise this we thought we would take the time to explore how you achieve many different styles with the one floor plan and this time we are focusing on the Juniper 27.
Juniper 27
Looking at the Juniper 27 on display at both Harmony Palmview and Covella Greenbank. This very popular, single storey open plan house design is a stellar example of how this home can be brought to life through your own unique style. Specifically looking at the façade, both homes on display feature the Maizey façade however one uses stone and the other using brick. A great example of how different looks can be achieved by changing material and colours. Below we take a look at both Global and Urban style adaptations of the Juniper 27.
JUNIPER 27 ON DISPLAY AT COVELLA GREENBANK
Home style: Global
Style Subset: Bohemian
Façade: Maizey
Overview: This Bohemian coastal home features soft whites as a backdrop, whitewashed timber flooring and pops of pattern and colour through the use of soft peach, greys and terracotta.
JUNIPER 27 ON DISPLAY AT HARMONY PALMVIEW
Home style: Urban
Style Subset: Organic
Façade: Maizey
Overview: This spa resort styled home features earthy tones of mid grey taupes bought to life with punches of tropical green. The spa like resort space is further personified through the use of warm timbers, textured tiles and natural stone.
Below we look at both display homes and how one space on the same floor plan can be transformed completely by style.
Activities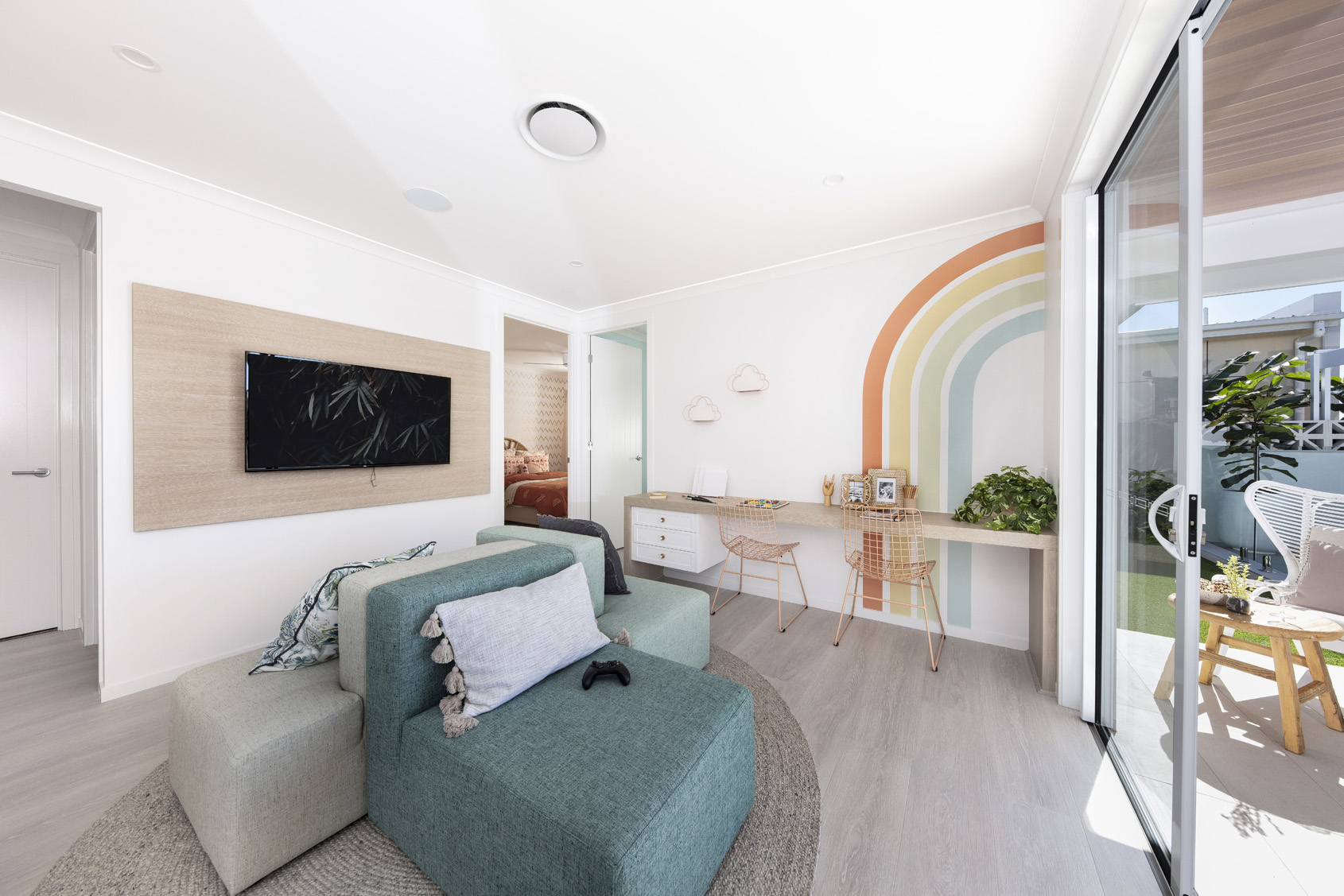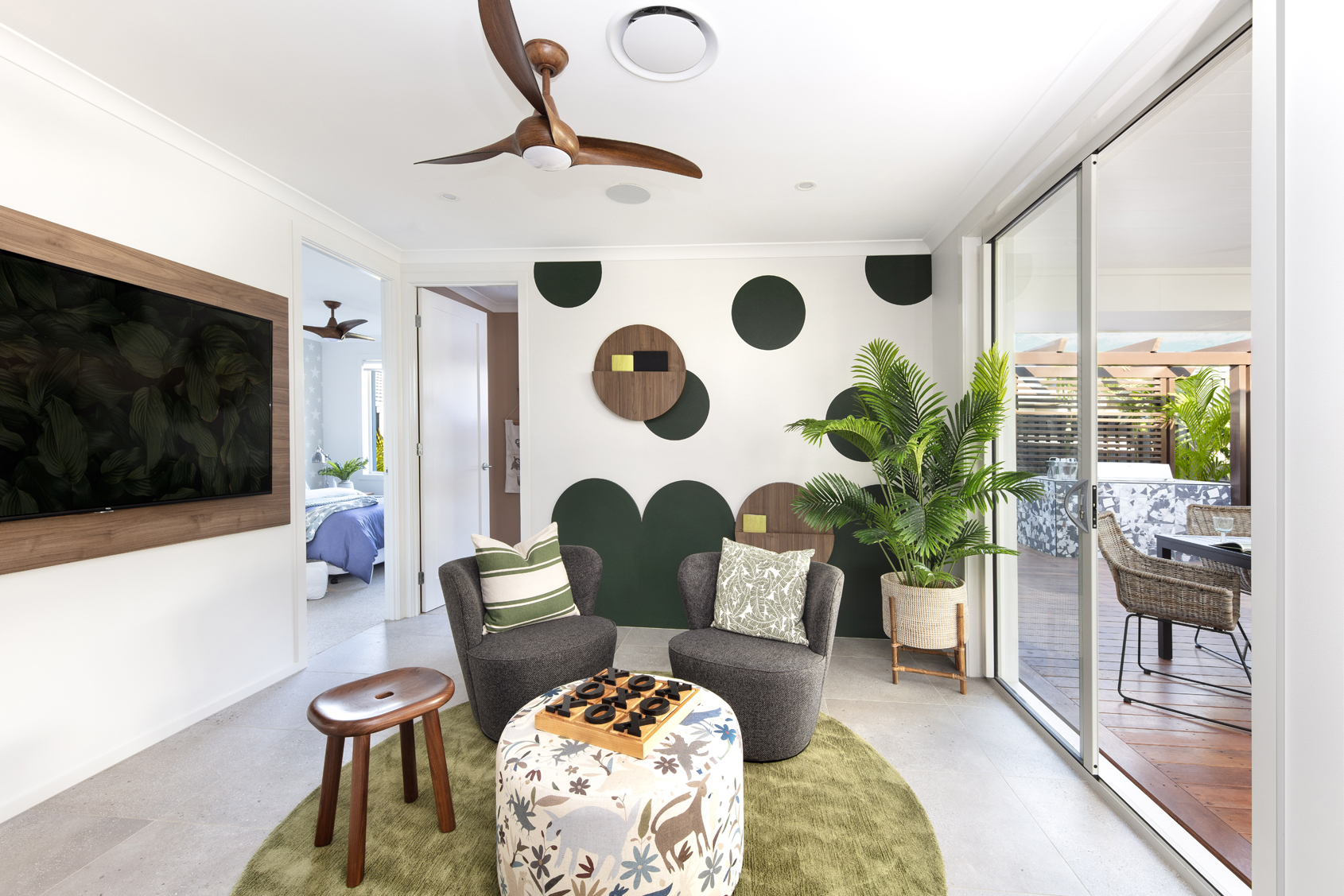 Kitchen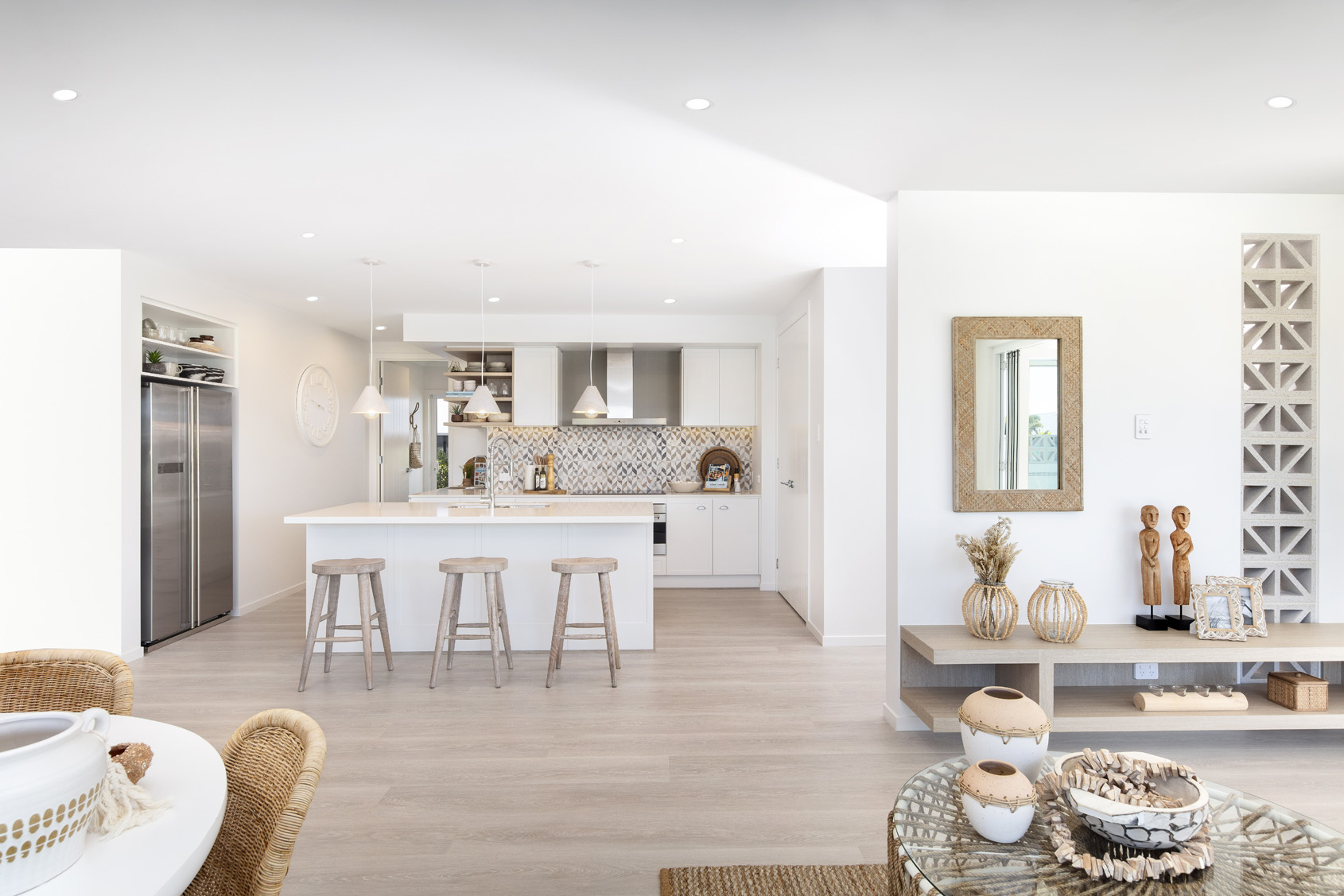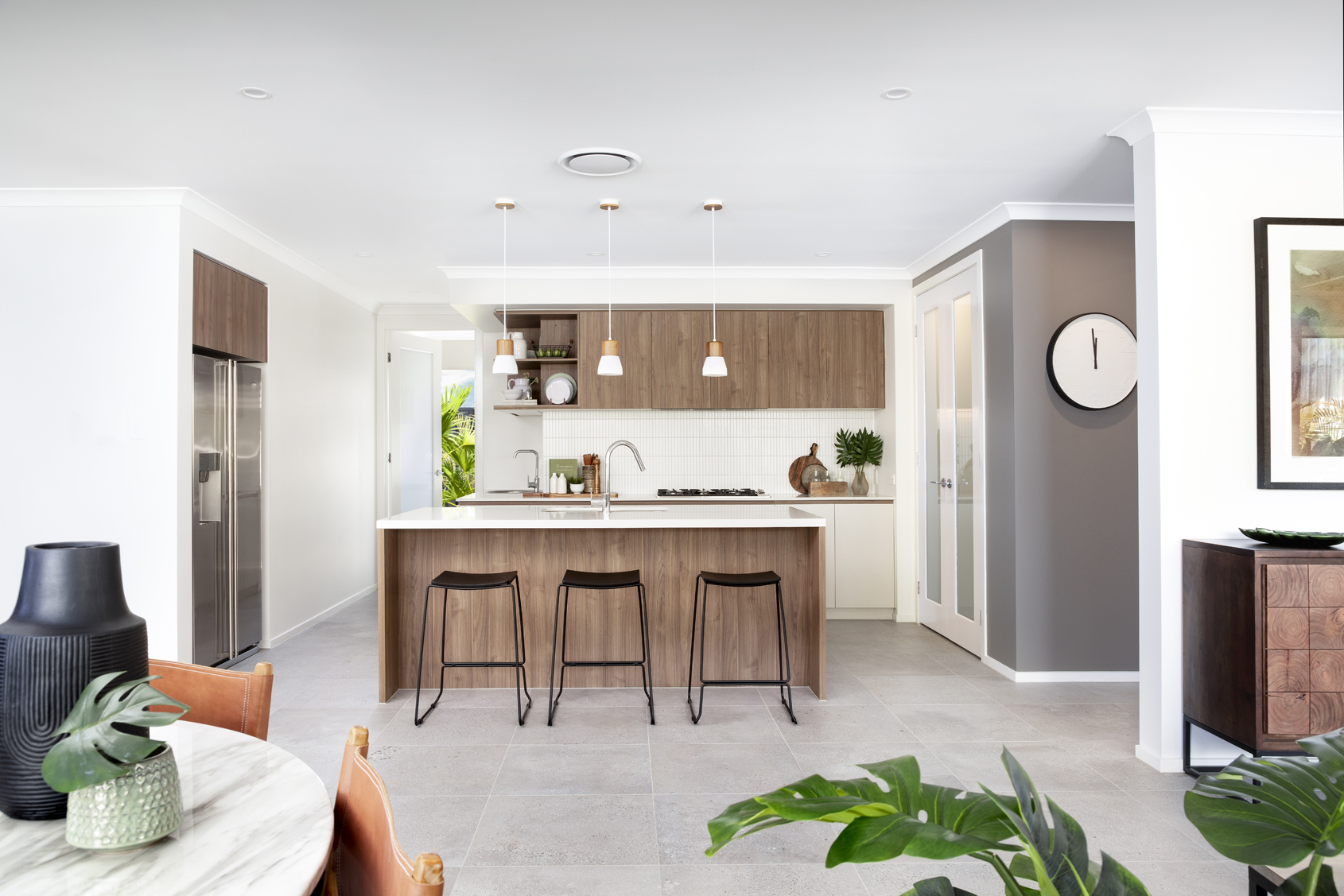 Kids Bedroom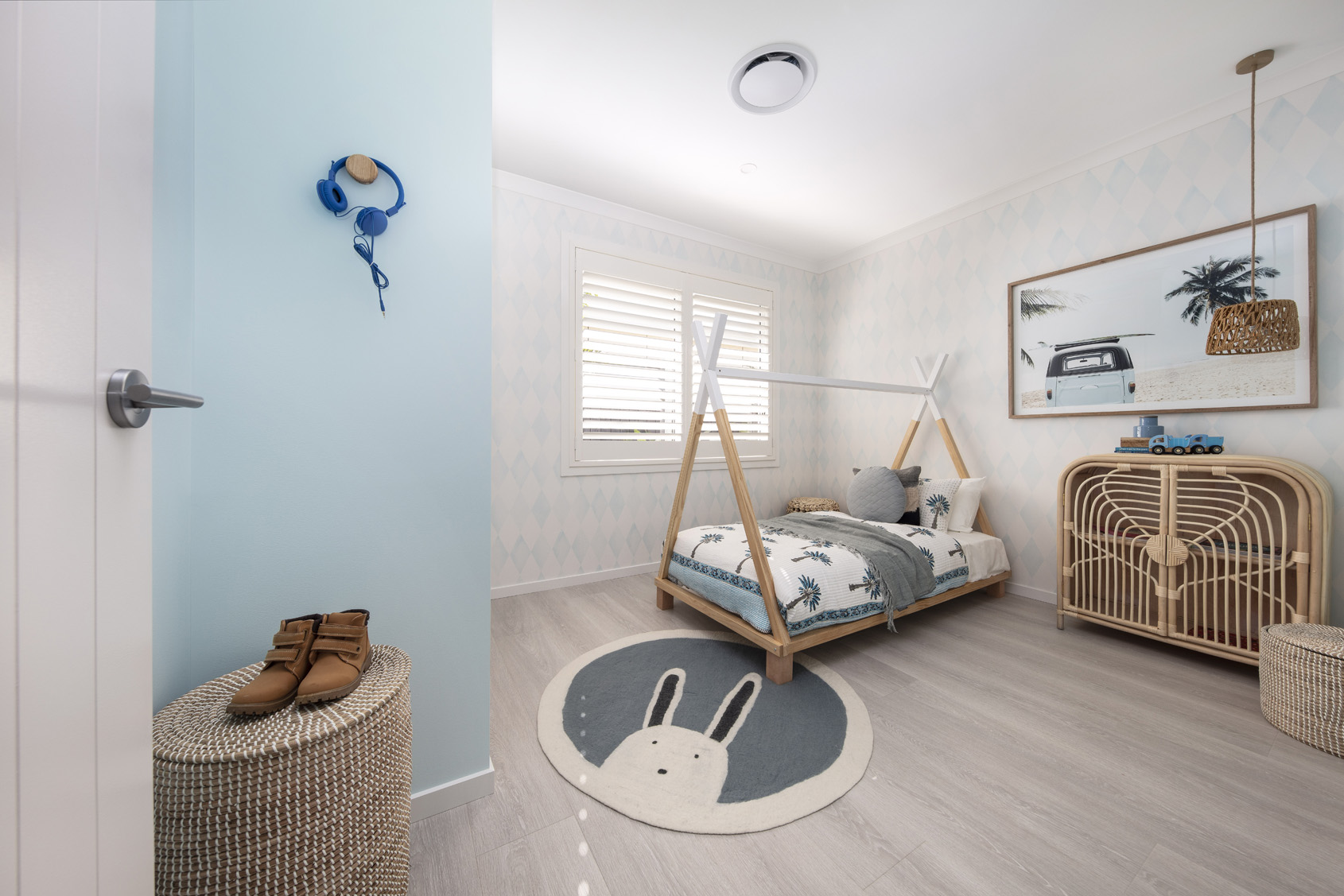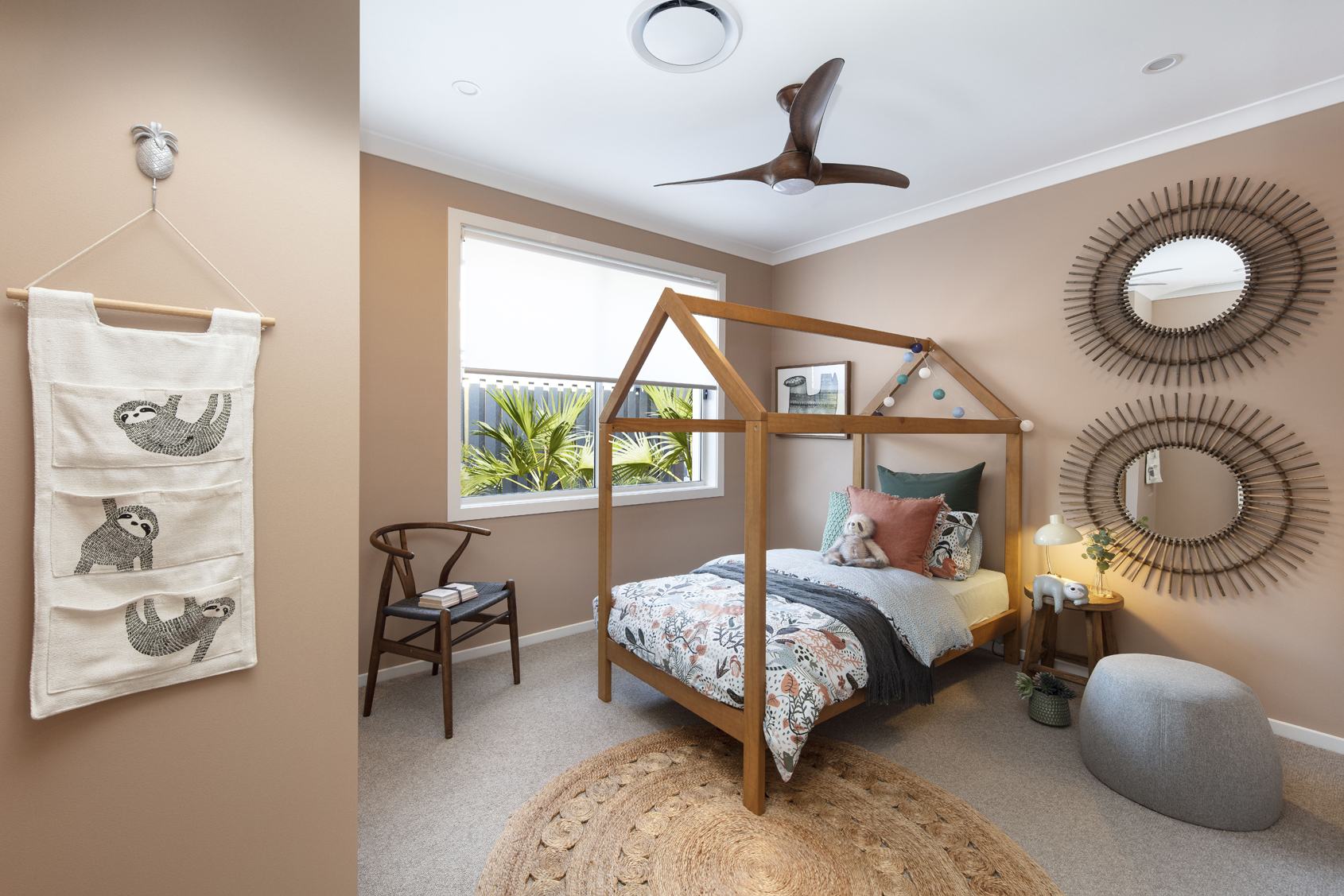 Living Room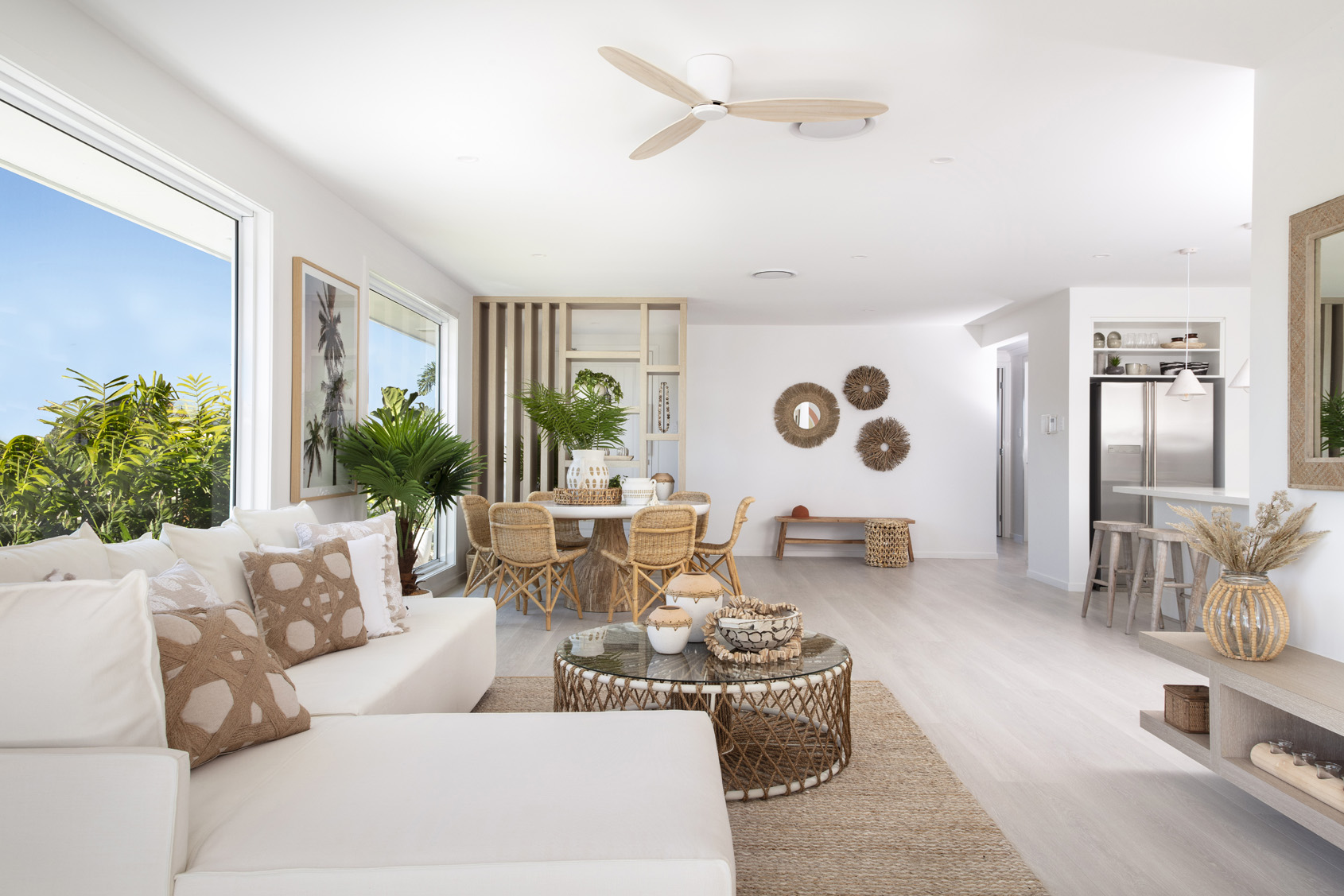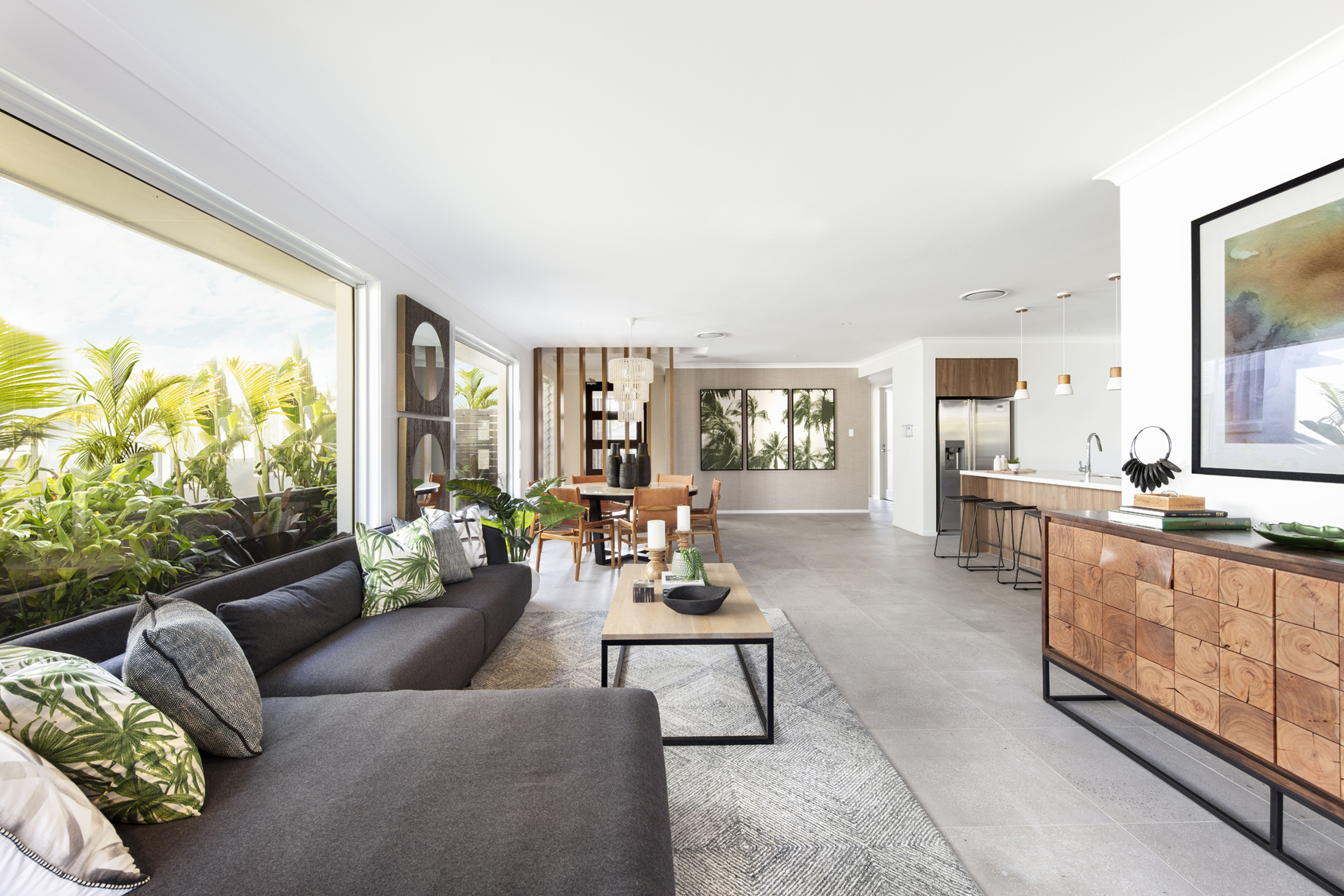 Facade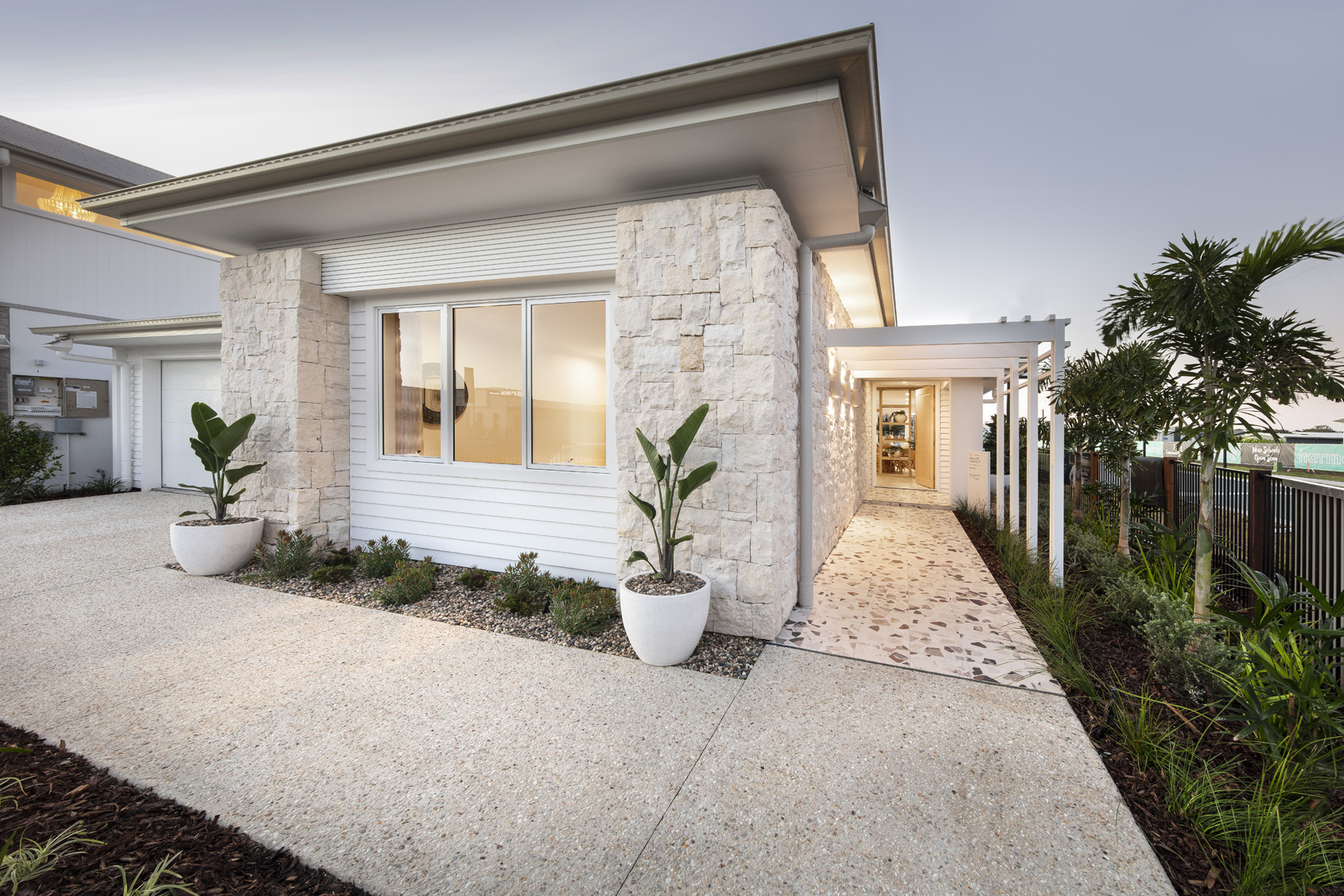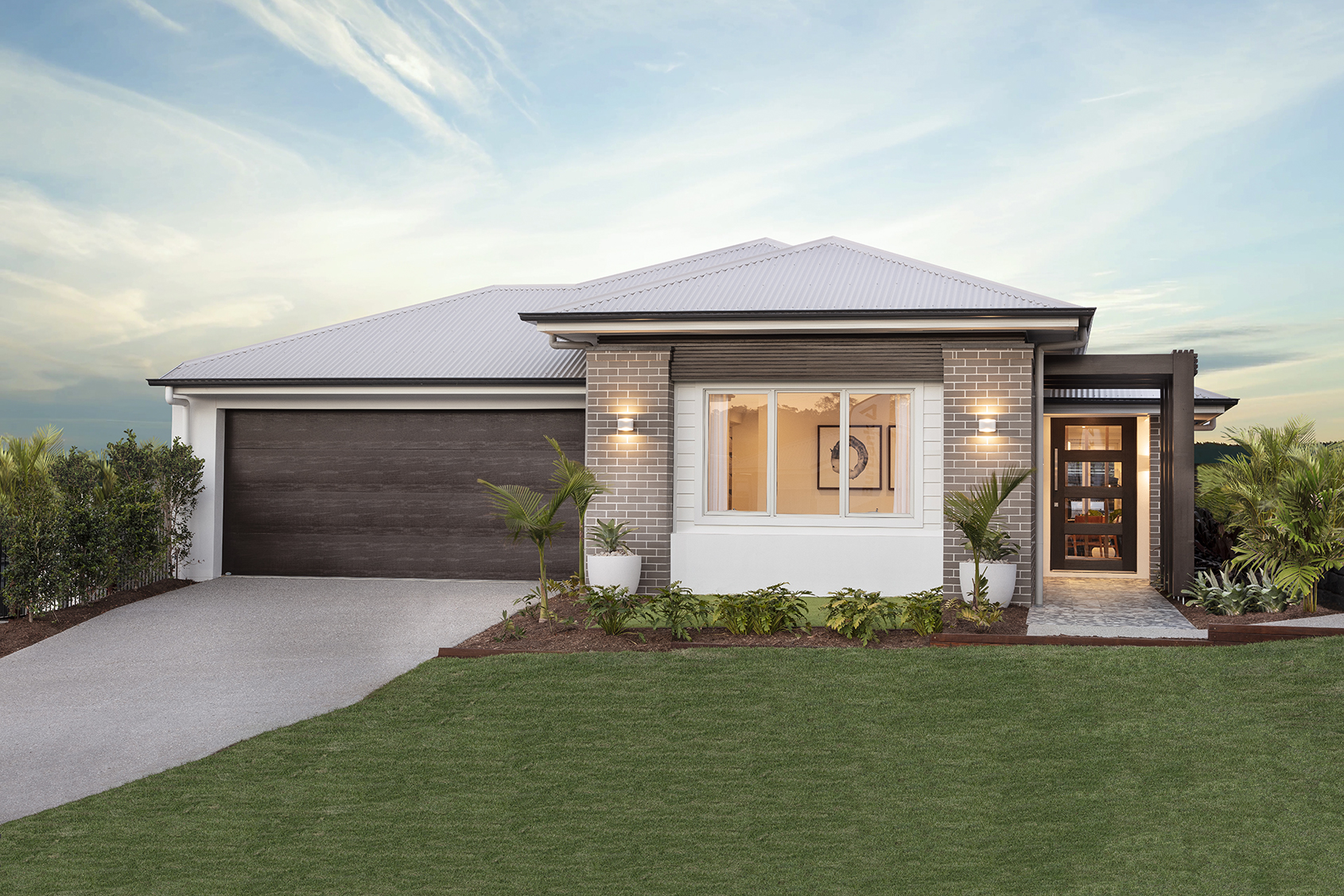 To see for yourself visit our display homes! For a full list of displays and their details click here.