Interior Design Trends You'll See In 2023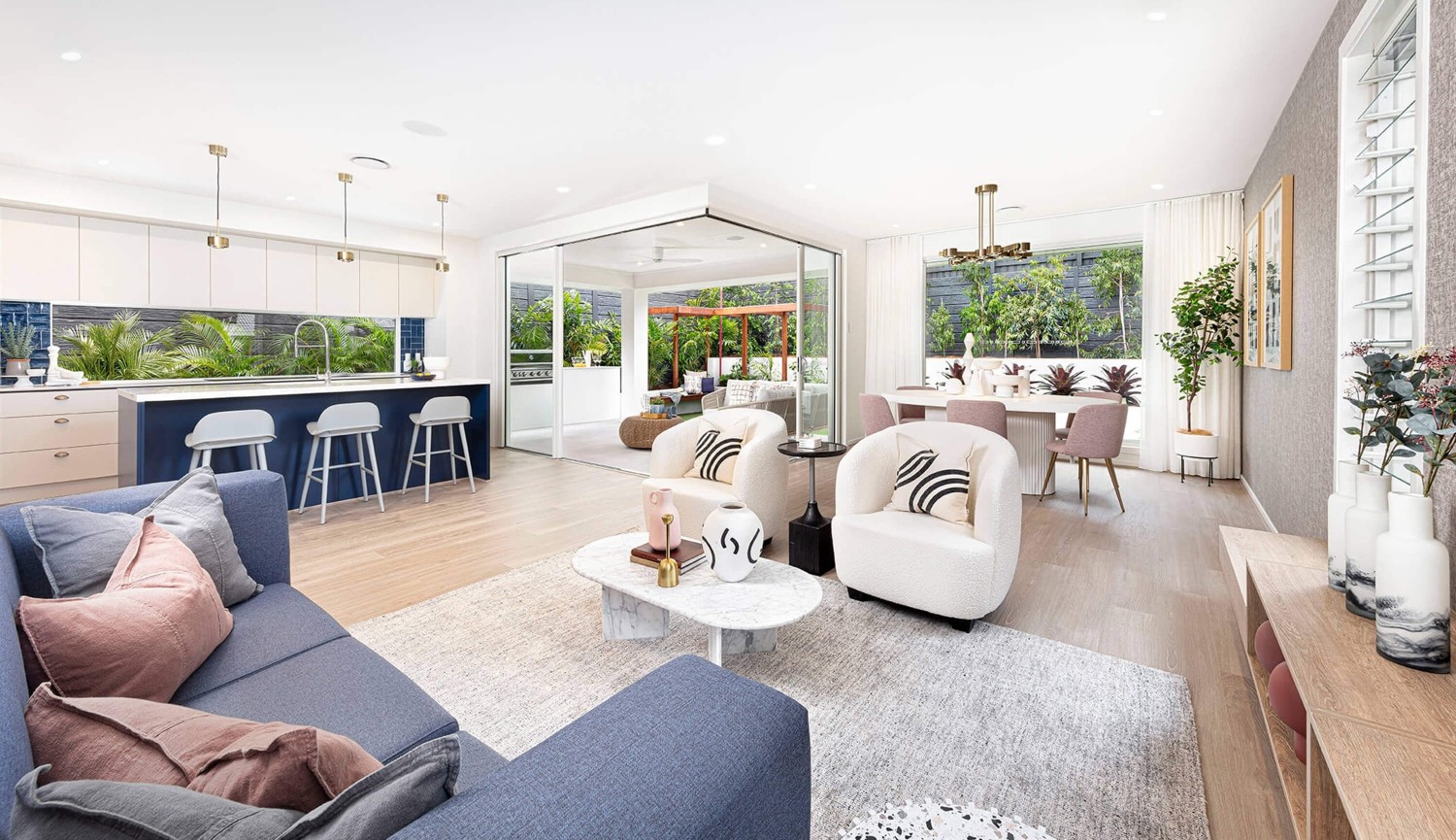 by
26/05/2023
Inspiration & Styling
In the interior design world, trends are constantly evolving, with new trends emerging every season. Fortunately, you don't need to hop onto each and every trend, you can just incorporate the ones you love into your interior aesthetic. Whether that's modern retro interior design, industrial style interior design, bright and bold colours, or another trend entirely—learn all about the interior design trends of 2023 and see which ones best suit your personal interior style. To round it all out, we've included some of our best display homes that all feature aspects of these 2023 interior trends. Take a look at the home designs and see how you can create the trendy home that you're looking for. 
2023 Interior Design Trends
To start, we're looking at some of our top interior design trends that are emerging in 2023.
Open Floor Plans
In 2023, it's all about flexibility. Living spaces that can be divided with room dividers or left open and free-flowing to suit the needs of the day. An easy example is a small nook that turns into a home office during the day and easily blends back into the living room for extra space when entertaining friends and family. Sliding doors are a great way to achieve this effect—they create distinct zones when closed but make the space feel connected when you open them up.
Sustainability & Sustainable Design
As more people develop an interest in making sustainable choices, the Sustainability interior design trend of 2023 rises. The aesthetic is made up of eco-friendly choices, like using natural materials in the building or getting vintage furniture instead of buying a new piece of fast furniture.  
Materials like organic wood and cotton fit this trend perfectly, and can give a home a breath of fresh air with soft, natural finishes. This look also complements another 2023 interior design trend, eclectic styling.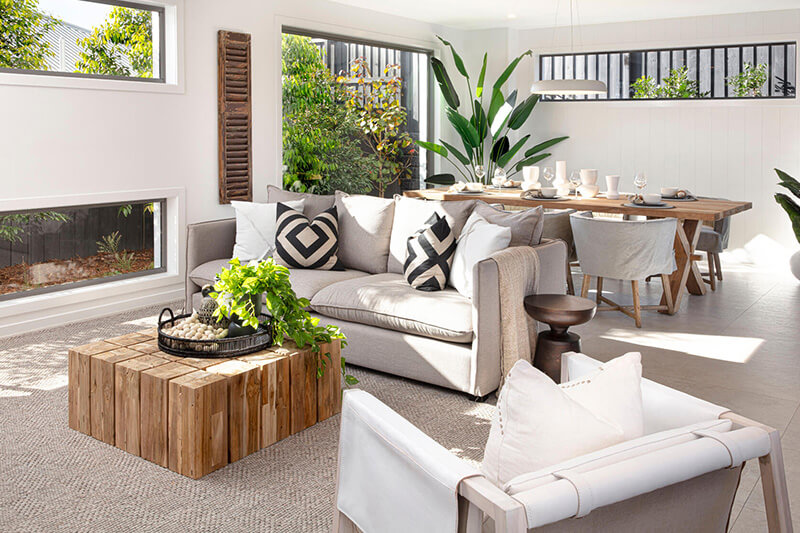 Eclectic Styling
One of the easiest design trends to try out, the eclectic style is all about celebrating your individuality. No need to have a perfectly coordinated lounge room setting. Who cares if the chairs aren't all the same? They reflect the people who live in the home and their varied, unique styles. The antique coffee table shouldn't be hidden away because it doesn't match the side tables, it should be celebrated because it's unique!
You might find people referring to this same kind of style as "meaningful objects". Instead of trying to create a space where we feel at home with clever colour palettes, we can do so with the homewares and furniture that we love. Who said a baby blanket couldn't turn into a throw blanket for the couch? Use those beloved items as a decorative element to celebrate both the past and the future.
Outdoor-Inspired Interiors
Nature and plant motifs abound in this interior trend. Think about evoking the look of a rainforest in your living room—celebrate earth tones via a dark wood coffee table, neutral-toned upholstery, fresh florals on the table, neutral rugs, and wall art of lush green leaves. Expect to see colour palettes as well as furniture and interior arrangements that draw inspiration from nature to bring the outside in.
This look is also called "biophillic" meaning loving nature. It will also see us blending indoor and outdoor spaces with a more holistic approach to home design. Organic shapes that evoke the natural environment are a prominent feature in this home decor trend.
Return of Art Deco
Style is cyclical, and we see past trends re-emerge all the time. In 2023, we'll see a hint of the Art Deco look return to our homes. Thought with a much more contemporary-modern interpretation of the mid-century modern look.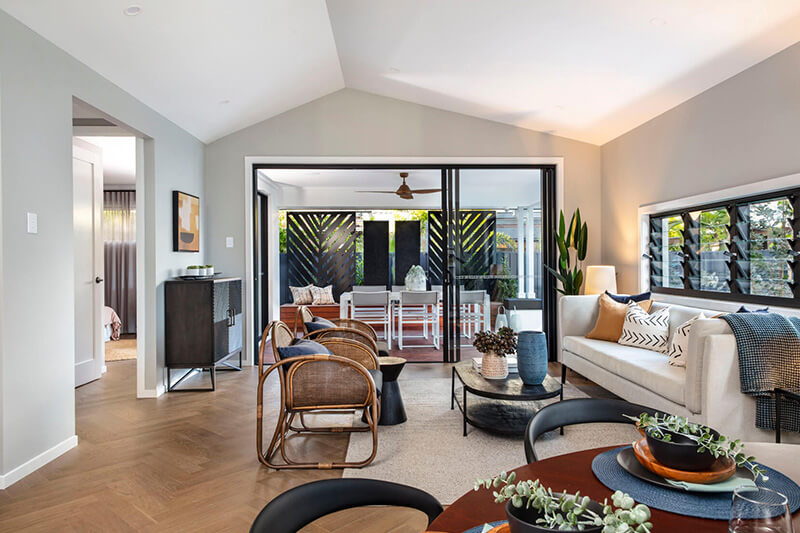 With minimalist still loved by many, we won't see big, bold, vintage designs take over. Rather, draw inspiration from the Art Deco era, with geometric shapes, curved furniture, warm colours, and the occasional luxe accent like a hint of gold or marble. Speaking of…
Marble
While great looks never go out of style, 2023 is set to bring more marble into our lives. The organic look of the stone complements the Sustainability trend and the desire to bring more of nature into our homes. Marble can add a hint of drama and glamour, especially in the kitchen or bathroom. Marble bench tops create a focal point in the space, and everything else can flow around them.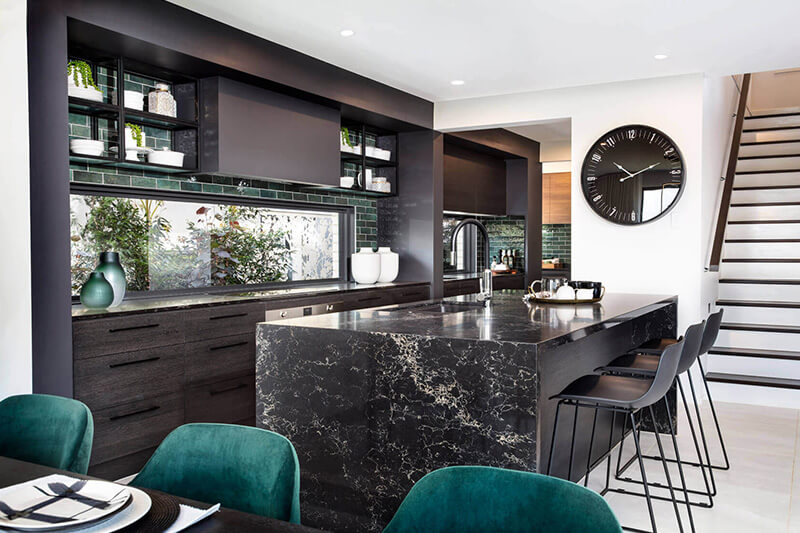 Let There Be Natural Light
After the lockdowns of the past few years, natural, welcoming light in the home is an even higher priority than ever before. Wide, tall windows and open-plan living spaces to let the light and the fresh air flow through the home are a must-have for anyone designing or personalising their home
2023 Interior Trends in the Brighton's Display Homes
To help you bring these top interior design trends to life, start with a home that's been modelled with interior design and interior trends in mind. Brighton's display homes is where you can find not only interior design inspiration, but maybe even the home of your dreams. Discover where you can see these incredible designs for yourself by checking out our list of displays below.
Kenzie
With its open living/dining area that effortlessly flows into the outdoor entertaining space, the Kenzie is already on-trend for 2023. The single-story house incorporates subtle, neutral colouring to give you space to make beloved home accessories stand out. The Kenzie kitchen also features marble-style kitchen island for that hint of luxury to take your home to the next level.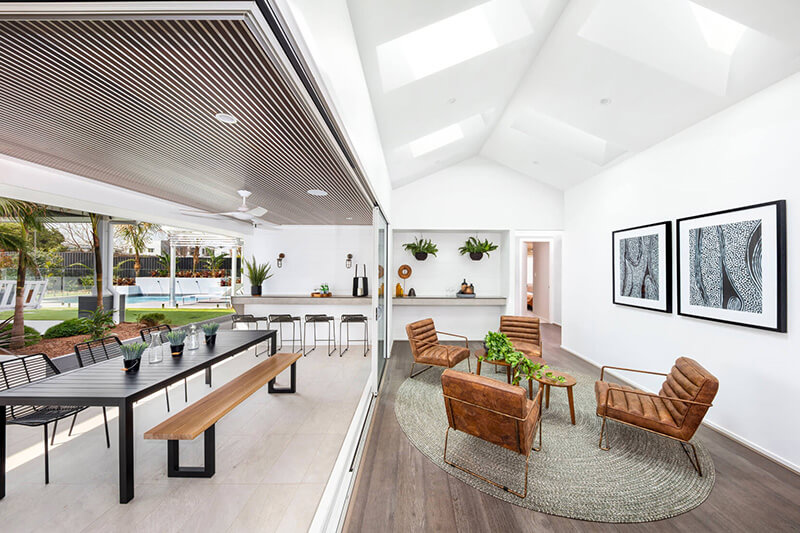 Display home location: Arise Rochedale
Dusk
The floorplan of the Dusk home lets you wake up each morning and wander onto your balcony directly from the master bedroom. The large sliding doors separate or bring the spaces together, and the same doors sit on a perpendicular edge of the balcony to flow further into the versatile living and dining room. With clever black accents throughout, the Dusk design brings together modern retro, industrial, and contemporary 2023 interior styles.
Display home location:
Carver's Reach, Park Ridge
BLK 49C
The impressively large windows of the BLK 49C home design capture natural light from every angle. In the living room, bedroom, kitchen, and bathroom, well-placed windows deliver soft natural light without compromising privacy.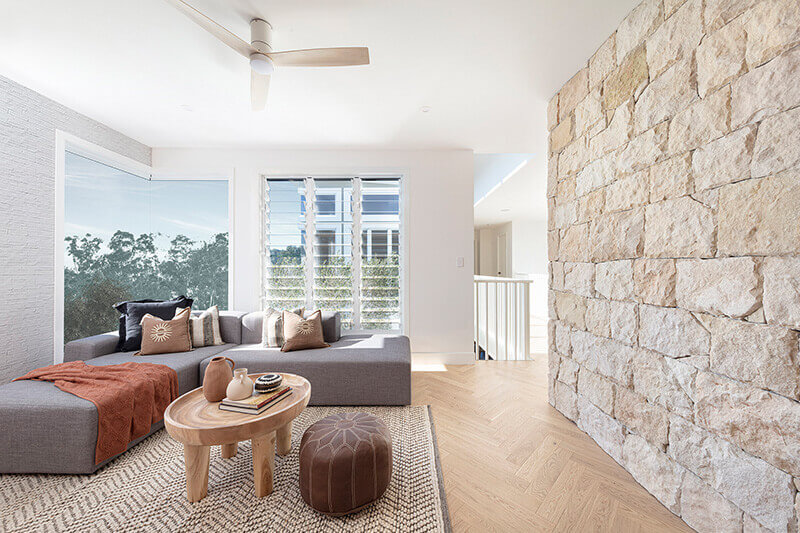 Display home Location: Ashford Residences, Everton Park
Aurora
The Aurora's dynamic interior with open, flowing spaces is ready to per personalised and made your own for an  on-trend 2023 home. Natural finishes, versatile spaces, plenty of natural light, and a hint of retro-industrial charm all come together for a home design and floor plan to exemplify 2023 interior design trends and trends into the future.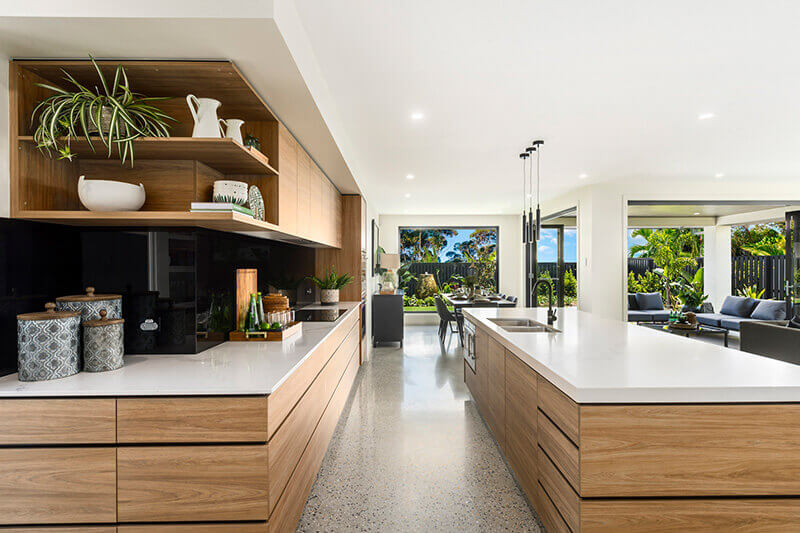 Display home location: The Surrounds, Helensvale
When it comes to helping you design the trendy home that fits your vision, the experts at the MyChoice Design Studio are here to help. Check out Your Guide to the MyChoice Design Studio to get the low down so that you can get the most out of your home design journey.