How to Create an Amazing Outdoor Area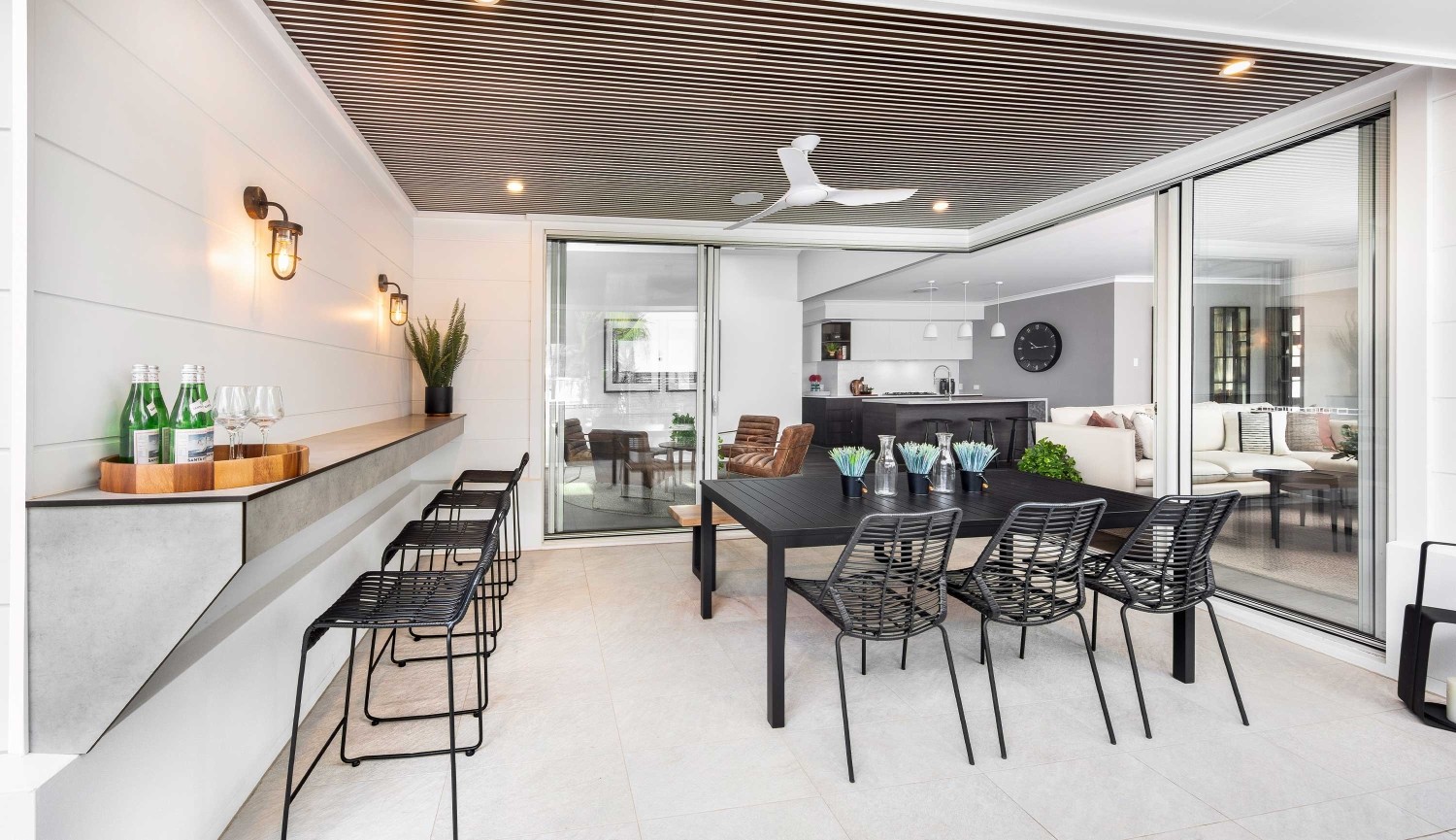 by
25/07/2023
Inspiration & Styling
When designing your front or back yard, it can be helpful to think of these spaces as just another room in the house - an outdoor room with abundant potential. Expanding on our '7 Ideas to Get Your Outdoor Area Summer-Ready', this blog will focus on how to plan your outdoor area based on different design sensibilities and lifestyles. By first defining the 'why' of your outdoor area design, you can embark on your project with intention and purpose, choosing floor plans, colour palettes and styles that make the impression you want. 
Essential Steps to Consider for the Perfect Outdoor Area Design
While the design possibilities for your outdoor area are endless, there are some helpful considerations to get you started. Whether your outdoor area will feature a patio, alfresco dining or an outdoor kitchen, these steps will help you bring your ideas to life.
Plan the Size of Your Outdoor Room
To properly plan the design of your outdoor room, you need to determine the size of the space you're working with. Figuring this out early can help you decide the ideal layout, including what you can fit in the space and where to position it all. This step will also help you establish the primary use of your outdoor space – for cooking, eating, entertaining or simply relaxing.
Planning Your Budget
Besides being a crucial step financially, budgeting can help you decide how to make the best use of your outdoor area. With a set budget, you can start mapping out how much you're able to spend on each piece of outdoor furniture, from pricier items like a barbeque or alfresco pizza oven to smaller items like outdoor seating and plants. Don't be deterred by a tight spending limit – with a creative mindset and some clever design choices, you can build your dream outdoor area on any budget.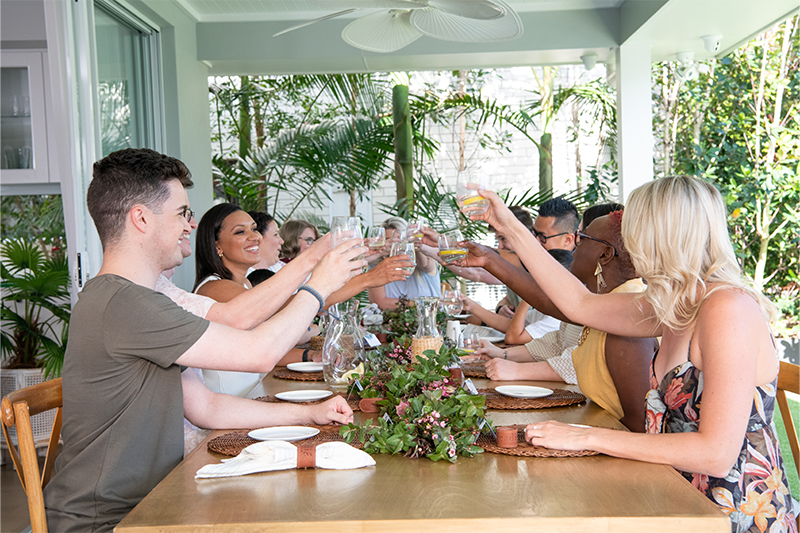 Protection From the Weather
When designing your outdoor area, whether it's a front deck or backyard patio, you must consider protection from the Queensland sun, rain and wind. Here are some things to consider:
Which direction your outdoor space faces determines where the sun rises and sets
Note wind direction and which times of day it's strongest and calmest
Cover the patio area for rain, hail and shine
Don't Forget About Lighting
Lighting is an essential part of an outdoor area you're planning to enjoy in the evenings. To choose lighting that complements the space, you want to make sure things are well-lit without being bright or fluorescent. Too much overhead lighting or cool-toned lights can create a harsh, uninviting effect, while getting the balance just right can create a beautiful atmosphere and make your outdoor room look stunning.
There are so many lighting options to choose from, including;
Electric lights (such as downlights) installed on patio roof or walls
Lanterns
Candles
Strings of fairy lights
Tiki torches
Outdoor chandeliers
Solar garden lights
Fire sources
LED lighting implanted in deck, on paths or under furniture
Outdoor Living Ideas for Every Type of Homeowner
The key to designing a successful outdoor space is approaching it like any indoor living area. To keep it simple, we've categorised the sections based on lifestyle types - because one person's dream backyard might be another's high-maintenance nightmare! Use the homeowner types below as a guide to the best outdoor living ideas for you. 
1. The Entertainer
The Entertainer loves to be the host of family get-togethers and gatherings with friends, so at the top of their list is creating a comfortable place to entertain. This means they prioritise abundant seating and organise different areas of the space into designated zones for eating, relaxing and conversing. On one side of the outdoor room, place a grill or bar area with the dining area close by, while the other side becomes a comfortable space for lounge chairs, perfect for hosting after-dinner drinks.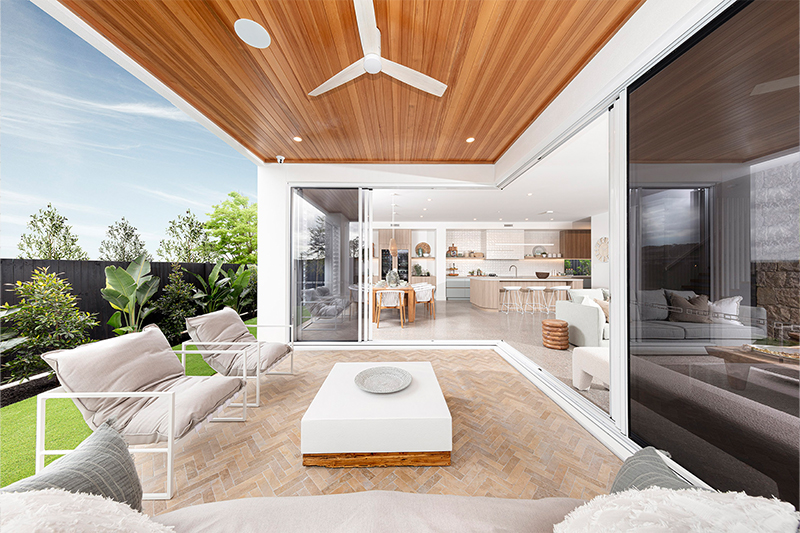 Something important for The Entertainer to keep in mind is how often they plan to have people over and the size of the groups. Big family get-togethers of multiple generations will need plenty of space, usually centred around a large alfresco dining table, with enough chairs for everyone. If you prefer to host small groups of friends, couples or neighbouring families over to the house, your outdoor space may be more intimate with a cozy lounge around a firepit.
2. The Growing Family
For The Growing Family, the most important consideration is the age of your children and how the outdoor space can be arranged for the whole family. Your furniture arrangement can accommodate activities for parents and kids, like a barbeque situated close to the lawn and a swing set – so you can keep an eye on little ones while cooking up a storm. Kids love playing outside, so appropriate lighting should mark perimeters around patios, and string lights around the trees can add some ambience to the backyard.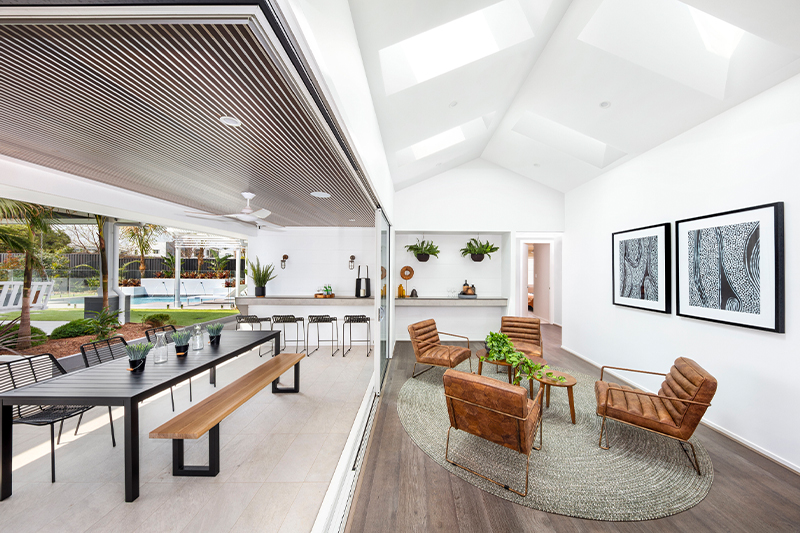 As children grow older, the outdoor room should also adjust to these changes. A sectional sofa for families can be a great choice as it provides enough space for everyone to spread out and can be rearranged. Furniture choices should prioritise comfort and promote togetherness as families grow, making your outdoor area a place where many memories are made.
3. The Gardener
No outdoor area is complete without plants, and The Gardener makes them the focus. If you have noted where the sun rises and falls, it can be easier to know where to place plants, vegetable gardens and flower beds to get the nourishment they need to enliven your outdoor space. There are so many creative options available for The Gardener to add flair, no matter the size of your outdoor space. Here are a few suggestions:
Container garden along the house
Tiered planters
Hanging baskets
Wall-mounted pot plants
Flowering vines
Potting tables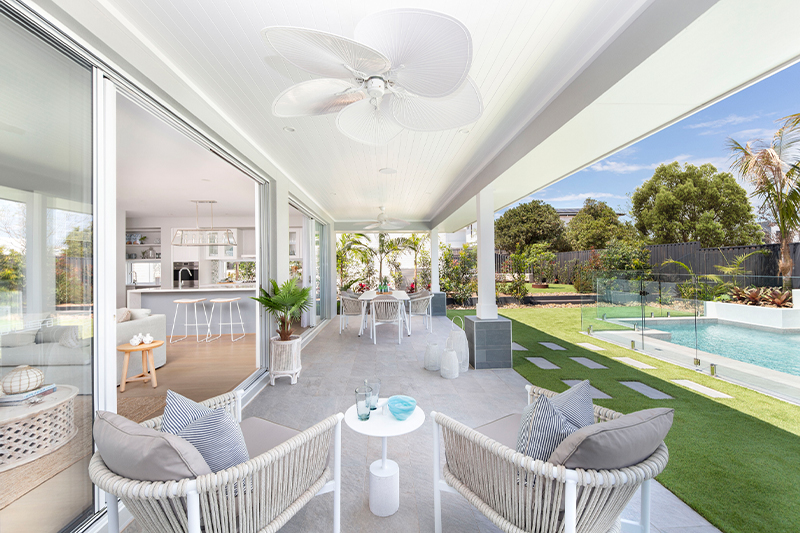 4. The Budget-Conscious
If cost is a concern, The Budget-Conscious has creative ways of getting the most out of their outdoor space with very little. High-quality yet affordable furniture is at the top of their shopping list, with the majority of funds going towards outdoor pieces built to last. It's important to consider how and where furniture or decorative ornaments were made, what materials they're made from and whether they can withstand the elements.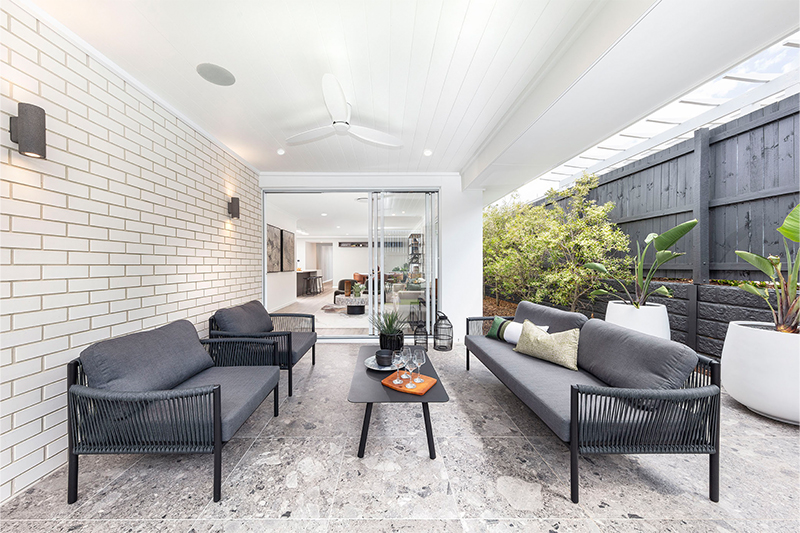 Wherever possible, The Budget-Conscious emphasise the importance of protecting their investments. Furniture covers (preferably washable ones), outdoor dining table covers, coasters, and placemats are included in their outdoor areas to prolong their outdoor furniture's longevity. They also frequent vintage shops or local markets for custom-made outdoor decorations and ornaments that won't break the bank but add personality to the space. 
5. The Minimalist
Balancing an outdoor area's functionalist with aesthetics is the main consideration for The Minimalist. It isn't so much about having as little as possible, but maximising what works well. The perfect place to start when arranging a minimalist space is with the most prominent pieces of furniture you can only live with. For example, you could build your outdoor room around the focal point of a six-piece dining table, or a smaller table surrounded by drum stools over an outdoor rug.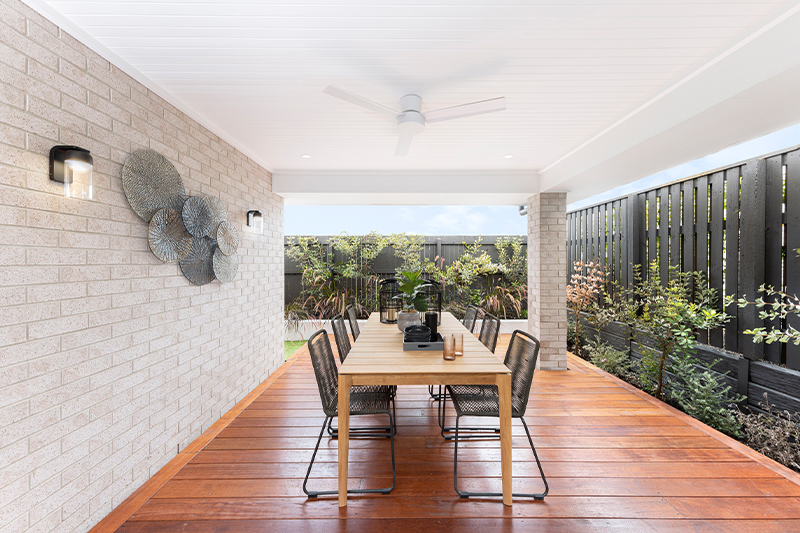 Having a focal point is an important design feature for The Minimalist because it allows for every other element to be built around it, rather than disparate zones with different functions. You can also use the following as focal points to make the most of a pared-back space: 
Water features, such as a pond or small fountain
Fire features, such as an outdoor fireplace, fire pit or fire bowl
A large piece of wall art (this works best in partially enclosed outdoor areas)
A striking piece of furniture
6. The Low Maintenance
The Low Maintenance wants to spend less time upkeeping their outdoor area and more time enjoying it. Starting with lawn and garden, cutting down on backyard size means having fewer grassy areas to care for and less time spent mowing, fertilising, weeding and reseeding. This leaves room for you to extend your patio area with an open-air structure like a gazebo that protects it all from the elements.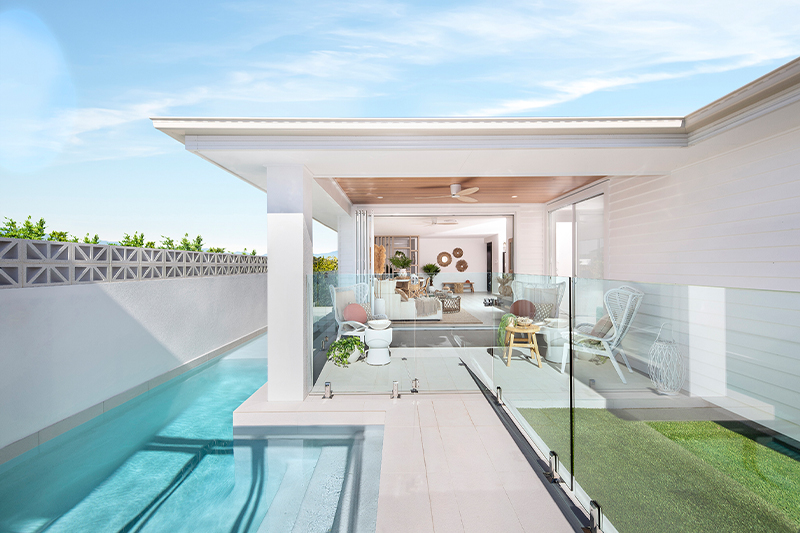 If you want to add plants to your outdoor area, there are ways to do so without spending time (and money) working on them. One way is to select foliage that is suited to the Queensland climate and that grows natively in the area. Swap out the flower bed for some neat shrubs that require very little care, and finally, spread mulch wherever possible, as it suppresses weed growth, cuts down on water loss, and improves soil texture. 
We hope you've gained some creative insight with these outdoor living ideas to really bring your vision to life. For even more outdoor inspiration, check out our Landscaping Tips and Ideas for Your New Home. 
---