Brighton Wins Product Review Award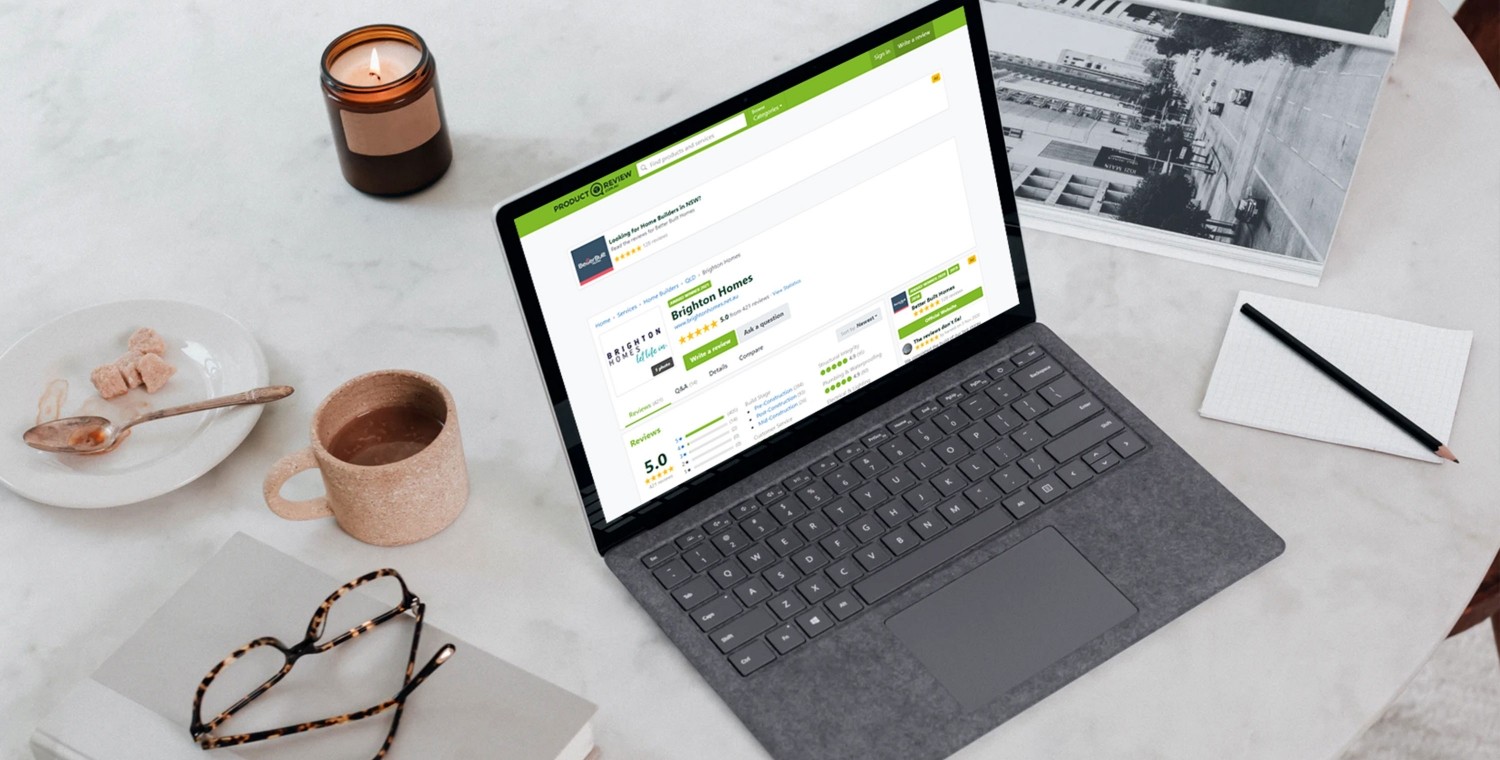 Brighton Homes has won a 2021 Product Review Award for Home Builders in Brisbane & QLD! This was awarded for our top-performing service and product as rated by Australian consumer and having demonstrated consistently strong performance according to reviews in the Home Builder category. We are extremely excited that over two plus years and over 420 reviews we have been able to sustain a 5-star profile and a level of quality we at Brighton Homes aspire to achieve every day.
This independent Australian website is a place where consumers can write reviews of services and products whether they are satisfied or not. Brighton Homes can proudly say we do not incentivize customers to write these reviews, so all opinions are fair and unbiased. Before a review is posted, all users need to include proof of purchase to ensure each review is legitimate. Additionally, no companies can remove or alter reviews.
It is a platform that consumers and Brighton Homes take quite seriously. Customers put a lot of care and thought into what they write. The reviews are often in-depth and go into great detail of each phase of the Brighton journey. Often users update their review at each milestone in their Brighton Homes build, e.g. pre-construction, mid-construction and post-construction. Additionally, users can rate areas of our service such as timeliness, transparency, structural integrity and more.
Product Review is a great way to look at real and honest experiences of our customers. For all information and to read our reviews, visit https://www.productreview.com.au/listings/brighton-homes.
"Our Journey with Brighton in building our dream home has been extremely wonderful. From the beginning, Ian Watts from the sales team was cooperative, precise with quotation and listened to what we exactly wanted. Liam Ringuet from the Project team is the calmest person I've ever met with. I must say you have a lot of patience. Then, it was such a pleasure to know our site manager, Nicholas Findlay. He ensured the Brighton quality was maintained and advised us of any issues & delays. Overall the Brighton team has really made our first time built such a wonderful and pleasant experience. Well done Brighton team, keep up the goods work."
- Geeta, December 2020
One thing is consistent about our experience with Brighton - they worked tirelessly to design and build to our requirements. Customising a standard design significantly. Plenty of guidance and good advice from people who have lots of experience. Once construction commenced, we had the best in project management from Nick Findlay from the beginning all the way to the end - and still today he stops and says hello if he is going past. Nick and Brighton always managed to fit in our last minute changes without hassle. Always a fair and collaborative process. The attention to quality of finish was excellent, and any issues were dealt with quickly and always on time. We do recommend Brighton Homes.
- Teb, November 2020
My partner and I have recently moved into our expertly finished Brighton home and we were incredibly happy with the whole process. The amount of support we revived from our project coordinator, selections team and especially our site supervisor, Kris, made the entire building process incredibly easy and stress free. Any minor issues that arose with our build were swiftly dealt with and we were given weekly updates to inform us of what stage our build was currently at as well as what was scheduled to happen the following week. We are incredibly grateful for our lovely new home and we can't wait to make memories for years to come. We have loved every step of building the "adventure" and now our real adventure begins. Thank you to the Brighton homes team for everything.
- Aaron N, November 2020