What is a Raked Ceiling (and why everyone loves them)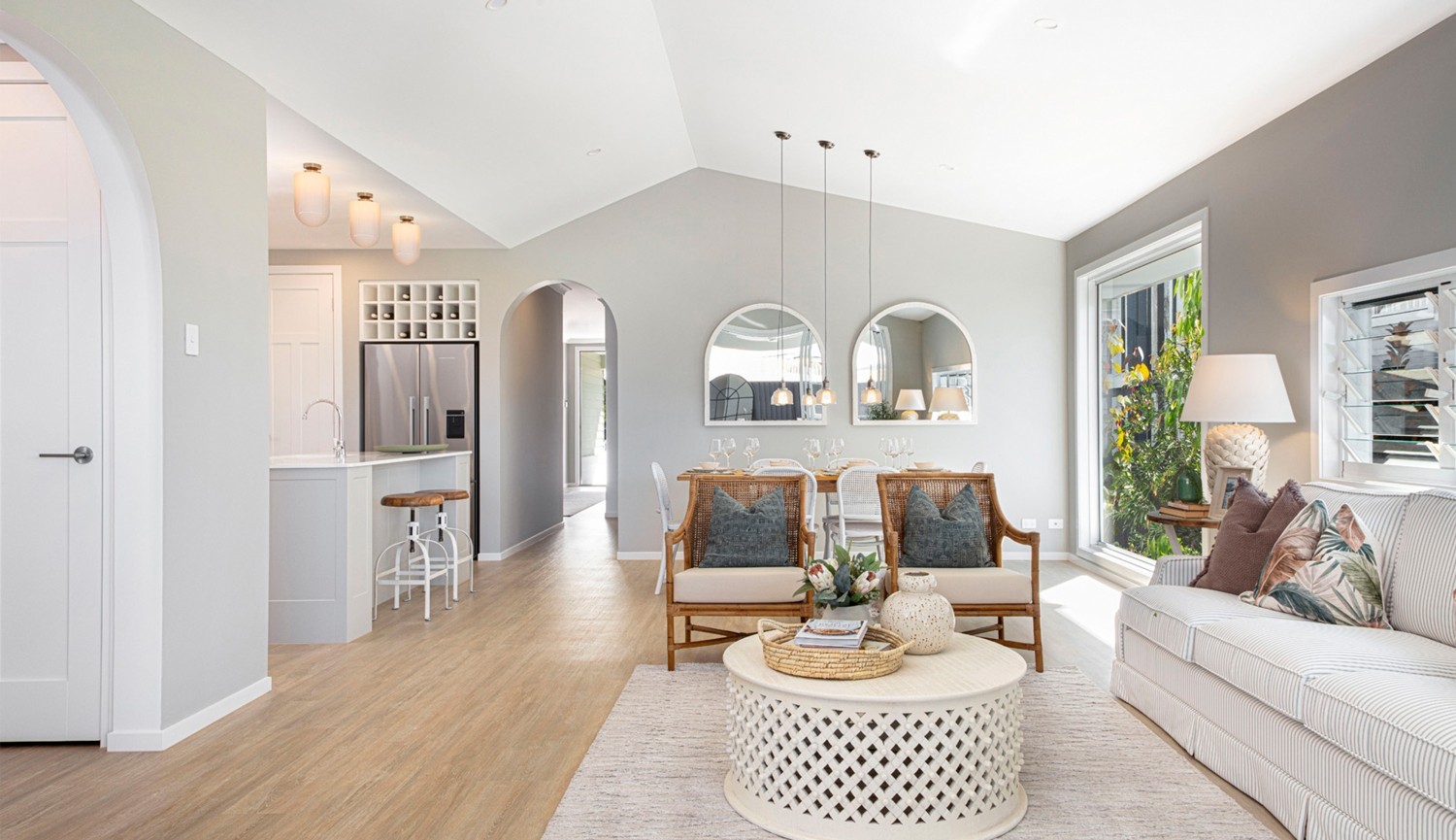 by
08/07/2022
Inspiration & Styling
There are few things that make you say "wow!' upon entering a room like a grand ceiling. The lofty sense of space, the brightness, the clean lines and tailored look – there's plenty of reasons to opt for a raked ceiling if you are choosing to build new.
Not only are raked ceilings a beloved architectural point, but there are also plenty of benefits to them as well. Here's the low-down on raked ceilings and how they can impact your home.
What Is a Raked Ceiling?
Also known as vaulted or incline ceilings, raked ceilings soar upwards before meeting at a single point – just think of the way a cathedral ceiling looks. Booming in popularity recently, raked ceilings have actually been around for many of years and originally were associated with great wealth, as it cost more to heat a room with a vaulted ceiling as opposed to a traditional flat ceiling. With heating and cooling technology having moved ahead in leaps and bounds, these days raked ceilings act more as a design feature than a status symbol and have become increasingly popular upgrades to new homes.
Raked ceilings are available in two options: single rake, wherein the highest point of the ceiling is to one side and created an angled roofline, and double rake, where the ceiling takes on a traditional tent shape.
The Benefits of a Raked Ceiling
You could be forgiven for believing that raked ceilings exist simply to look pretty – but when you dig a little deeper, the benefits become apparent. 
Create An Illusion of Space
If you have a small home, introducing a raked ceiling – particularly above an open plan living area – helps to create an instant sense of space. It also helps to make the area feel light, bright and airy, claiming any wasted space overhead to portray depth. In addition to this, taller ceilings mean that you have more space for windows, allowing you to create a spectacular space in your home.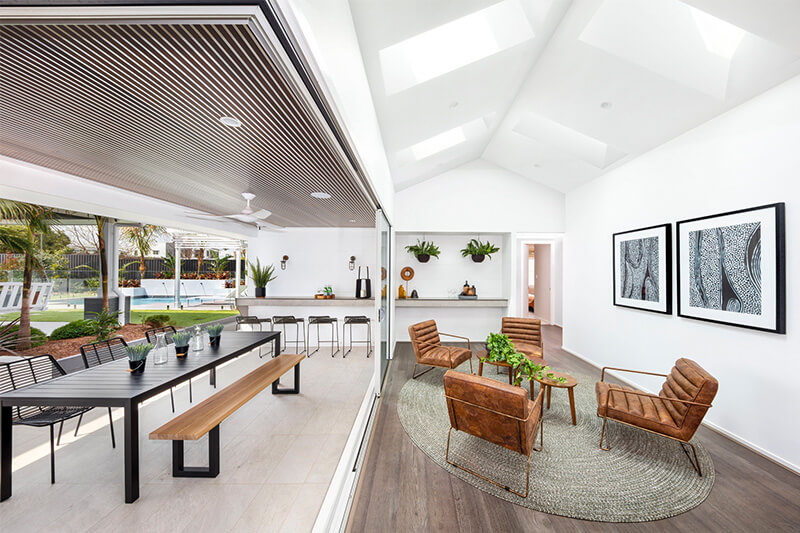 Kenzie 26 on display at Arise Rochedale.
Provide An Improved Air Flow
Say goodbye to stuffy rooms and hello to improved airflow in your home. Raked ceilings are a particularly good choice for Australian homes, as they allow hot summer air to rise and even escape through an overhead window. Your Brighton home comes with 4 zone reverse cycle ducted air conditioning so, you'll find yourself to be comfortable all year round.
Introduces An Instant Sense of Grandeur 
If you love a bit of drama in your life, a vaulted ceiling is for you. They can turn a very generic space into something much grander without being an impossible financial decision. A raked ceiling also requires very little styling beyond lighting and colour, meaning that you can add a grand visual flair to a room without needing to invest in furnishings or other décor (but considering a vaulted ceiling alongside other interior design elements can really add substance to a room). As the eye is drawn upward, the beauty of the room is immediately admired.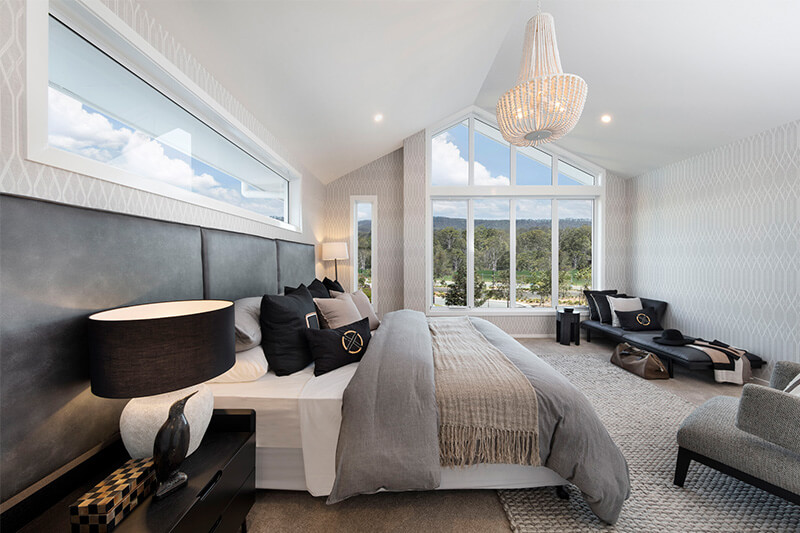 Lotus 35 on display at Harmony Palmview.
Reflects Light
In addition to adding more light to a space via larger window areas, raked ceilings tend to reflect both natural and artificial light to make your home seem even brighter. You'll be able to take full advantage of the sun with vaulted ceilings, creating a beautiful aesthetic while flooding the room with natural light, which is highly desirable to many people.
Improves Resale Value
Due to the meticulous craftsmanship that goes into raked ceilings, they aren't a feature you'll find in every Australian home. This makes a home with a raked ceiling a special find, and by including this architectural feature in a new build, you're increasing the resale value of the home in the future.
More Raked Ceiling Tips
Choose Your Style
There is a lot to discuss when it comes to what is a raked ceiling and how it can add beauty to the home. For example, there are different styles of vaulted or raked ceilings, including barrel vaulted (a uniformed arc that extends across the entire room) and groin vaulted (where multiple barrel vaults meet together at a right angle) to create a dramatic finish to the ceiling. In general however, more traditional single raked and double raked ceilings are more achievable.
Consider Lighting 
It's also worth looking at the best lighting for raked ceilings. Overhead windows can be a fantastic way to add natural light during the day, but once the sun goes down, different light sources need to be considered. When developing a lighting plan for any high-ceilinged home, there are three areas you need to look at: ambient recessed lighting, functional pendants, and lamps for strategically placed lighting.

Melody 24 on display at Newport.
Ambient lighting is used to prevent dark spots across the ceiling and is usually done with recessed LED lights (you'll need adjustable LEDs on a raked ceiling, so that you can direct the light source directly down). Then, you have your functional pendants or chandeliers, which create another layer of light over targeted areas, such as tables, countertops, and lounge chairs. Finally, consider lamps – either standing or table – for areas of the room that may need an extra splash of light, such as a spot in the living room where you like to read.
Where Can I See a Raked Ceiling?
Want to see the beauty of a raked ceiling in person? Our display homes let you do just that! We have a number of raked ceiling house plans for you to explore: