Hampton's Reimagined in the Melody 24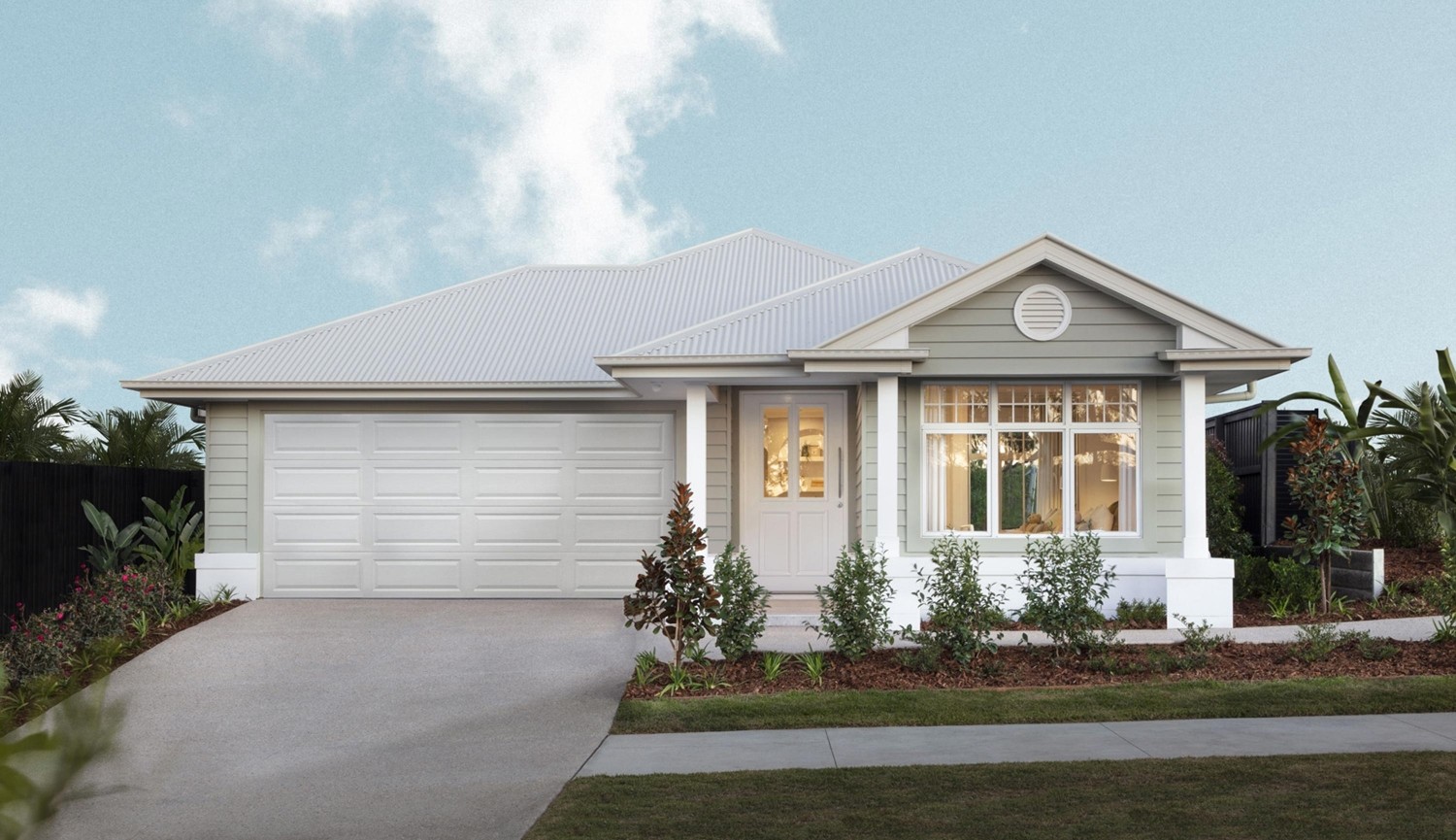 by
12/02/2021
Inspiration & Styling
There's no doubt Hamptons style would have to be the most talked about home trend of the past year. Its classic and timeless feel gives this style its great appeal. Although here at Brighton we like to do things a little differently and thought why don't we take Hamptons to another level? We want to guide you through making your home Hamptons but still relevant to the sunshine state's casual way of life. Let's call this the Brighton take on Hamptons. The Brighton take on Hamptons is all about being fun, fresh, casual and full of zest, yet still sticking to the roots of what makes the Hamptons style… Hamptons!
What is Hampton's Style?
So, what is Hamptons style? Let's take it all the way back to the basics. It's a style inspired by the architecture and decorating of the holiday homes in the Hamptons, a string of seaside towns where affluent New Yorkers spend their Summers. Basing your home style around a Summer destination for the rich and famous… It's a huge yes from us! We must note your Hampton's home won't come with a Manhattan penthouse or butler that brings you bottomless cocktails by the pool, but one can dream. However, a Hamptons style home will usually come with these elements; weatherboard cladding, shaker style cabinetry, high ceilings, decorative architraves and skirting, linens, whites and blues… and even more white, polished timbers… We think you get the point.
Hampton's Reimagined in the Melody 24 at Kalina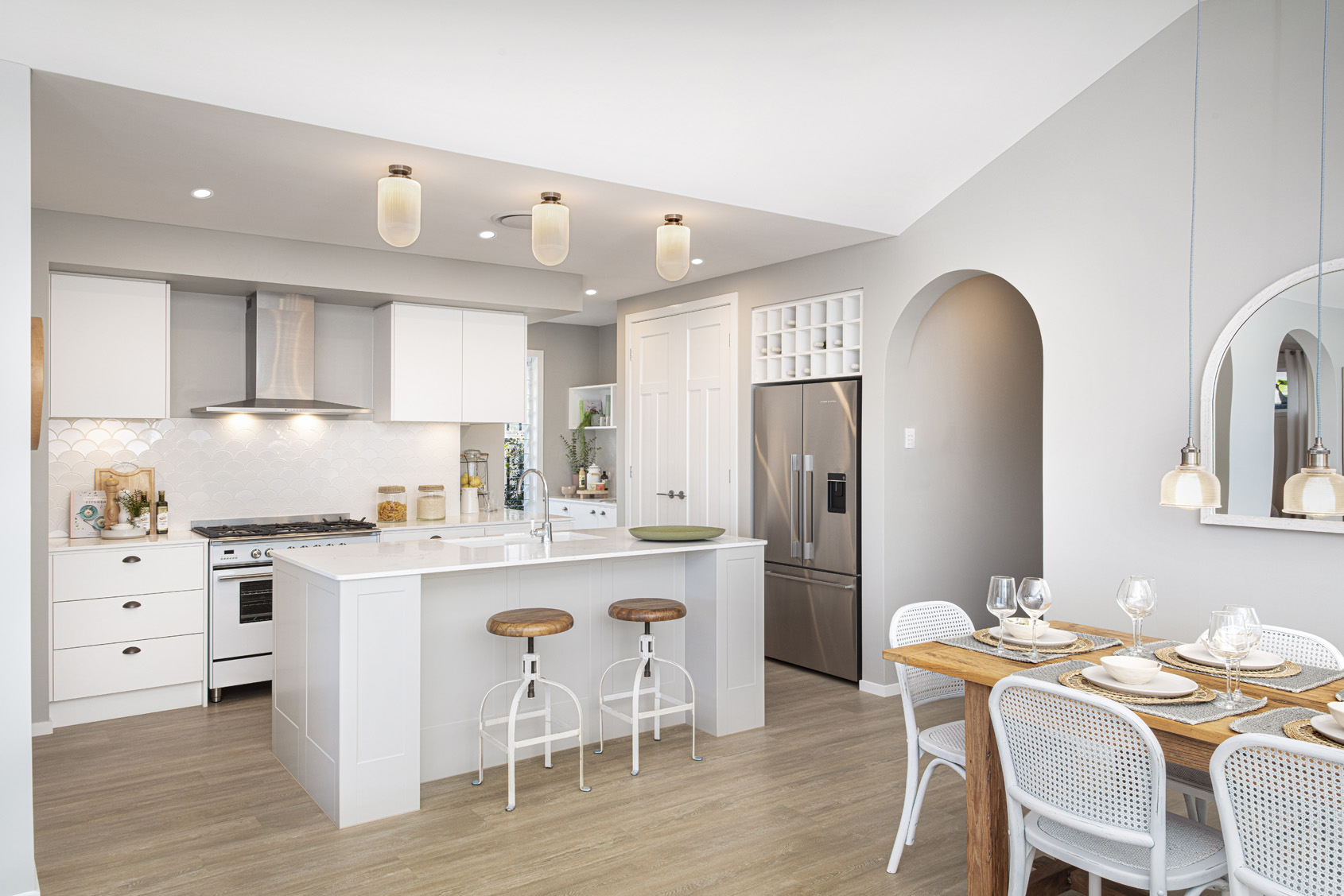 The Melody 24 on display at Kalina Springfield can best be described as Brighton's take on Hamptons. Remaining true to its Hamptons roots but zhuzhed up with some Queensland coastal elements and contemporary interior trends. For example, utilising cladding but transforming a traditionally white finish with fun pastel colours. Or using cotton and linen materials that are synonymous to the Hamptons look but adding a dash of Queensland with prints and colours that reflect the flora of our beautiful landscape. We've completely exceeded expectations of a quintessential Hamptons home and transformed it into a reimagined Hamptons home suited to the laidback, authentic Queensland lifestyle. Below we have highlighted a few key features that make up the Brighton take on Hamptons in the Melody 24 on display at Kalina, Springfield.
Add Colour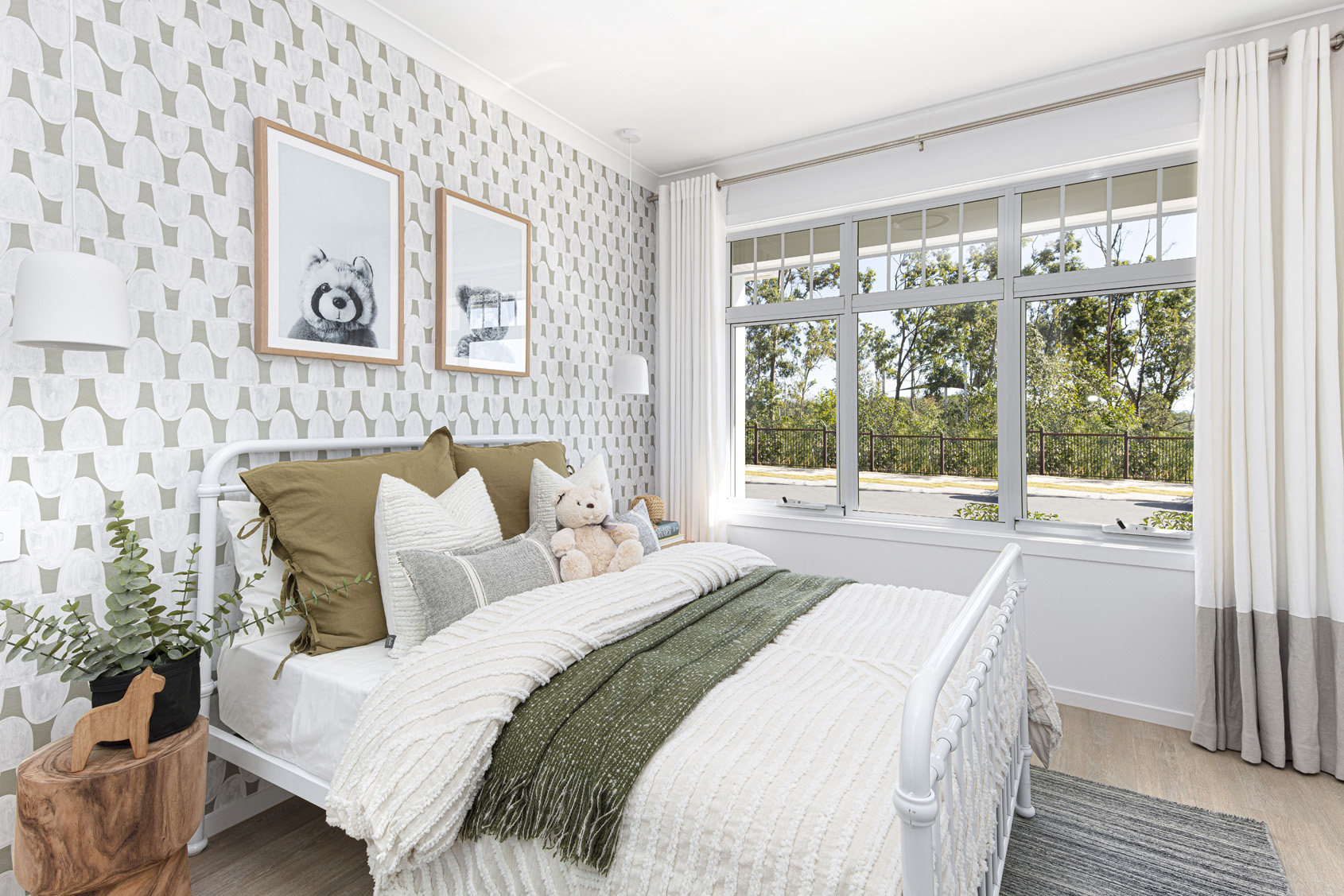 Whilst Hampton's colour palettes are traditionally white and blue, we encourage you to be playful and add pastel colours like duck egg blue, eucalypt green and butter yellow. These colours will liven up your space and give you a fresh difference to your Hamptons inspired home. In the Melody 24 we stayed away from the traditional polished timbers in the architectural features of the home and replaced them with light pastels, greys and crisp whites to freshen up the space and make people think "ooo I haven't seen that before".
Raked Ceilings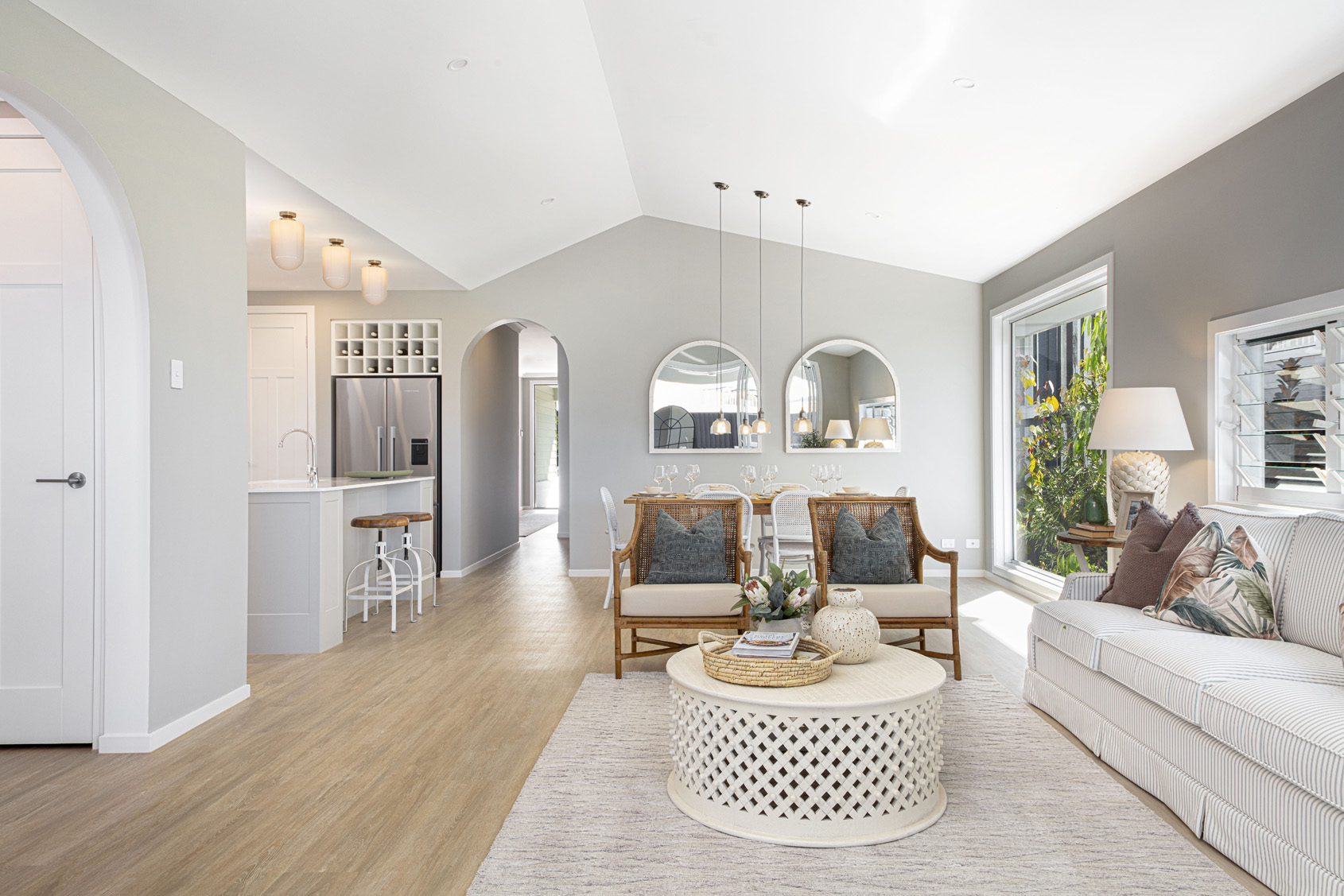 High ceilings are typical Hamptons. In the Melody 24, we've freshened up the high ceilings and replaced it with a raked ceiling. Not only is this visually impressive, it just suits Queensland lifestyles. Letting in more air, letting in more light and I guess you could say… letting in more life!  Trust us when we say, raked ceilings are a sure way to add a "WOW" factor to your reimagined Hamptons home.
Arches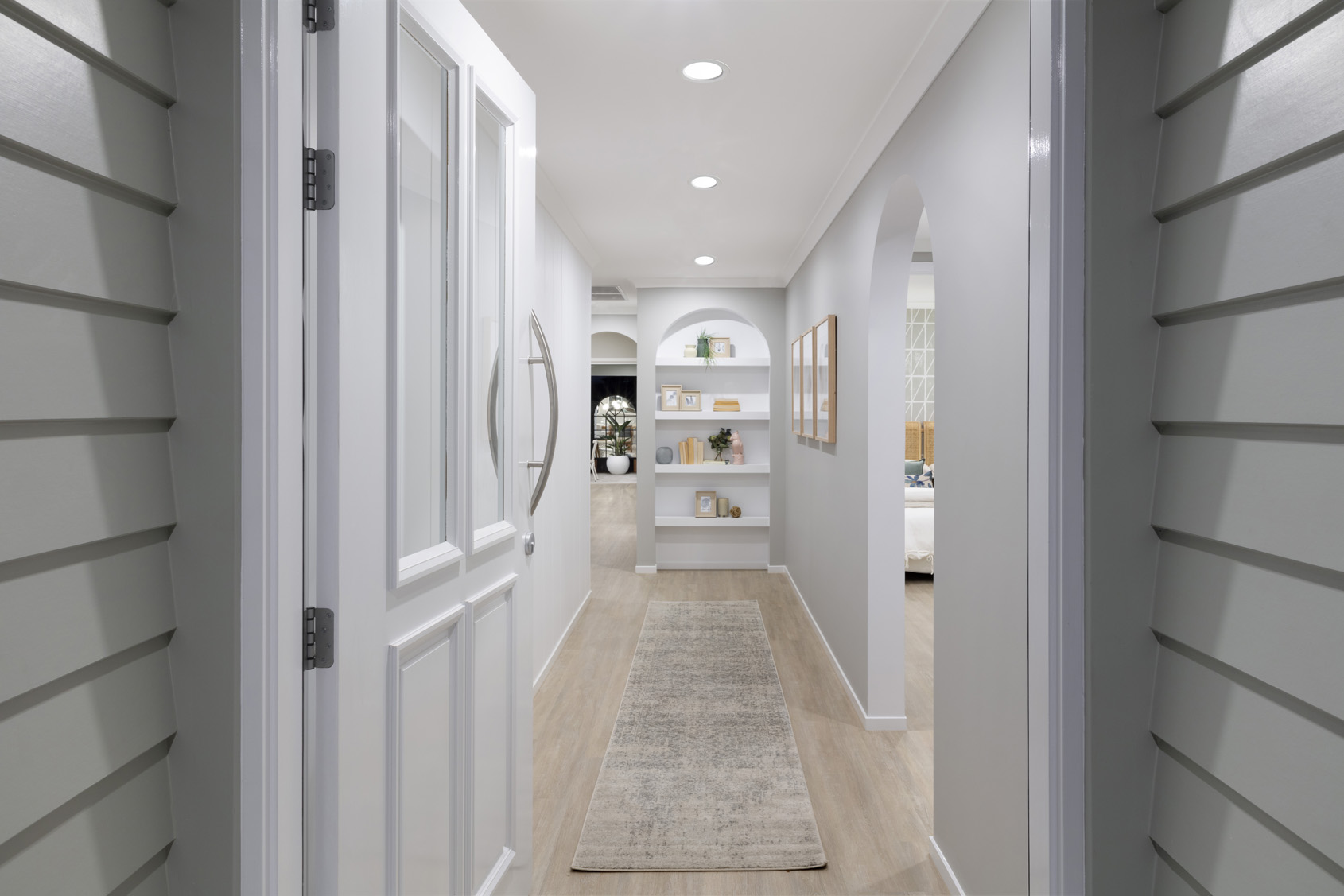 We need to be clear; we aren't saying we've invented arches. We know they've been around for a very long time however, they aren't usually associated with Hamptons styling. Well, we've changed that, and have incorporated arches in the Melody 24 on display at Kalina, Springfield. These smooth and sleek arches have elevated this Hamptons look and given a traditional style a complete facelift. The key to doing arches well is ensuring they are deep and high. Not only have arches been incorporated in the architecture or this house, however, they're also added in the styling of the Melody 24 through arch-shaped mirrors, wallpaper and pendant lights.
Adding Queensland Coastal Features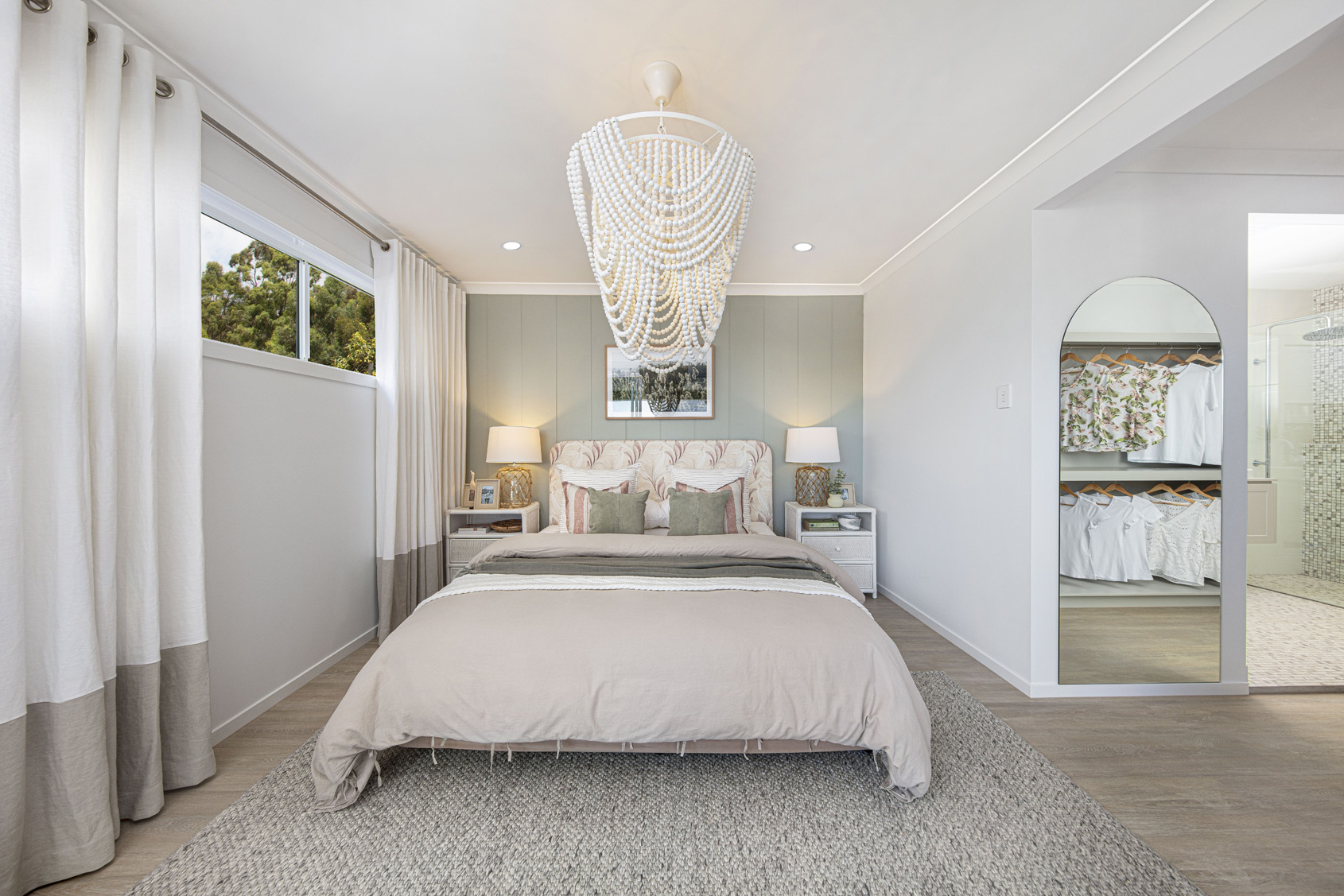 Our final way to freshen up your Hamptons look is by adding Queensland coastal features. There's a huge difference to Hamptons coastal features and Queensland coastal features. Queensland features are iconic and trying to be replicated across the world. We need to remind you of your competitive advantage, we live in Queensland! Let's utilise this power play and add some beautiful and unique local touches to your Hamptons home. We do have some of the most beautiful beaches in the world after all. Try trading in the navy blue and white stripes for fun yet subtle prints e.g. nods to native flora. Alternatively, using features like a wooden beaded chandelier or the occasional rattan piece you can achieve a more coastal look suited to our beautiful state. This will completely transform your space into a casual, relaxed and authentic Queensland home while still featuring Hamptons elements.
To find out more and to visit the Melody 24 on display at Kalina Springfield click here. For an inspiration gallery on the Hamptons Reimagined, click here.