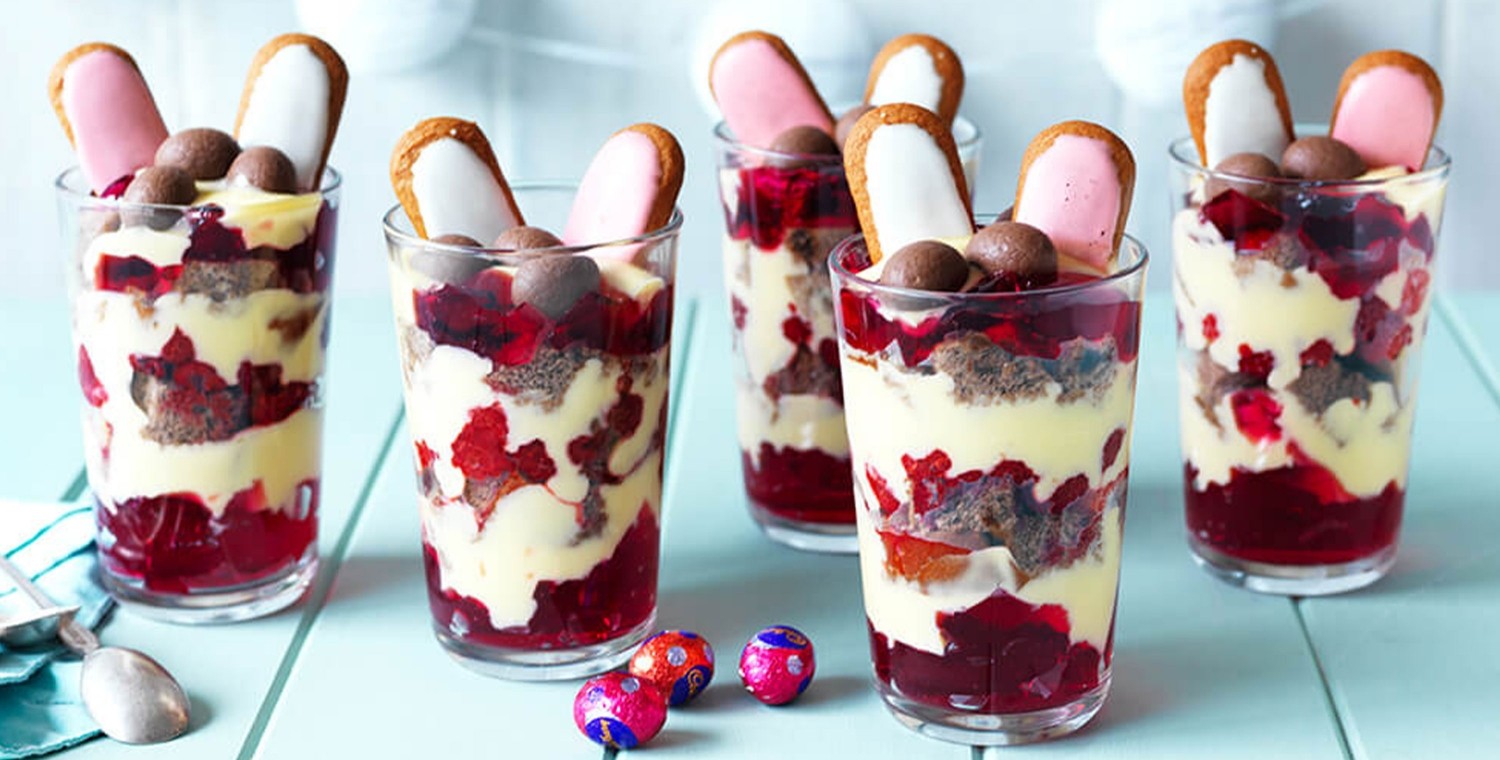 by
30/03/2023
Recipes & DIY
Brighton have found a delicious Easter recipe that is fun and easy to make, and the kids are going to love it, in fact it will satisfy any sweet tooth, plus it will have the whole household hopping with excitement. Here's how to make Easter Bunny Trifles.
INGREDIENTS:
2 x 85g packets of raspberry jelly
900g tub thick vanilla custard
4 x Chocolate Hot-Cross Buns, chopped into 2 cm pieces
1.5 cups fresh or frozen raspberries
1 x packet of Arnott's Honey Jumble Biscuits
1 x packet small chocolate eggs
METHOD:
Prepare the jelly following packet instructions. Pour jelly mixture into a baking pan or suitable container and refrigerate until set.
Spoon half of the jelly into the bases of 6 tall serving glasses. Top with a layer of custard, a layer of chopped hot-cross buns and then the raspberries. Repeat layering using the jelly, custard, hot-cross buns and raspberries. Top with a dollop of custard.
Decorate each trifle with 2 honey jumble biscuits (bunny ears style) and finish with 2-3 small Easter eggs on top. Trifle is now ready to serve.
TIP:
Make the jelly 4-5 hours ahead, or the day before assembling the trifles

Brighton Homes wish everyone a safe and happy Easter.
#InThisTogether #StayHome
Credit: https://www.iga.com.au/recipes/