Brighton Wins 2022 Product Review Award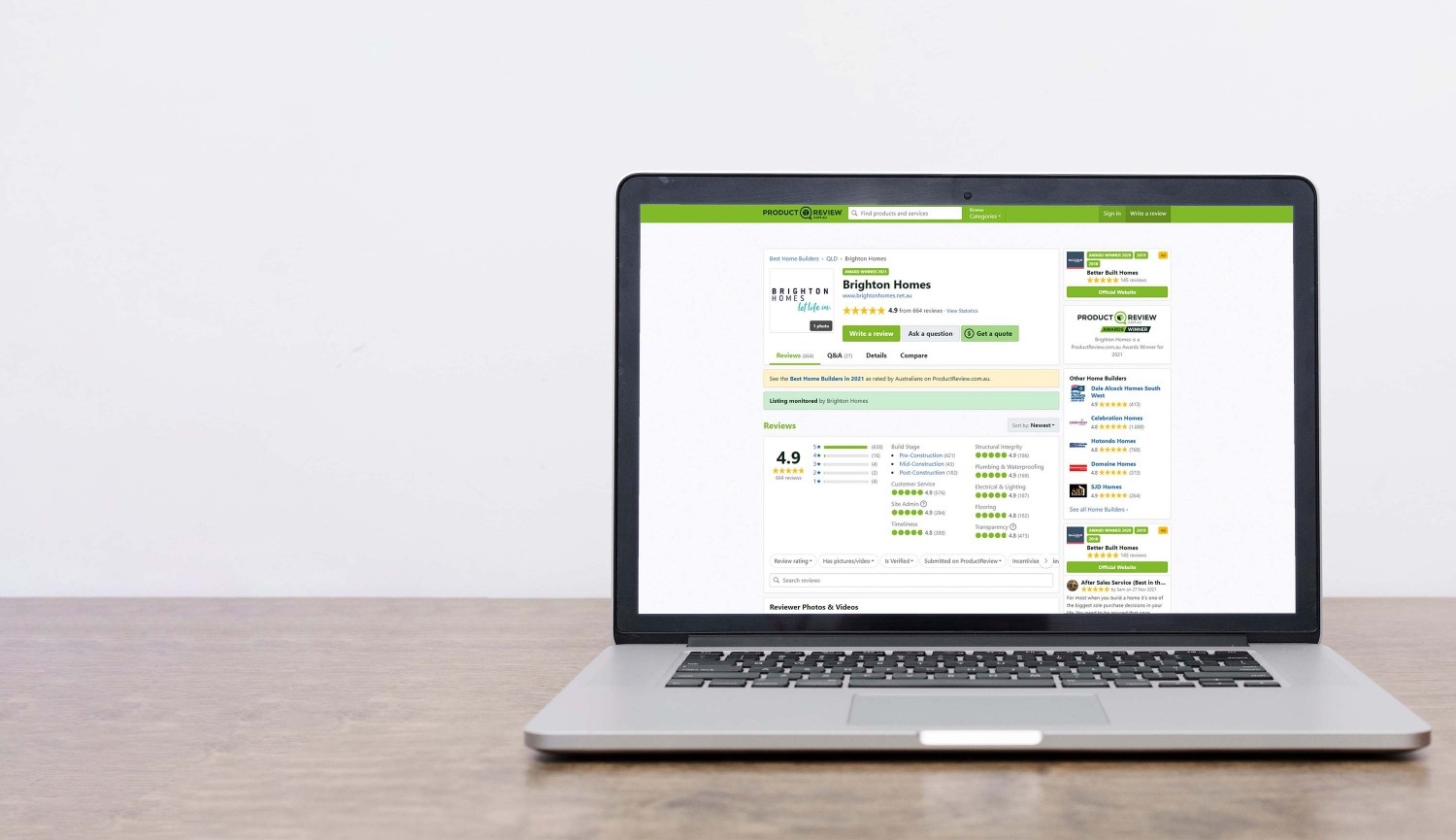 Brighton Homes has won a 2022 Product Review Award for Home Builders in Brisbane & QLD! This was awarded for our top-performing service and product as rated by Australian consumers and having demonstrated consistently strong performance according to reviews in the Home Builder category. Receiving over 660 reviews we have been able to sustain a 4.9-star profile and a level of quality we at Brighton Homes aspire to achieve every day. We are also listed as the Best Home Builder in 2021 as rated by Australians on Product Review.
This independent Australian website is a place where consumers can write reviews of services and products whether they are satisfied or not. Brighton Homes can proudly say we do not incentivize customers to write these reviews, so all opinions are fair and unbiased. Before a review is posted, all users need to include proof of purchase to ensure each review is legitimate. Additionally, no companies can remove or alter reviews.
Consumers and Brighton Homes take the Product Review platform quite seriously. Customers put a lot of care and thought into what they write. The reviews are often in-depth and go into detail about each phase of the Brighton journey. Often users update their review at each milestone in their Brighton Homes build, e.g. pre-construction, mid-construction, and post-construction. Additionally, users can rate areas of our service such as timeliness, transparency, structural integrity, and more.
For those looking to build with Brighton, it's a great platform to discover our customer's experience and read what they have to say about building with Brighton. To read reviews please visit https://www.productreview.com.au/listings/brighton-homes.
"Brighton Homes has an amazing process through the building journey - from the initial Sales Consult, to the Pre-Construction phase and the MyChoice Design Studio where you choose all your finishes and fittings. But it's the final leg, the construction journey, that a client really remembers about a brand as this is the part that brings your dreams to life! I can't praise or recommend my Super-Star Site Manager ENOUGH. He's an exceptional communicator, he's organised, approachable, and had an eye for detail! My Site Manager calmly and quickly brought my new home's dreams to life! His eye for detail and quality puts him pillars above the rest! He has the highest standards for quality and this is evident by the way he organises his jobs, his clear, open communication, and the contractors he chooses to engage. My Site Manager earned my trust BIG TIME - he watched over my house like it was his own. I really can't thank him enough! I am truly so grateful!"
- Jenna, November 2021
"From pre construction to finish, Brighton Homes have been amazing. From our Building & Design Consultant at the Covella display home, to our Project Coordinator, all of the wonderful girls at the design studio, our Site Manager and his trades - all have done an amazing job of building our home and we are so thankful. We chose to build at the beginning of this boom and all we had was a 5 week delay on frames, everything else has been seamless. Thank you again.
- Abbie, November 2021